2021 in Review: Rallying toward greater economic prosperity across Michigan
Tuesday, December 21, 2021
Following the challenges of 2020, we showed that Michigan is equipped to move mountains and become a place of Pure Opportunity in 2021 and beyond.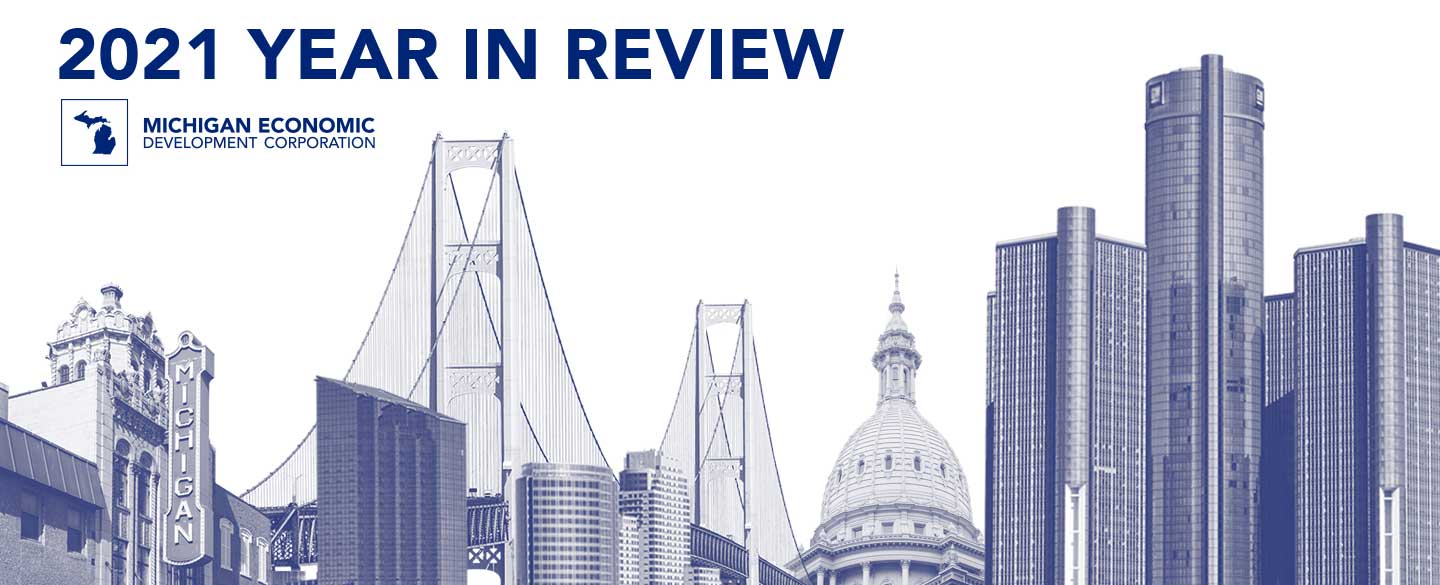 To best tell the story of 2021 – and what's to come in the new year – we begin where it ends: December 20, 2021, when Governor Whitmer signed a series of economic development bills providing competitive programs that invest in business retention and attraction to complement Michigan's already undeniable strengths as a state. The package of bills vital to Michigan's efforts to both compete for and win transformational projects here in the state was passed through significant efforts in the Michigan Legislature with strong bipartisan support. With initial funding appropriated at $1 billion, the programs will put the state in the strongest possible position to win projects that will create economic opportunity in the state for the next 20 years and beyond, while also delivering relief for businesses impacted by COVID-19.
As part of this bill package, the new Michigan Strategic Site Readiness program will allow Michigan to create investment-ready sites to attract and spur business growth in Michigan. Additionally, the new Critical Industry Investment program will empower Michigan to make game-changing investments critical to closing deals, create and preserve qualified jobs, and bring significant capital investment into Michigan. Learn more about this legislation here.
This historic legislation was the feather in the cap of a year marked by a time of resurgence for Michigan as the Michigan Economic Development Corporation (MEDC) collaborated with a broad group of stakeholders to create an economy where everyone is visible, participating and thriving, and made strategic investments in our economy and economic development toolkit to benefit our friends, neighbors and the small businesses they have created.
With an energetic, championship mentality, MEDC spent 2021 working hand-in-hand with partners across the state to aggressively compete for transformational projects and celebrate place-based investments, all while promoting the four-season beauty and opportunities in Pure Michigan.
MEDC remains laser-focused on making economic development relevant across our great state, from our postcard-perfect coastal towns and quaint main street communities, to thriving suburbs and vibrant urban areas. By embracing a holistic, people-first approach to economic development, we measured our success and impact based on the conversations taking place at kitchen tables every night as we work to build an even brighter future here in Michigan.
In 2021, Michigan put the world on notice as the place where technology and research and development are paired with a fierce work ethic and culture of innovation; as a state of Pure Opportunity, where we celebrate the risktakers and business owners who are the backbone of our economy. We showed that Pure Michigan is not just a scenic place – it is a state of mind, a destination and a way of life.
Big Support for Small Businesses
In Michigan, nearly every indicator of our state's success is influenced and reflected by our small businesses. They play a vital role in attracting talent to live and work in our small towns and big cities alike, and are economic drivers of our local communities, helping to make Pure Michigan an irresistible destination for people of all ages.
From providing access to capital, entrepreneurial support, B2B matchmaking opportunities and international growth, MEDC remained laser-focused on ensuring even the smallest businesses in Michigan received major support.
MEDC had more than 20,000 touchpoints with small businesses statewide, including distributing $48.8 million in funding in 2021. This includes helping 561 businesses start up and create 4,144 jobs in Michigan communities. We also embraced our role at MEDC in creating equitable awareness and access to the resources we offer for small businesses, providing more than 11,500 instances of support for diverse businesses through programs like Pure Michigan Business Connect and International Trade, in collaboration with our partners at the Small Business Development Center.
In 2021, Michigan also continued to pave the way for high-tech start-ups with statewide networks and resources; the state is one of only a few with more than one resident unicorn company discovering entrepreneurial success, with a total of five unicorn companies calling Michigan home. Autonomous vehicle manufacturer Rivian Automotive brought a wave of modernization to Michigan's automotive industry; the company raised $2.65 billion of Series F funding in 2021 and is now valued at $6 billion, with the support of the MEDC and Sumitomo Corporation of Americas. Meanwhile, StockX, a $3.8 billion developer of an online marketplace that sells high-demand and limited-edition sneakers, is thriving in Michigan thanks to our vast resources and forward-thinking investors equipping the economy with the tools necessary to nurture a variety of start-ups.
Throughout the summer, we underscored Michigan's emphasis on supporting small businesses, joining Governor Whitmer and the Department of Labor and Economic Opportunity to launch a small business tour that included a series of 10 summits connecting hundreds of small business owners, community leaders, lenders, entrepreneurs and more to learn how we can better support their success in the coming year. Heading into the new year, MEDC is continuing to listen to the needs of small businesses with a survey available through January 31, 2022, to help inform the type of resources and programming we provide over the coming year to create even more opportunities for success for small businesses in Michigan.
Meanwhile, other small businesses like Detroit Denim, a fashion apparel start-up company that focuses on quality products and sustainable production, received support from the MEDC and our Pure Michigan Business Connect (PMBC) program to grow their small business. Through several local industry networking events, Detroit Denim made a connection with neighboring Detroit business WHIM, which specializes in innovative technology solutions for small and large businesses. Partnering with WHIM and the MEDC, Detroit Denim has the knowledge and tools it needs to pivot from a made-to-stock to made-to-order system, making their projects customizable and sustainable.
Year 1.0 for Industry 4.0
MEDC also joined its partners at Automation Alley and Michigan Manufacturing Technology Center to help small and mid-sized manufacturers prepare for the future of manufacturing, as Industry 4.0 technologies become increasingly relevant in workplaces around the world. In the first year of our Industry 4.0 initiative – which aims to help 50% of Michigan's small and mid-sized manufacturers prepare to adopt these technologies by 2025 – we exceeded our initial goals by reaching more than 1,400 businesses through programming, events, training and matchmaking opportunities.
Based out of Jenison, Mich., Nu-Wool experienced these benefits firsthand, as a third-generation, family-owned business that is the oldest company in the cellulose manufacturing industry. By tapping into support from Feyen Zylstra LLC, a Michigan-based based industrial technology company specializing, in part, in Industry 4.0 solutions and the Michigan Manufacturing Technology Center, Nu-Wool mastered its new robotics system, which paid for itself in increased efficiency within just two years. The benefits to the company are significant. And thanks to the robust advanced manufacturing ecosystem touching every corner of the state, Nu-Wool was able to bring its business into the 21st Century by leveraging Michigan-based partners, resources and talent.
Bringing Companies to Michigan
Michigan remained a Midwest leader in its FDI jobs growth, as the only state to rank among the top five for all categories in Global Business Alliance's recent rankings, demonstrating Michigan continues to compete across global markets to deliver key investments and wins for our state economy.
Over the past five years, global companies have invested $11.8 billion in projects throughout the state, creating 36,400 jobs here in Michigan. Investments from critical partners in the United Kingdom, Germany, South Korea and others have supported significant job creation, while also building on Michigan's strengths in automotive manufacturing, R&D and mobility and electrification efforts. By working with these global partners, Michigan continues to outpace its regional competitors.
We welcomed even more foreign companies to Michigan by demonstrating the competitive advantages of Pure Opportunity to global businesses looking to grow, from global auto supplier TÜV SÜD locating in Auburn Hills and EOI Pioneer growing in Dundee to tesa tape expanding in Sparta and Sartorius coming into Ann Arbor. With EOI's $14 million investment to open its first North American automotive electronics manufacturing operations in the state as a prime example, Michigan continues to be a leader in advanced manufacturing.
"Michigan's business climate and highly skilled manufacturing workforce provide an environment where businesses like EOI Pioneer can grow and thrive, creating good-paying jobs for Michiganders in Monroe County," said Governor Gretchen Whitmer. "This is great news for working people, their families, and our economy as we continue our economic jumpstart and put Michigan back to work. With the help of companies like EOI Pioneer, we can continue to push forward to make our state's economy stronger than ever." 
In addition, our commitment to supporting rural, urban and suburban communities across the state was illuminated by the grand opening of Midwest Cheese in St. Johns, which is now among the largest dairy processing facilities in the country and a keystone employer within the region.
Michigan also drew in companies from across the country aiming to expand their business and access the state's talent pool. After choosing Michigan for its new research and development center in 2018, for example, Silicon Valley-based global semiconductor company KLA continues to grow in the state. In November 2021 KLA announced the official opening of its second U.S. headquarters, a $200 million facility in Ann Arbor, providing further evidence that Michigan remains a place where high-tech talent needs can be met, and high-tech companies can grow.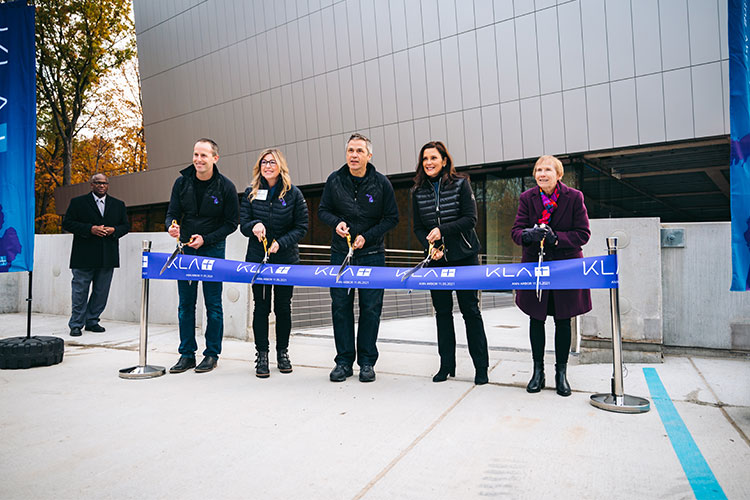 Magna, the largest auto supplier in the country and third largest globally, announced plans in 2021 to open a facility in St. Clair to build battery enclosures for the 2022 GMC Hummer electric pickup. The $70.1 million investment is expected to create 304 jobs with key support provided from the MEDC.
Meanwhile, the state of Michigan and the Big Three Automakers continue to be at the forefront of progress in the automotive industry, with a vision of our electric future. In 2021, Ford invested $250 million to double capacity of its Rouge Electric Vehicle Center in Dearborn, enabling the company to ramp up production of its battery-powered F-150 Lightning pickup. General Motors announced the Wallace Battery Cell Innovation Center to speed up battery production and also located its first fully dedicated electric vehicle assembly plant at Factory ZERO in Hamtramck, and Stellantis (formerly FCA) began building its JEEP plug-in hybrid models at the first new assembly plant in Detroit in three decades.
Making Its Mark
Michigan put the nation on notice as a home for Pure Opportunity for businesses of all sizes, as the fastest-growing state for venture capital investment with an increase in venture dollars from $300 million in 2016 to $3.1 billion last year.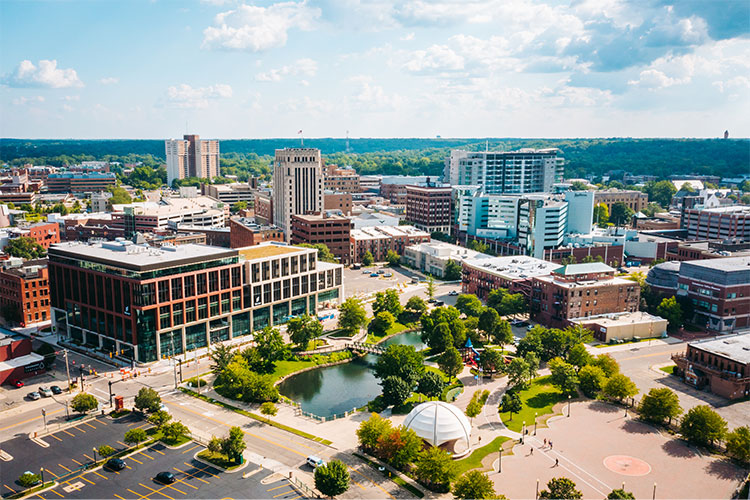 Michigan has continued to receive national recognition for its economic momentum and business climate, making a 13-spot jump in CNBC's Top States for Business annual ranking, landing the #11 spot as we build a championship economy in the state. And according to a recent study from SmartAsset, the Kalamazoo-Portage metro area ranks #2 in the best places to work in manufacturing.
"From our strengths in technology and innovation to a business-friendly environment and the Pure Michigan quality of life, Michigan has what it takes to build a championship economy," said Quentin Messer, Jr. CEO of the Michigan Economic Development Corporation. "CNBC's Top States for Business Ranking shows we are moving in the right direction with a 13-spot jump to #11. This is significant progress, but trust and believe we will not stop working alongside our regional and industry partners to put Michigan in that #1 spot and to ensure all Michiganders are realizing the full benefit of our thriving economy."
In December 2020, the award-winning Pure Michigan advertising campaign returned to the airwaves for the first time in more than a year, launching a new winter travel campaign to encourage safe travel and enjoyment of outdoor activities in the state. "Still Pure" embraced Michigan's winter wonderland into the new year, while "Catch Up" rang in the warmer months of 2021, encouraging businesses, tourists and communities alike to follow COVID-19 safety guidelines and ensure safe travel experiences. Under the Pure Michigan banner, the MEDC's Support Local campaign also continued into 2021, as support for local businesses and attractions has remained as crucial as ever during the pandemic.
Opportunity and Community
The MEDC continues to demonstrate that Pure Michigan is a home for Pure Opportunity. Our commitment to developing attractive places where talent wants to live and businesses want to be was underscored by a first-of-its-kind report released this year finding that MEDC's focus on placemaking investments in Michigan communities make it a leader in place-based economic development, providing quantitative data demonstrating the significant impact these investments have on local communities. These findings build off what we already know from other studies that have also found Michigan is a leader among benchmark states for staffing and funding its community development programs at the same level as traditional business development programs.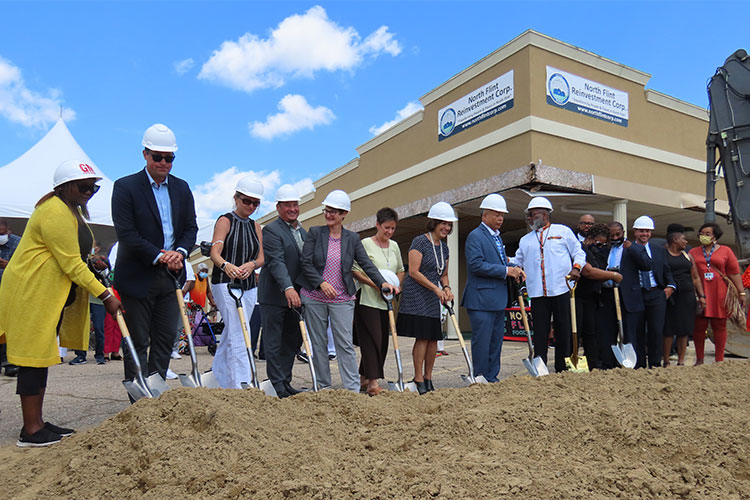 Over the past year, MEDC's robust support materialized in the form of a new grocery store in north Flint and a community-led co-operative providing workforce housing and childcare in Traverse City – with investments coming from more than 500 members of the community. In 2018, Heritage Tower BC LLC revealed plans to rehabilitate a long-vacant, historic 1931 building into an iconic and mixed-use development in downtown Battle Creek. With critical support offered by the MEDC, the development is bringing new residents and commercial business to downtown Battle Creek and acting as a catalyst for future investment in the area. The mezzanine level of The Milton, formerly known as Heritage Tower, was open for the public to see in December 2021 for the first time since the remodel. All 85 apartment units in the building are currently full.
As we head into the new year with two new placemaking programs available to support these efforts in communities across the state, we will continue to embrace our role as a national leader in placemaking, developing the tools and resources to support communities as they revitalize their downtowns, attract and retain young professionals, increase tourism and support their small businesses.
Looking Ahead to 2022: Bloom Where You Are Planted
With the Michigan Legislature's economic development bills written into law to cap off the year, transformational opportunities in our MEDC pipeline and an influx of federal funding and resources set to head our way in the months to come, Michigan is poised to build on this success in the new year and beyond. As we did in 2021, we will continue our mission to provide the 10 million-plus Michiganders in our state with the best direction toward a thriving economic future.
2022 brings with it the promise of possibility for Michigan, thanks to our grit, tenacity and hard work. Those qualities are the root of who we are throughout Team Michigan and we are optimistic that the seeds planted in 2021 will bring tremendous growth to our Great Lakes State – a place we can all be proud to call home.
Contact Us