This Just In: Ford announces pre-production of all-electric F-150 Lightning truck, 450 jobs and $250 million investment in Michigan
Friday, September 17, 2021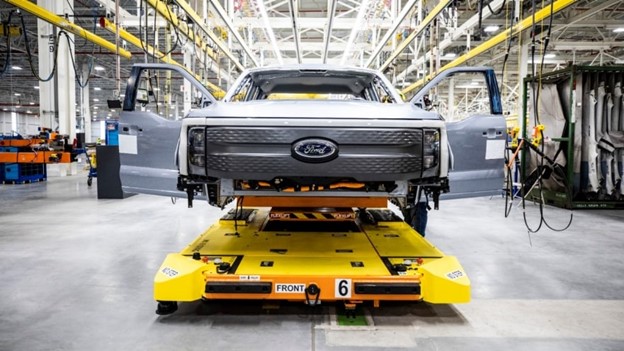 Ford announced Thursday that its Rouge Electric Vehicle Center in Dearborn is complete, and the first F-150 Lightning pre-production trucks are leaving the factory for real-world testing. Gov. Gretchen Whitmer, Director of UAW Region 1A Laura Dickerson, Congresswoman Debbie Dingell and Congressman Dan Kildee joined Ford leadership at the electric vehicle facility to make the announcement.
With more than 150,000 reservations for the F-150 Lightning to date, Ford is expanding across three Michigan facilities, including the Rouge Electric Vehicle Center, to increase production capacity.
"We're standing on the edge of an era of electrification that will be built in factories like this one by hardworking UAW members and the innovative minds at Ford," said Governor Whitmer. "I am proud of Ford for committing to invest $250 million today to create 450 jobs in Dearborn, Ypsilanti, and Sterling Heights that will support production of the new, all-electric F-150 Lightning. Their efforts will help us reach my statewide goal to be carbon-neutral by 2050 and create good-paying jobs along the way. I will stay laser-focused at the state-level on making investments in the future of mobility and electrification, and together, we can create good-paying, high-skill union jobs and lead the world in electric vehicle development and manufacturing."
Ford is investing an additional $250 million and adding 450 more direct jobs across the Rouge Electric Vehicle Center, Van Dyke Electric Powertrain Center in Sterling Heights, and Rawsonville Components Plant in Ypsilanti, increasing production capacity to 80,000 trucks a year.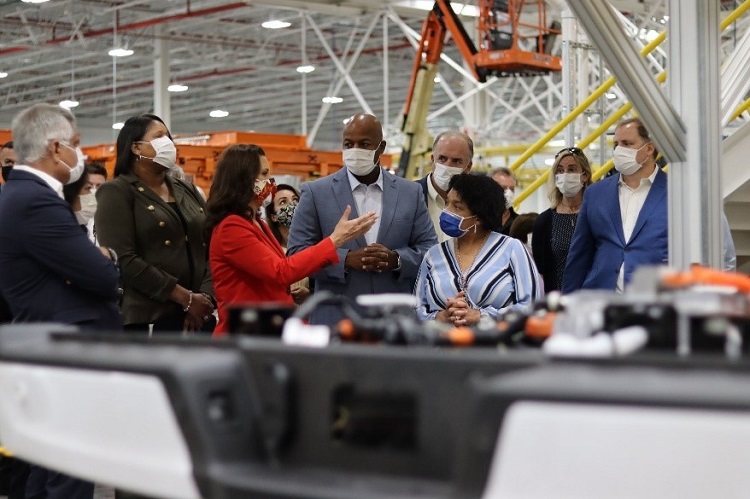 "Electrifying the F-Series – America's best-selling truck for 44 years – and assembling it at this high-tech facility in Michigan – represents a significant step toward mass adoption of electric vehicles in America," said Kumar Galhotra, Ford's president of The Americas and International Markets Group. "F-150 Lightning is intended to be more than a no-compromise zero tailpipe-emissions truck. It's packed with ingenious features and technology that will improve over time, it's exhilarating to drive and it can power your home and worksite."

Read the full announcement here.
In July, Ford announced it was establishing Ford Ion Park, its new global battery center of excellence, in Romulus with support from the Michigan Strategic Fund, helping to drive momentum as the state continues to emerge as an electric vehicle R&D and manufacturing leader. Ford is also transforming the historic, Michigan Central Station and several adjacent properties in Detroit's Corktown neighborhood into an innovation hub for Ford's vision for the future of transportation.
Since December of 2019, Ford has announced nearly $2.5 billion in investment in Michigan, largely around electric and autonomous vehicle manufacturing, supporting more than 3,700 new jobs for Michigan's manufacturing workforce.
Projects like these, in partnership with the efforts of the Michigan Economic Development Corporation and the Office of Future Mobility and Electrification ensure Michigan remains the home for economic opportunity as well as mobility solutions for today and the future.
To learn more about Michigan's leadership in mobility and automotive manufacturing, click here.
For more news from the MEDC visit www.michiganbusiness.org/news
About Michigan Economic Development Corporation (MEDC)