When KLA began looking for locations to build its new research and development center in 2018, it was not short on options. Over 350 North American locations were in the running, creating widespread competition and a sea of viable candidates. But in the end, only one stood out as the best place for this Silicon Valley-based corporation to invest. Michigan.
Too often, companies automatically head to the West Coast for their next investment in the tech industry. But take one look at the assets Michigan has to offer for tech companies, and you will see why so many businesses are choosing this Midwest gem over the Valley.
KLA, for example, is an industry-leading equipment and services provider that enables innovation throughout the electronics industry. It provides advanced process control and process-enabling solutions for manufacturing. KLA decided to build its R&D semiconductor research center in Michigan in October 2018, choosing the city of Ann Arbor as its home for growth based on the rich talent base and affordable cost of living it provides.
Automotive companies purchase $21.8 million worth of semiconductors from Michigan-based companies. As Michigan continues leading the mobility industry in the development of autonomous vehicles, demand for tech companies like KLA is expected to skyrocket over the coming years.
But there is not just demand for KLA's products; there is also an attractive talent pool available in the area to fill the highly technical and specialized positions it needs. Michigan has the highest concentration of engineers in the nation, and the engineering program at the University of Michigan in Ann Arbor is ranked among the top ten in the U.S. Michigan's tech industry is growing rapidly, with more than 13,100 jobs being added in 2017 — the third-highest in the nation. As a graduate of the University of Michigan, KLA's own CEO can attest to the wealth of highly qualified people that businesses can access when they choose to invest in Michigan.
And the cherry on top? Michigan's cost of living and overall quality of life is unlike any other state. With more freshwater coastline than California and a cost of living that is 62 percent more affordable, Michigan is putting the world on notice as the premier place to live, work and play.
In 2018, KLA secured a $1.5 million performance-based grant from the Michigan Strategic Fund through the Michigan Economic Development Corporation. Less than a year later, in June 2019, the company held a ribbon cutting for its temporary office space and broke ground on its permanent building in October, a year after its initial announcement. In November 2021 the company celebrated the grand opening of its permanent headquarters in Ann Arbor, demonstrating its continued commitment to Michigan and further boosting Michigan's leadership position in semiconductor manufacturing and development.
"Our partnership with the Michigan Economic Development Corporation has been instrumental in enabling KLA to serve our global customer base from the new headquarters and benefit from the impressive engineering talent and business culture that Michigan offers," said Rick Wallace, president and CEO of KLA. "KLA has been part of the most significant technological breakthroughs throughout its 45-year history. As we continue our journey at the forefront of semiconductor technology, we're thrilled that Ann Arbor and the state of Michigan are now part of our story."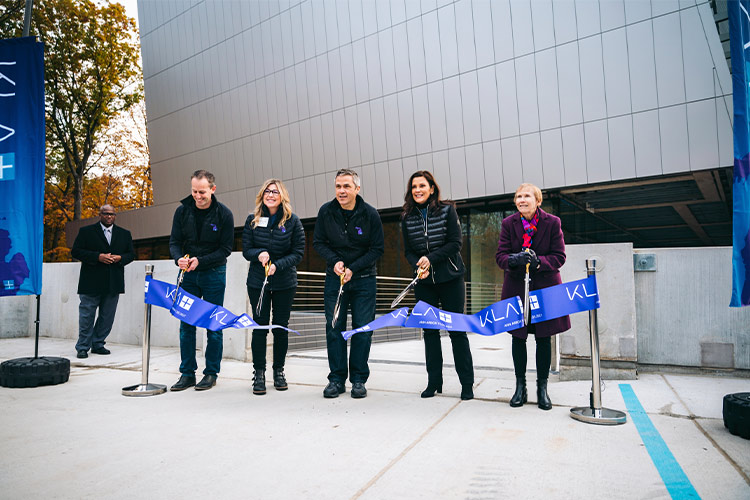 As of September 2020, KLA has surpassed its hiring goals, having brought on more than 200 employees to live, work and play here in the state.
Because the company chose to invest in Michigan out of 350 competitors, it can leverage the state's quality talent to innovate and grow its products. And at the end of the workday, KLA's employees get to enjoy all that Pure Michigan has to offer.
The future of tech and innovation is taking place today in Michigan. Learn more about why Michigan is the right place for your business by visiting michiganbusiness.org/pure-opportunity.