This Just In: Michigan a Top State for Foreign Direct Investment
Wednesday, December 8, 2021
Michigan Ranks Among the Top 5 States in the Nation for Ongoing FDI Activity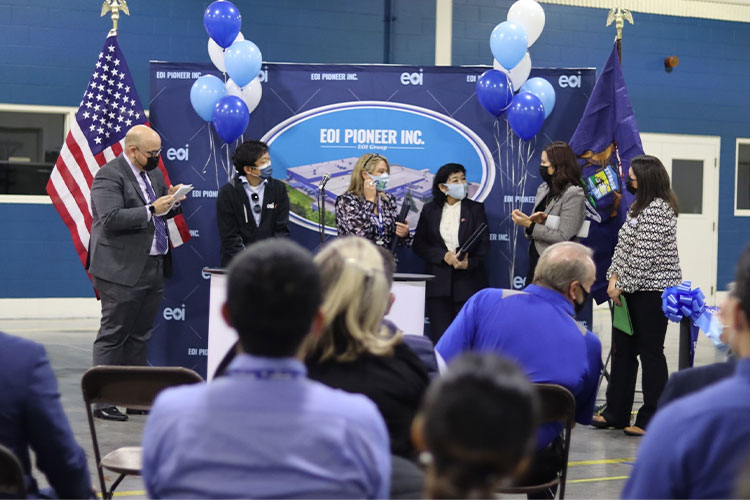 This week Michigan was recognized as being among the top 5 states for FDI jobs growth in 2021 according to the Global Business Alliance. With FDI employment increasing by 33% from 2014 to 2019, Michigan was the only state to rank among the top 5 under all three categories. Additionally, with FDI jobs making up 8.2% of its total employment, Michigan leads the Midwest while ranking third in the nation for its number of FDI-created manufacturing jobs.
Over the past five years, global companies have invested $11.8 billion in projects throughout the state, creating 36,400 jobs here in Michigan. Investments from critical partners in the United Kingdom, Germany, South Korea and others have supported significant job creation, while also building on Michigan's strengths in automotive manufacturing, R&D and mobility and electrification efforts. By working with these global partners, Michigan outpaces its regional competitors.
"Michigan will continue to compete across global markets to deliver key investments and wins for the state's economy and job creation across the automotive, advanced manufacturing and other R&D-intensive sectors," said Quentin Messer, Jr., CEO of the MEDC. "From our world class workforce, our globally connected location, commitment to welcoming international newcomers, and a rich heritage in innovation and manufacturing, Michigan remains the place for foreign companies to find pure opportunity here in the U.S."
In recent weeks, Michigan has continued to demonstrate dynamic growth in foreign direct investments in the state. Recent announcements include global auto supplier TÜV SÜD establishing a state-of-the-art EV battery testing facility in Auburn Hills. The $44.1 million investment will create high-wage jobs and continue to build on Michigan's leadership in mobility and electrification. Additionally, Taiwan-based EOI Pioneer announced it was establishing new automotive manufacturing operations at its facility in Dundee. This project is the company's first North American automotive manufacturing facility, with a total capital investment of $14 million and the creation of up to 195 new jobs.
These two global investments come just weeks after announcing the expansion of tesa tape's manufacturing plant in Sparta. The expansion will create 25 well-paying jobs and includes a total capital investment of $35.6 million. German company Sartorius BioAnalytical Instruments, Inc. also recently announced plans to invest in Michigan with the construction of its Center of Excellence facility in Ann Arbor, a project that will generate a total capital investment of $57 million and create 160 high-wage jobs.
Since 2015 a total of 81 FDI projects came from German-based investments, creating a total of 7,983 jobs. These companies include TÜV SÜD, tesa tape and Sartorius BioAnalytical Instruments, Inc.
Home to nearly 1,500 foreign companies with more than 5,000 locations throughout the state, Michigan is the premier gateway for businesses from around the world to expand. Much of this investment builds on the state's workforce and strengths in automotive manufacturing with nearly 60% of investment from the top five countries investing the in U.S. tapping into the robust ecosystem and supply chain present in Michigan.
To learn more about Michigan's foreign direct investment opportunities visit www.michiganbusiness.org/fdi/.
To learn more about why Michigan is the home for Pure Opportunity visit www.michiganbusiness.org/pure-opportunity.
About Michigan Economic Development Corporation (MEDC)