Michigan paves the way for tech start-ups with statewide networks and resources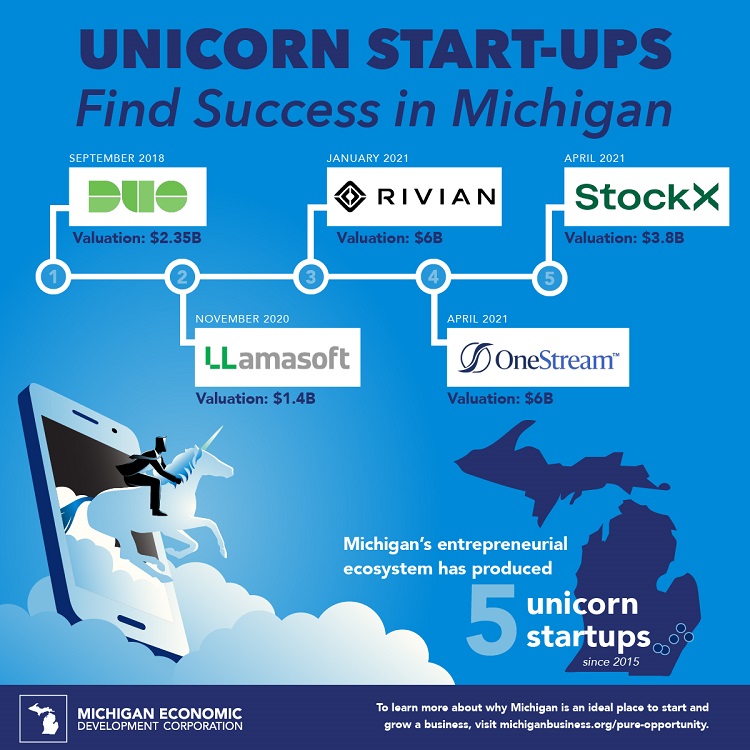 Entrepreneurs are establishing roots in Michigan, launching their companies here with high hopes for growth. Why are these innovators so confident in the Great Lakes state? Because Michigan is home to a diverse ecosystem with extensive resources that support new business, thanks to organizations like the Michigan Economic Development Corporation (MEDC).
Michigan is one of only a few states with more than one resident unicorn company. Like its namesake, a unicorn company is a rarity—a start-up with a valuation exceeding $1 billion—and the fact that Michigan has more than its share underscores the state's significant opportunities for economic growth. Since 2018, five Michigan start-ups—Duo Security, Llamasoft, Onestream Software, Rivian Automotive and StockX—have become unicorns. Four of them achieved their billion-dollar valuation in the last year – demonstrating that even in the midst of a global pandemic, Michigan remains a hotbed for opportunities and success.
Statewide networking and economic prosperity promote start-up growth
Michigan is home to 14 Fortune 400 companies and has more than 80,000 workers in the technology industry, making the state a hub for entrepreneurs with big dreams. Michigan also attracts tech professionals through frequent networking and matchmaking conferences, post-graduate programs at top-tier research universities, and support programs and resources offered by organizations like the MEDC. Leading the automotive industry with 75% of the nation's research and development spending, Michigan has a history of welcoming innovative automotive technologies to the forefront of its booming ecosystem. Connections to this ecosystem are helping new tech companies, such as autonomous electric vehicle manufacturer Rivian Automotive, to excel. This Plymouth-based unicorn brought a wave of modernization to Michigan's automotive industry through the manufacturing of autonomous electric vehicles. With the support of the MEDC and Sumitomo Corporation of Americas, Rivian Automotive raised $2.65 billion of Series F funding in 2021 and is now valued at $6 billion.
When it comes to networking, top research universities like Michigan Technological University and the University of Michigan can provide opportunities to connect with some of the nation's best and brightest creators. Five higher learning institutions in the state are enrolled in the Michigan Translational Research and Commercialization Program, which helps transfer new technologies from academia to the commercial market through start-ups and licensing. In a similar vein, Michigan offers the Technology Transfer Talent Network, a statewide organization of expert mentors and postdoctoral researchers who support the commercialization of university-generated technology. With so many prestigious universities taking an active role in Michigan's tech industry, it comes as no surprise that innovators feel welcomed and encouraged to grow in the state.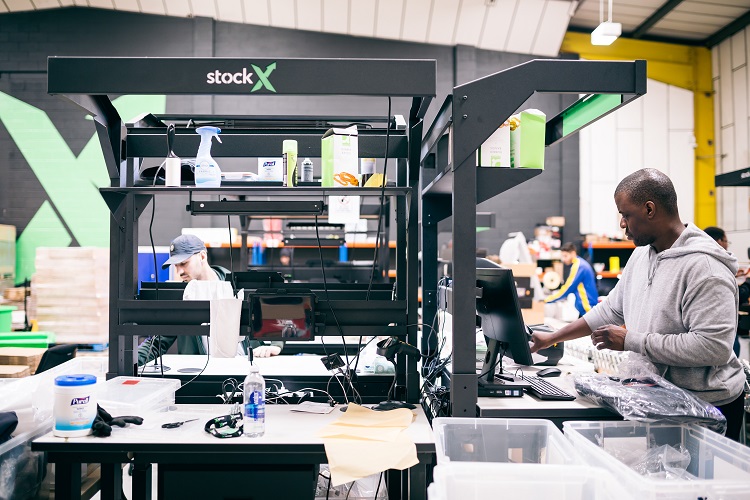 Michigan's booming technology industry is not "one-size-fits-all." Michigan's vast resources and forward-thinking investors are equipping the economy with the tools necessary to nurture a variety of start-ups. As a result, StockX, a $3.8 billion developer of an online marketplace that sells high-demand and limited-edition sneakers, can thrive in the same state as Duo Security, a cloud-based internet security service valued at $2.35 billion.
As a result of their success, Michigan is recognized nationally as the fastest growing state for venture capital investment, with an increase in venture dollars from $300 million in 2016 to $3.1 billion in 2020. The Michigan Venture Capital Association also notes that Michigan venture investors helped back nearly every Michigan venture-funded startup, further demonstrating the health and resilience of Michigan's entrepreneurial economy.
State resources promote financial security and opportunities for entrepreneurship
Michigan companies rely on economic support and resources to grow their companies within the state and, in many cases, globally. Llamasoft, developer of a supply-chain analytics and planning platform, expanded to a valuation of $1.4 billion with the help of Michigan-based investors Augment Ventures, MK Capital and Invest Detroit. State-based programs like MEDC's Capital Access Program help connect businesses like Llamasoft to investors, cultivating millions of dollars in capital annually for small- and medium-sized businesses through its network of more than 100 statewide, national and international lenders.
The MEDC also partners with funding programs that provide capital for entrepreneurs to start their businesses in Michigan. The milestone-driven First Capital Fund lends genesis capital to new technology companies at the earliest stages of commercialization, while the Emerging Technologies Fund provides matching funds to non-dilutive Small Business Innovation Research and Small Business Technology Transfer federal grants to help develop and commercialize technologies.
To further nurture innovation and foster entrepreneurship in Michigan, the MEDC has 20 SmartZones located in all corners of the state. In these business-friendly environments, companies, innovators and researchers have access to shared workspace, as well as local services and mentors dedicated to advancing growth in the region. Likewise, programs such as the Michigan Small Business Development Center Tech Team are available to small- and medium-sized technology companies throughout the state as a resource for consulting, training, and research and development.

Encouraging creativity and innovation is what makes Michigan a leader in today's technology industry. In addition to being a hotbed for technology, the affordable cost of living, bountiful resources and diverse economy make Michigan a great place to not only live but start a business as well. With five companies reaching "unicorn" status in the past three years, the potential for growth has entrepreneurs flocking to the state, helping to expand and promote Michigan's ecosystem in national and global markets. To learn why Michigan is being positioned as a tech hub of the Midwest, visit michiganbusiness.org/pure-opportunity.
Contact Us