New placemaking initiatives will transform underutilized properties, revitalize Michigan communities impacted by COVID-19 pandemic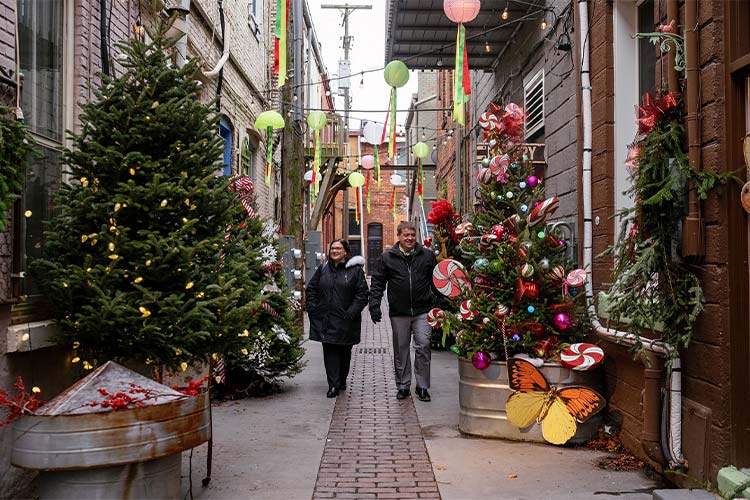 LANSING, Mich. – The Michigan Economic Development Corporate has announced two new programs designed to strengthen Michigan's communities by supporting placemaking efforts around the state utilizing federal funding, including American Rescue Plan dollars. Program guidelines for the Revitalization and Placemaking (RAP) program and the Public Gathering Spaces Initiative were approved on Dec. 7 by the Michigan Strategic Fund to support MEDC's strategic focus on innovative placemaking.

The Revitalization and Placemaking (RAP) program utilizes $100 million in federal American Rescue Plan dollars to support investments that will repurpose vacant, underutilized, blighted or historic buildings and place-based infrastructure to address impacts of COVID-19. The new Public Gathering Spaces Initiative utilizes $5 million in Community Development Block Grant funding to support the creation and expansion of public gathering spaces that allow residents to gather, relax, celebrate and commemorate safely together.

"These two programs utilize federal funding to help us continue to attract talent through innovative placemaking and transform underutilized properties into vibrant spaces as part of our efforts to create a holistic, people-first approach to economic development here in Michigan," said MEDC Senior Vice President of Community Development Michele Wildman. "As a national leader in innovative placemaking, Michigan continues to develop the tools and resources to support communities as they revitalize their downtowns, attract and retain young professionals, increase tourism, and support their small businesses."

Revitalization and Placemaking Program (RAP)

The RAP program will support investments that will address the inventory of vacant, underutilized office and community spaces due to the pandemic by supporting efforts to repurpose and revitalize them for the community to enjoy. Projects may also include the development of permanent place-based infrastructure associated with traditional downtowns, social zones, outdoor dining and placed-based public spaces. Projects that include housing must include units that are priced to be attainable to the local workforce, including households with less than 120 percent of the area median income.

The program will allow individual projects to apply for up to $5 million in support of their efforts to revitalize underutilized spaces, while local economic development or community development organizations and non-profits may also apply for up to $20 million to implement programs in support of their own local or regional revitalization strategies.

The program is designed to address a rise in vacancy rates throughout Michigan's downtowns and commercial districts by supporting building conversions and renovations that will attract new users and build increased vitality. Additionally, the program is intended to invest in placemaking in locations that have had the greatest adverse economic impact as a result of the pandemic.

Communities, stakeholders and developers will have the opportunity to learn more about the program by attending a free RAP informational webinar on December 16. Registration is required. Participants are invited to submit questions and feedback via email to cdincentives@michigan.org prior to and following the informational webinar. Participants may also submit questions during the registration process. To register for the webinar, visit here.

The RAP program will award funding to eligible applicants based on one or more competitive application rounds, with the first application round being announced in early 2022. To learn more about the program, visit https://www.michiganbusiness.org/rap/.

CDBG Public Gathering Spaces Initiative

The Public Gathering Spaces Initiative will support the creation and expansion of public gathering spaces in low- and moderate-income communities across the state by implementing permanent, place-based infrastructure in these communities.

This program will provide grants between $200,000 to $1 million to create and enhance recreational places, and to fund projects like farmers' markets, parks, town squares, playgrounds and amphitheaters. The program addresses the shift toward a greater interest in and use of outdoor public spaces, recognizing the immense value they provide for community members of all ages and backgrounds to gather year-round.

To learn more about the program, visit https://www.miplace.org/pgsi/.

"Placemaking efforts like these two programs continue to provide a critical foundation for vibrant communities and continued growth all across the state," Wildman said.

The programs also build on existing MEDC placemaking programs, including Public Spaces, Community Places, and resources for communities to create gathering spaces to address the impact of COVID-19. In partnership with Main Street America and Michigan Main Street, MEDC offers a Reopen Main Street website that provides resources, strategies, and assets for downtowns and communities as they plan for their return to operations following the COVID-19 pandemic. In addition, on MEDC's community development website, the Resiliency page offers immediate strategies and actions around community resiliency framed through the lens of the Redevelopment Ready Communities Best Practices.

To learn more about MEDC's placemaking initiatives, community development technical support, support for small businesses and historic preservation efforts visit www.miplace.org.
About Michigan Economic Development Corporation (MEDC)