With a strong history of leadership in manufacturing, Michigan is now paving the way as a world-leading innovation hub for the semiconductor industry.
This story was originally published on November 5, 2021
Invented in America, semiconductors are the country's fourth-largest export after airplanes, refined oil and automobiles. From smartphones and TVs to medical equipment and vehicles, semiconductors play a significant role in how we communicate and connect today. With the most robust manufacturing ecosystem in the U.S., Michigan offers a diverse supply chain with immense knowledge and efficiency in the semiconductor industry.
The global shortage of semiconductor chips, exacerbated by the pandemic and supply chain constraints, has impacted people and industries across the country from auto manufacturing to consumer electronics, home appliances, medical devices, agriculture, defense and more.
To meet the increased demand and bolster the U.S. semiconductor supply chain, the U.S. House and U.S. Senate passed the CHIPS and Science Act in July 2022. On August 2, 2022, Governor Whitmer was joined virtually by President Biden for the signing of an executive directive guiding the implementation of the CHIPS and Science Act and preparing Michigan for increased resources as a result of the bill.
President Biden signed the CHIPS and Science Act into law on August 9, 2022, further bolstering Michigan's leadership role in the national semiconductor supply chain.
A History of Innovation
In the early 20th century, Ford's assembly line put Michigan on the map for innovation in manufacturing. Over 100 years later, the state that put the world on wheels continues to evolve and innovate in industries that impact our lives every single day. With a century-old tradition of cutting-edge manufacturing, Michigan is now leading the next generation of technology and manufacturing, particularly in the semiconductor space.
Michigan's semiconductor industry by the numbers
The semiconductor industry contributes $4.6 billion in total gross regional product for the state of Michigan.
Michigan's semiconductor workforce ranks among the top ten in the nation, with job growth projected to grow by at least 11% in the next five years.
Michigan is among the top states in the nation for semiconductor manufacturing, with industry jobs growing 12% between 2015-2020.
Michigan ranks 5th in the national for employment in industries related to electric vehicle battery manufacturing, with 2,200 workers employed at Michigan battery manufacturing and OEM locations.
Michigan-based Companies Leading the Way
Michigan's demonstrated leadership in advanced manufacturing within the semiconductor field is evident in companies with a longstanding presence in the state, such as Hemlock Semiconductor Corporation, the largest producer of polysilicon in the U.S. Hemlock was chosen as the site of Governor Whitmer's CHIPS Act executive directive signing thanks to its key role in Michigan's growing semiconductor industry.
In September 2022, Hemlock announced plans to invest $375 million and create 170 jobs at its facilities in Thomas Township, further ensuring Hemlock's long-term commitment to continue to produce the essential polysilicon for the semiconductor and solar industries in Michigan.
We built our global reputation on the ability to stay at the forefront of high-tech polysilicon production for the critical semiconductor and solar industries. This investment in local infrastructure supports HSC's ability to improve and expand our operations and helps us remain globally competitive. [This] announcement proves Michigan is serious about prioritizing the growth of high-tech businesses. We thank Governor Whitmer and the Michigan Economic Development Corporation for ensuring the U.S. leads in crucial, silicon-enabled technologies.
Additional companies in the semiconductor industry continue to invest in the state, building a steady momentum over the years that make Michigan well-suited to house the industry's future.
In July 2021, semiconductor wafer manufacturer SK Siltron announced plans for a $300 million expansion of operations in Bay County, creating up to 150 jobs. The company celebrated the ribbon cutting of the new facility with Governor Whitmer in September 2022.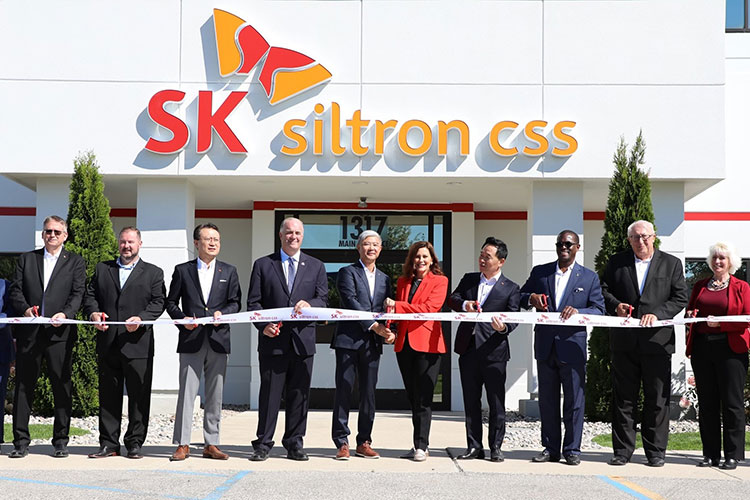 "SK Siltron CSS is thrilled to expand our presence in Michigan and reinforce our commitment to the entire Bay City community, while creating high-paying jobs and new investment opportunities," said Jianwei Dong, Chief Executive Officer of SK Siltron CSS. "The exceptional people of Bay City and our strong local partners are the reason we were able to expand so aggressively in the area. The support we have received is truly unmatched. This significant investment in Bay City will further boost the confidence levels of not only our customers, but also the entire electrical vehicle value chain to accelerate the pace of EV adoption."
Infineon Technologies Corp., a German-based world leader in semiconductor solutions, invested $1.5 million in its Livonia, Mich. facility in 2018 as it expanded its role in the self-driving auto industry.
Meanwhile, in 2018, Silicon Valley-based corporation KLA sought a location to build its new research and development center. With over 350 North American locations in the running, Michigan stood out for its rich talent base and affordable cost of living. Michigan has the highest concentration of engineers in the nation, and the engineering program at the University of Michigan is ranked among the top ten in the U.S. KLA built its R&D semiconductor research center in Ann Arbor in October 2018. It has since doubled its original investment and surpassed its hiring goals, bringing in more than 330 employees to the state.
In November 2021, KLA celebrated the grand opening of its permanent headquarters in Ann Arbor. The global semiconductor company's 230,000-square-foot facility demonstrates KLA's commitment to Michigan and further boosts Michigan's leadership position in semiconductor manufacturing and development.
In May 2023, Gov. Whitmer announced a new public-private partnership with KLA, Belgium-based technology innovation hub imec, the University of Michigan, Washtenaw Community College and General Motors that will establish a global semiconductor center of excellence in Michigan.
"Our partnership with the Michigan Economic Development Corporation has been instrumental in enabling KLA to serve our global customer base from the new headquarters and benefit from the impressive engineering talent and business culture that Michigan offers. KLA has been part of the most significant technological breakthroughs throughout its 45-year history. As we continue our journey at the forefront of semiconductor technology, we're thrilled that Ann Arbor and the state of Michigan are now part of our story."
The Semiconductor Talent and Automotive Research (STAR) initiative will focus on developing the talent base and infrastructure necessary to accelerate advanced semiconductor applications for electrification and autonomous mobility and move the automotive industry forward. The plan establishes a center of excellence in Michigan to formalize support for the development of the semiconductor industry workforce as well as the advancement of autonomous automotive solutions and EV research.
"KLA and imec's decision to establish a new STAR center of excellence in Michigan demonstrates our global leadership as a hub for advanced manufacturing and innovation, especially in the semiconductor industry," said Gov. Whitmer. "I am proud that Michigan was chosen as the location for the STAR research center over several other sites, proving that we have the skilled workforce, growing economy, and strong, business-friendly environment to win projects from one of the world's most innovative companies."
A Hub for the Semiconductor Industry
Today, one-third of the U.S. battery production and development occurs in Michigan, with 1,500 workers employed at various battery manufacturing and OEM locations, including LG Energy Solution, Samsung SDI and AKASOL.
With leading manufacturers, suppliers, R&D facilities, universities and ancillary services that contribute to the state's setup for success, Michigan is leading the world for the next generation of semiconductor manufacturing and development through its robust R&D ecosystem. Michigan ranks in the top 10 nationally for the number of STEM degree completions at our higher education institutions and is home to the fifth-largest advanced manufacturing workforce in the country. The University of Michigan is the top global institute for semiconductor training.
As the global epicenter of the automotive industry and home to one-fifth of U.S. auto production, Michigan is equipped to support the increasing global demand for semiconductor technology.
In an effort to make Michigan a top state for semiconductor talent solutions and growth, Gov. Whitmer and MEDC launched the new Semiconductor Talent Action Team in November 2022. The Talent Action Team will work across the public sector, industry partners, and training institutions to identify a clear set of semiconductor-specific curricula and R&D investments, placing Michigan in a strong position to attract long-term, sustainable investments from semiconductor companies around the world.
This builds on the Semiconductor Career and Apprenticeship Network, or SCAN Program, that will create pathways and opportunities for job seekers and tools and systems for semiconductor companies to attract, develop and retain a diverse, innovative and skilled workforce. Announced in May 2022, Michigan was one of only three states at the time to launch this planning work to define curricula to support both workers and employers in the global semiconductor industry.
With a rich history in manufacturing and innovation, Michigan is poised to be a guiding hand as the world's needs for semiconductor technology continue to evolve in the 21st century.
To learn more about how Michigan is a leader in the semiconductor industry, go to https://www.michiganbusiness.org/semiconductor.
Contact Us