THIS JUST IN: Michigan Underscores Leadership in Semiconductor R&D and Supply Chain with Grand Opening of KLA Corporation's New Ann Arbor Headquarters
KLA Corporation opens 230,000-square-foot permanent headquarters in Ann Arbor, builds on strength of Michigan's semiconductor industry R&D and supply chain.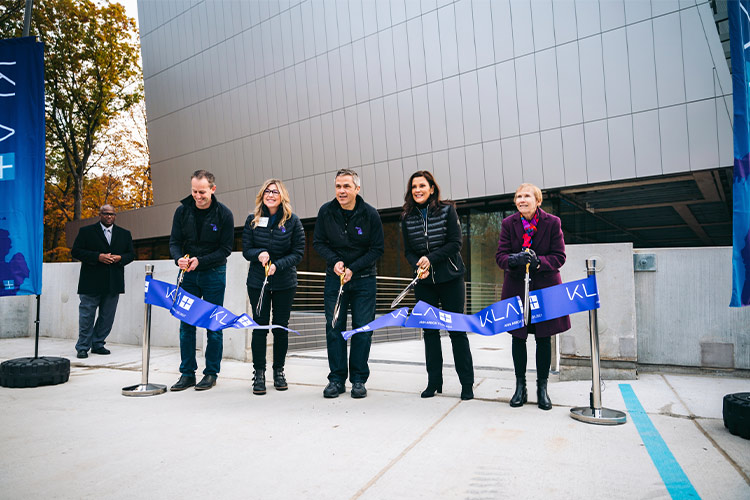 Governor Gretchen Whitmer joined business, state, and local officials today to celebrate the grand opening of KLA Corporation's (NASDAQ: KLAC) permanent headquarters in Ann Arbor. The global semiconductor company's 230,000-square-foot facility demonstrates KLA's commitment to Michigan and further boosts Michigan's leadership position in semiconductor manufacturing and development.
"We applaud KLA's strong and ongoing commitment to Michigan as we continue to jumpstart Michigan's economy," Gov. Whitmer said. "The company's tremendous success in Michigan is further evidence that Michigan remains a place where high-tech talent needs can be met and tech companies can grow. We thank KLA for its vote of confidence in our state and our workforce."
Silicon Valley-based KLA Corporation announced plans in October 2018 to establish a second headquarters in Ann Arbor, leading to the creation of 500 high-tech jobs and $70 million of private investment. The project was supported by a Good Jobs for Michigan withholding tax capture for up to eight years, and a $1.5-million Michigan Business Development Program Performance-based grant.
In 2019, KLA announced its decision to more than double its initial investment amount to $150 million and create an additional 100 jobs at the new R&D facility, bringing the total number of planned employees up to 600. The company has hired more than 330 people to date and made a total investment of $200 million, with hiring exceeding benchmarks even in the midst of the pandemic.
"Our partnership with the Michigan Economic Development Corporation has been instrumental in enabling KLA to serve our global customer base from the new headquarters and benefit from the impressive engineering talent and business culture that Michigan offers," said Rick Wallace, president and CEO of KLA. "KLA has been part of the most significant technological breakthroughs throughout its 45-year history. As we continue our journey at the forefront of semiconductor technology, we're thrilled that Ann Arbor and the state of Michigan are now part of our story."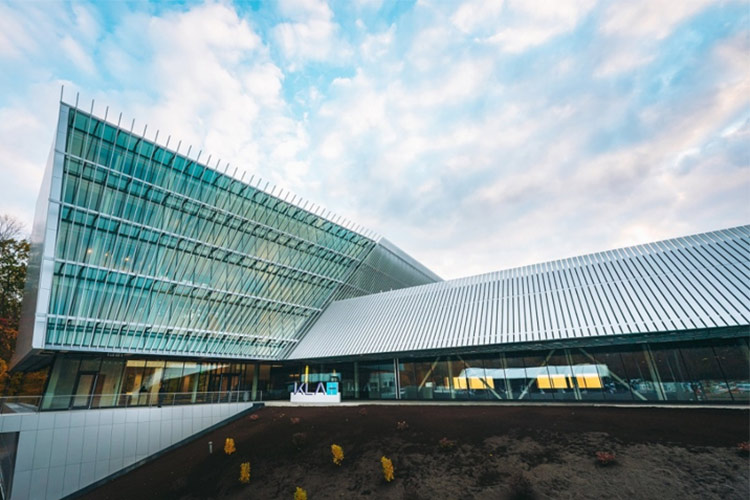 The 230,000-square-foot facility is situated on 18 acres in Ann Arbor Township, where it houses innovative engineering teams and corporate functions including supply chain, procurement, IT, finance, legal and human resources. The campus includes a cleanroom to support the research and development of semiconductor tools, green roof, and soaring atrium, with employee amenities including a cafeteria, coffee shop, fitness center and woodland trail.
KLA considered more than 350 North American locations before choosing Michigan, citing Michigan's attractive business climate, logistical assets, and rich talent base as just a few of the reasons for deciding to locate in Ann Arbor.
According to a recent article in the Detroit News, Michigan is poised to be a solution provider for semiconductor shortages and puts companies in the heart of semiconductor and battery R&D efforts nationwide. Michigan is among the top states in the nation for semiconductor-related manufacturing, with industry jobs growing 12 percent between 2015-2020.
In addition, Michigan's automotive industry purchased nearly $35 million in products and services from semiconductor companies in Michigan in 2020, building on the state's leadership in semiconductor R&D and testing due in large part to the state's talent and processes supported by Hemlock Semiconductor and the University of Michigan, which is the top global institute for semiconductor training on today's issues to help solve tomorrow's problems. As Michigan also continues leading the mobility industry in the development of electric and autonomous vehicles, demand for semiconductor manufacturers like KLA is expected to skyrocket over the coming years.
"KLA's investment in Michigan is a clear example of how high-tech companies are finding opportunities to grow in the state and are playing a key role in the ongoing economic recovery efforts," said Quentin L. Messer, Jr., CEO of the Michigan Economic Development Corporation and President and Chair of the MSF Board. "The company's ongoing vote of confidence in Michigan is a clear example of how top attraction projects are finding opportunities to grow in the state, and underscores our incredible talent and competitive business environment."
To learn more about how Michigan is prepared to play an even bigger role within the U.S. semiconductor supply chain, go to https://www.michiganbusiness.org/industries/tech/.
To see why companies are choosing Michigan, visit michiganbusiness.org/why-michigan.
About Michigan Economic Development Corporation (MEDC)