Why Michigan
Why Michigan?
Businesses are choosing Michigan for our diverse and abundant workforce, business-friendly environment, low cost of living and global supply chain assets. Add that to the state's available business resources and our eagerness to get to work, and you have a recipe for success.

Explore this section and find out why Michigan is the right choice for your business.
4.25%
Personal (flat) Income Tax
6%
Sales tax (+ no local sales tax)
Talented Workforce
Michigan is home to a wealth of highly skilled talent. From having the highest concentration of engineers in the nation to a skilled trades workforce that ranks in the top ten nationally, Michigan is preparing the talent needed for the jobs of the future.
Learn More
Gateway for International Business
Businesses thrive in the state's globally connected location. In fact, Michigan is a top 3 state for foreign direct investment and Detroit is the number 1 metropolitan area for FDI projects, according to Site Selection magazine.
Learn More
Michigan: The Power of Pure Opportunity
Michigan is where America's most innovative companies are shaping the future. Discover the power of Pure Opportunity and seize your success in its most concentrated form.
Low Cost of Living
At about 10% below the national average, Michigan's cost of living ranks as the fourth most affordable state in the country.
Washington, DC
Living in Washington, DC is 42% more expensive than living in Detroit. In fact, Forbes rated Detroit as the No. 1 city in America where your paycheck will go the furthest. In addition, Detroit's entertainment scene is unmatched with year-round festivals, four major professional sports teams and a number of top-rated museums.
Chicago
Living in Chicago is 17.3% more expensive than living in Detroit, and with everything from urban excitement to the great outdoors, Michigan provides the best of both worlds — including vibrant downtowns, shopping districts and the most public golf courses in the country.
San Francisco
Living in San Francisco will cost you 62% more when compared to living in Detroit. Not to mention Michigan is surrounded by four of the five Great Lakes, boasting more freshwater coastline than California, or any other state for that matter.
Brooklyn, NY
Living in Brooklyn is 53% more expensive compared to living in Detroit. Michigan is also home to more than 100 wineries and is known as a top 10 craft beer state in the U.S. This has spurred the growth of vibrant and diverse downtown areas throughout the state.
Seattle, WA
The cost of living in Detroit is 39% lower than the cost of living in Seattle, WA. With housing on average costing 56% less, you can live in a great neighborhood and still be surrounded by the buzz of city that is booming.
Globally Accessible Location & Supply Chain
Michigan is within 500 miles of nearly half the U.S. and Canadian population and commerce centers providing unparalleled access to market.
25% +
of $500+ billion annual trade between the U.S. and Canada crosses the Ambassador Bridge, the most active border crossing in North America.
33
active deep water ports surround Michigan, also known as the Great Lakes state.
28
freight railroads with 3,600 miles (5,793 km) of track across Michigan.
19
commercial airports in Michigan, including Detroit Metropolitan, one of the largest U.S. air hubs in North America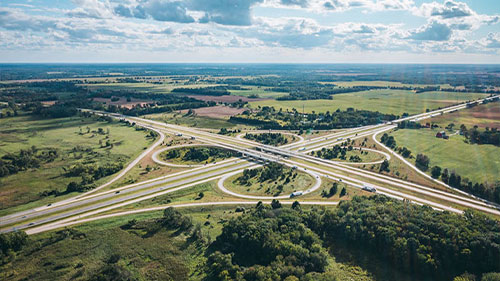 Amplifying Michigan's Supply Chain & Reshoring, One Initiative at a Time
Michigan realizes that need for speed to market when it comes to reshoring, targeting industry supply chains and investing in infrastructure improvements. For that reason, Michigan is ensuring a competitive cost environment for businesses moving goods in and out of the state by strengthening global ties and creating businesses opportunities that are critical for the economic opportunity for future generations of Michiganders.
Read More
Take the Next Step: Expand or Relocate your Business in Michigan