Michigan is ensuring a competitive cost environment for businesses moving goods in and out of the state by strengthening global ties and creating businesses opportunities that are critical for the economic opportunity for future generations of Michiganders.
When it comes to global shifts in how we do business today, the pandemic, geopolitical conflicts and the climate crisis have driven businesses to reshape their global supply chains to make them more resilient, sustainable and collaborative. In the U.S., business logistics costs are higher than ever with a 22% increase, the highest levels the nation has seen in 10 years.
Michigan realizes that need for speed to market when it comes to reshoring, targeting industry supply chains and investing in infrastructure improvements. For that reason, Michigan is ensuring a competitive cost environment for businesses moving goods in and out of the state by strengthening global ties and creating businesses opportunities that are critical for the economic opportunity for future generations of Michiganders.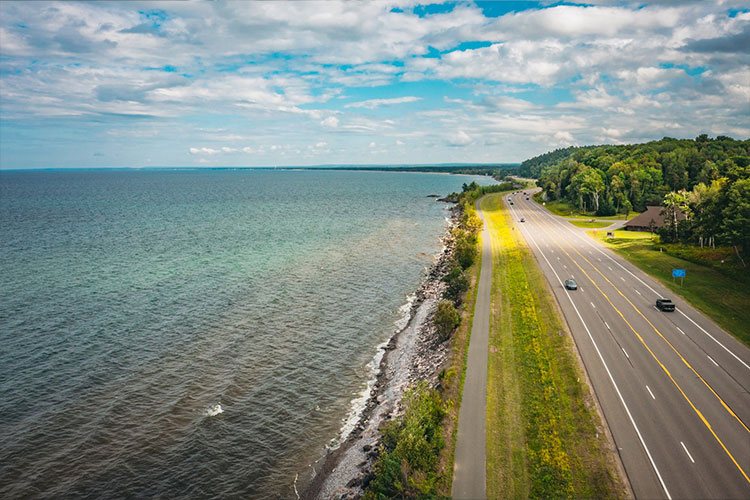 PRESERVING AND AMPLIFYING MICHIGAN'S INFRASTRUCTURE
Michigan has built a strong transportation network spanning all major modes – 33 active deep-water ports, 26 freight railroads with 3,600 miles (5,793 km) of track across the state and 18 commercial airports, including Detroit Metropolitan Wayne County Airport, one of the largest U.S. air hubs in North America with 23+ million passengers.
In 2020, Michigan established the four-year, $3.5 billion Rebuilding Michigan Plan to double down on the strength of its highways and bridges to help companies move goods more efficiently and at a competitive cost. In 2022, Michigan has repaired, rebuilt or rehabilitated over 16,000 lane miles of road and 1,200 bridges, supporting nearly 89,000 jobs.
Looking ahead, Michigan has accounted for the largest infrastructure budget in the state's history with $6.3 billion for state and local roads, bridges, airports, transit and rail programs. This historic investment in the state's supply chain efficiency will be overseen by the new Michigan Infrastructure Office, responsible for organizing and executing the governor's vision for infrastructure, coordinating across state government, marshalling resources and partnering with local officials, federal partners and outside stakeholders.

In addition to Michigan's direct investment in its infrastructure, the state can expect to receive upwards of $11 billion through the Bipartisan Infrastructure Law between 2022 and 2026. This funding will support the Michigan Department of Transportation's Five-Year Transportation Program, a $15.5 billion multimodal transportation investment, set to launch in 2023. The program's investments are broken down into sub-projects: $11.5 billion for the Highway Program; $1 billion for the Aviation Program; and $2.9 billion for the Public Transportation Program that includes bus, rail, marine and public transit.
Additionally, Michigan is enhancing its mobility ecosystem by advancing the state's charging infrastructure through its Charge Up Michigan Program. Currently there are nearly 1,400 charging outlets and 146 private charging stations. Michiganders can expect to see an additional 75 DC fast-charging stations with nearly 300 chargers throughout the state.
Michigan is also expanding its broadband infrastructure. The state continually looks for opportunities to give more access to reliable, affordable high-speed internet connection to more than 18,000 homes and businesses. Governor Gretchen Whitmer leveraged over $700 million in federal funding and created the Michigan High-Speed Internet Office to coordinate the state's high-speed internet work, aligning it with economic development opportunities.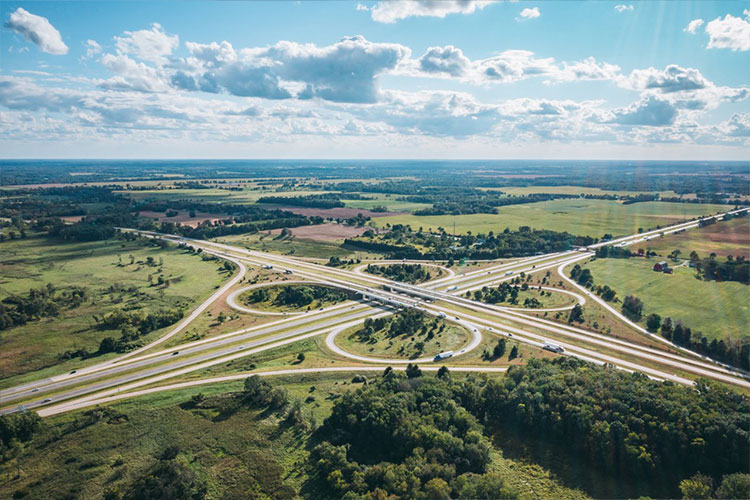 CRITICAL SUPPLY CHAIN EXPANSIONS RESULT IN JOB CREATION
Michigan has the greatest concentration of Original Equipment Manufacturers (OEM) in the country, with 26 having headquarters or technology centers in the state. Supply chains in the automotive and semiconductor industries are continuing to build out, with corporate expansions and relocations to the Great Lakes State bolstering supplier networks and increasing the density of industry ecosystems.
Automotive
Utah-based EV manufacturer VIA Motors Inc., acquired by Ideanomics, relocated its headquarters to Auburn Hills to accelerate its EV production growth. The relocation to Metro Detroit is expected to generate a total capital investment of $12.3 million and create up to 300 jobs, benefitting from the state's high-skill talent and leadership in the auto industry.
Midwest Acoust-A-Fiber, an Ohio-based tier 1 and 2 supplier of exterior acoustic and thermal products for major light vehicle and heavy truck manufacturers, is establishing new operations in Michigan. The project will create 75 new jobs, retain 62 jobs and secure $12.1 million in new investment. "We will be closer to our American customers, offering a high-quality product with fast response times for dynamic industry needs with product proudly made in Michigan, USA," said AAF's CEO Herve Bocher.
Michigan-based manufacturers are also taking advantage of the state's reshoring efforts to continue production growth. CNC machining specialist Aerostar Manufacturing is investing $8.6 million and creating up to 62 jobs as part of its expansion in Romulus.
"In the end it wasn't just the dollars and cents, but many intangibles like manufacturing infrastructure, trained workforce and being close to many world-class existing and potential customers in Michigan that tipped the scale in Michigan's favor."

International companies are tapping into the state's infrastructure developments as well. FLO, a Canadian electric vehicle charging network operator and smart charging solutions provider, is building its first-ever U.S. manufacturing facility with a $3 million investment, creating 133 jobs in 2023 alone.
Semiconductor
Michigan is also working to onshore and reshore the critical semiconductor supply chain, creating good-paying jobs and reducing delays and shortages. Hemlock Semiconductor Operations (HSC) is one of many supporting Michigan's leadership in the industry, expanding its operations in Thomas Township with a $375 million investment.
"We couldn't ask for more effective advocates who clearly understand the critical role our cutting-edge technologies will play in building out a robust domestic supply chain for semiconductors and in strengthening HSC's competitive position on a global scale," said HSC chairman and CEO AB Ghosh about the government support received as part of its Michigan expansion.
Korean semiconductor wafer manufacturer SK Siltron and Silicon Valley-based global semiconductor company KLA also made the move to Michigan, creating 750 jobs combined. "SK Siltron's commitment to Michigan will help us bring the semiconductor supply chain home, cut down shortages and delays, and create good-paying jobs for Michiganders in Bay City," said Governor Gretchen Whitmer. "I am proud that Michigan was selected for this $300 million investment over several other states, proving that we have the skilled workforce, growing economy and strong business-friendly environment conducive to attract projects from one of the world's most innovative companies."
In just over a year, Michigan has brought home over $13.5 billion worth of projects and with this momentum, the state is ready to win more cutting-edge manufacturing projects to bring supply chains home and create opportunities for Michiganders.
"Building a strong economy is a marathon, not a sprint," said Governor Whitmer. "If we want to play in the global market, we must go everywhere and compete with everyone."
Contact Us