THIS JUST IN: SK Siltron CSS's new manufacturing facility in Bay City strengthens Michigan's semiconductor sector leadership
Thursday, September 1, 2022
Company's investment ensures long-term commitment to producing key element in semiconductor supply chain in Michigan, across the U.S.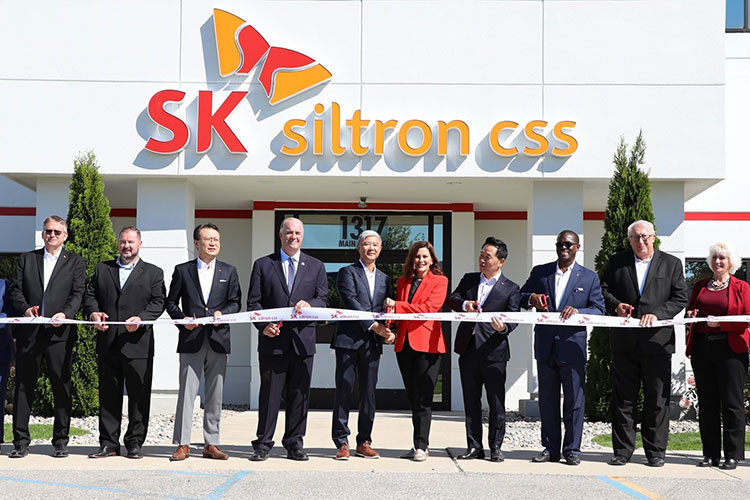 Governor Gretchen Whitmer joined business, state, and local officials today to celebrate the ribbon cutting of semiconductor wafer manufacturer SK Siltron CSS's new manufacturing facility in Bay City. The company's $300 million investment strengthens SK Siltron's commitment to Michigan and further boosts Michigan's leadership role in the national semiconductor supply chain.
"SK Siltron's commitment to Michigan will help us bring the semiconductor supply chain home, cut down shortages and delays, and create good-paying jobs for Michiganders in Bay City. The products SK Siltron manufactures are the building blocks of countless products and industries: electric vehicles, solar panels, smartphones, and so much more—we cannot let China dominate this market. I am proud that Michigan was selected for this $300 million investment over several other states, proving that we have the skilled workforce, growing economy, and strong business-friendly environment conducive to attract projects from one of the world's most innovative companies. I will work with anyone to keep bringing supply chains home, build on our high-tech manufacturing leadership, and create opportunity for Michiganders in every region."
SK Siltron CSS, headquartered in Bay County, announced plans in August 2021 to expand production of much-needed silicon carbide wafers, considered the future of the industry because of their ability to efficiently transfer energy. The company selected Michigan over competing states because of its skilled workforce and proximity to automakers. The project was supported by a $1.5 million Michigan Business Development Program grant and is expected to create a total of 150 jobs. To date, the company has hired more than 100 employees for the new positions.
"SK Siltron CSS is thrilled to expand our presence in Michigan and reinforce our commitment to the entire Bay City community, while creating high-paying jobs and new investment opportunities. The exceptional people of Bay City and our strong local partners are the reason we were able to expand so aggressively in the area. The support we have received is truly unmatched. This significant investment in Bay City will further boost the confidence levels of not only our customers, but also the entire electrical vehicle value chain to accelerate the pace of EV adoption."
The demand for power semiconductors is rapidly increasing as automakers enter the electric vehicle market and telecommunication companies expand 5G capabilities. SK Siltron CSS manufactures a specialty wafer made of silicon carbide (SiC) that can be used in electric vehicles. SiC wafers are more efficient at handling high powers and conducting heat than normal silicon. When used in EV system components, this characteristic can allow a more efficient transfer of electricity from the battery to the motor, increasing the driving range of an EV by 5 to 10 percent.
The project will result in high-wage jobs in high-tech manufacturing ranging from semi-skilled operators to engineers, and will continue to strengthen Michigan's automotive, mobility and advanced manufacturing industries. The semiconductor industry already contributes $4.6 billion in total gross regional project for the state of Michigan, with Michigan among the top states in the nation for semiconductor manufacturing. Adding the new jobs and this significant investment by SK Siltron CSS in Michigan solidifies the company's presence and creates a stronger path toward future investment here in the state.
Today's celebration comes just a month after President Joe Biden attended a virtual signing event of the state's CHIPS Act Executive Directive. President Biden was joined virtually by U.S. Senators Debbie Stabenow and Gary Peters, and in person at Hemlock Semiconductor's manufacturing facility in Thomas Township by Michigan Gov. Gretchen Whitmer and Congressman Dan Kildee. The executive directive marks a vital step toward increasing domestic chip production near automakers and other manufacturers helping to spur innovation, reduce inefficiencies and avoid costly delays.
To learn more about how Michigan is prepared to play an even bigger role within the U.S. semiconductor industry, go to https://www.michiganbusiness.org/semiconductor/.
About Michigan Economic Development Corporation (MEDC)