THIS JUST IN: POTUS Joins Gov. Whitmer Virtually for Signing of CHIPS Act Executive Directive
President Biden joined Governor Whitmer, elected officials and representatives from Hemlock remotely for the signing of an executive directive guiding the implementation of the CHIPS Act, which will boost domestic chip production and bolster Michigan's leadership in the semiconductor industry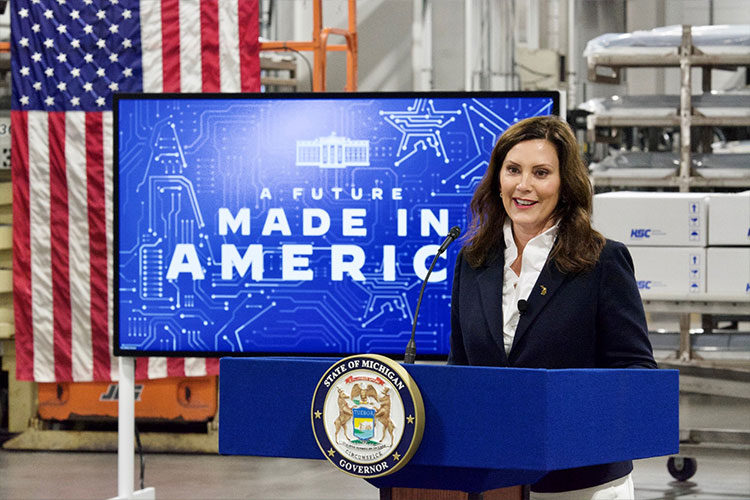 On August 2, 2022, an executive directive guiding the implementation of the CHIPS Act was signed into law by Governor Whitmer at Hemlock Semiconductor Operations (HSC), based in Michigan. Whitmer was join virtually by President Biden, elected officials and semiconductor industry leaders. As the largest producer of polysilicon in the U.S., Hemlock's longstanding presence in Michigan contributes to the state's leadership position in the semiconductor supply chain.
"The bipartisan CHIPS and Science Act will make a once-in-a-century investment in American industry to create and protect tens of thousands of jobs, bring supply chain from China to Michigan, and help lower costs for working families on electronics, cars, and so much more," said Governor Whitmer. "The ongoing chip crisis is having a stark impact on Michigan. We need to move fast, which is why I signed an executive directive today preparing Michigan to harness every available resource from the CHIPS and Science Act to set up our state for decades of growth. I will fight hard to ensure that Michigan brings home as many resources as possible from the CHIPS and Science Act, and I look forward to unleashing our state's potential. Let's keep putting the world on notice and show everyone that Michigan is the place to build the future."
The executive directive marks a vital step toward increasing domestic chip production near automakers and other manufacturers helping to spur innovation, reduce inefficiencies and avoid costly delays. By securing a robust semiconductor supply chain in the state – anchored by existing Michigan companies including Hemlock Semiconductor Operations, SK Siltron CSS, KLA and Calumet Electronics – Michigan stands to attract long-term, sustainable investments from companies around the world.
"This is a critical moment for the United States and Michigan in particular as we work to earn transformational investments for our state, create good jobs for Michigan workers and more opportunities for small businesses," said Michigan Economic Development Corporation CEO Quentin Messer Jr. "I am proud of Governor Whitmer and our bi-partisan Federal Delegation leadership in working tirelessly to encourage the passage of this legislation. The signing of the executive directive in Michigan reminds the world again of our global manufacturing and automotive R&D leadership, and the fact that leading consumers of semiconductors call Michigan home on both peninsulas."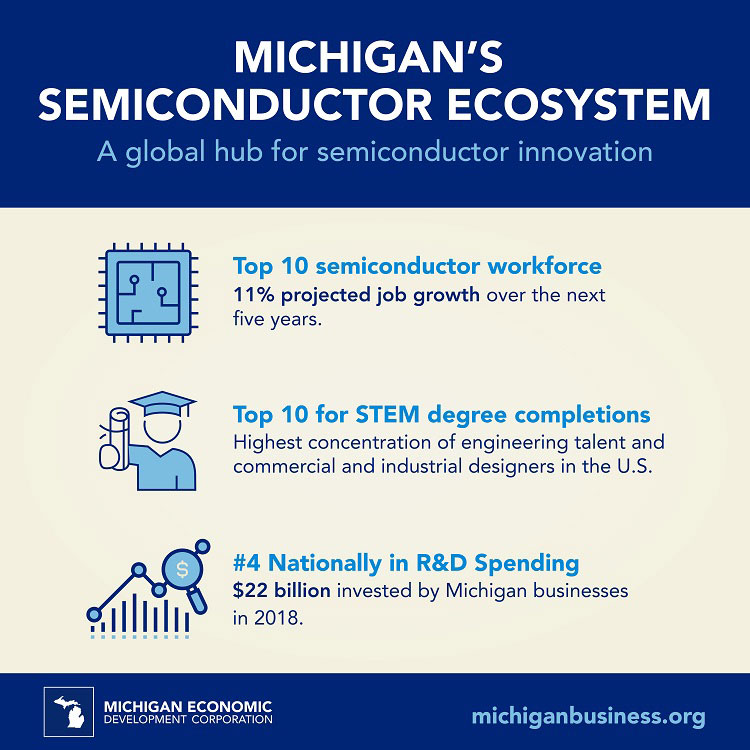 Semiconductor chips are a vital component of many products used by people every day. The global shortage of these chips, exacerbated by the pandemic and supply chain constraints, has impacted people and industries across the country from auto manufacturing to consumer electronics, home appliances, medical devices, agriculture, defense and more. These shortages have resulted in reduced production and in some cases, idled plants, impacting more than 575,000 auto-related American jobs. In 2021, automakers in North America lost an estimated 2.2 million vehicles, equaling over 3,000 days of work.
As the global epicenter of the automotive industry and home to one-fifth of U.S. auto production, Michigan was chosen as the site of the critical bill signing for its role in semiconductor manufacturing and passionate support for the CHIPS+ Act by Governor Whitmer and Michigan's delegation.
Michigan's Leadership to Deliver CHIPS and Science Act
The CHIPS+ Act will revitalize chip manufacturing and design in the U.S., leading to more transformational projects that will invest billions into our communities and create thousands of good-paying jobs.
Thanks to leading manufacturers, suppliers, R&D facilities, universities and ancillary services that contribute to the state's setup for success, Michigan is equipped to support the increasing global demand for semiconductor technology.
In fact, Michigan is among the top states in the nation for semiconductor manufacturing, with industry jobs growing 12% between 2015-2020, and ranks fifth in the nation for employment in industries related to electric vehicle battery manufacturing. Overall, the semiconductor industry contributes $4.6 billion in total gross regional product for the state of Michigan.
Michigan is also investing in its talent pipeline, ensuring the state can meet the workforce needs of the growing semiconductor industry in the state. Michigan's talent and processes are supported by the University of Michigan (U-M), which is the top global institute for semiconductor training. At U-M's Lurie Nanofabrication Facility, for example, students, researchers, other academic institutions, national labs and industry have access to nanofabrication equipment and expertise to make cutting-edge discoveries.
In May 2022, Governor Whitmer joined the MEDC in announcing Michigan Strategic Fund support for a new semiconductor technician apprenticeship program intended to strengthen the pipeline of the semiconductor workforce.
The Semiconductor Career and Apprenticeship Network (SCAN) Program grant will provide $1.5 million in CDBG-CARES funding to the SEMI Foundation, an arm of the global microelectronics industry association SEMI. The SEMI Foundation's mission is to support economic opportunity for workers and the sustained growth of the microelectronics industry by creating pathways and opportunities for job seekers, and tools and systems for semiconductor companies to attract, develop and retain a diverse, innovative and skilled workforce.
As ground zero for the game-changing CHIPS+ legislation, Michigan is paving the way as a world-leading innovation hub for the semiconductor industry.
To learn more about how Michigan is driving the next generation of high-tech industry innovation, go to michiganbusiness.org/tech.
About Michigan Economic Development Corporation (MEDC)