Whitmer Administration Hosts Congressional Leaders to Urge Passage of CHIPS Act; Highlight Critical Economic Impact of Semiconductor Industry
Governor Whitmer continues leading the charge to face the chip crisis head on as CHIPS Act advances toward final consideration in the U.S. Congress
LANSING, MICH – As the CHIPS Act moved through the U.S. Senate this week, Governor Gretchen Whitmer and Lt. Governor Garlin Gilchrist II are again urging full funding and swift passage of this critical bill. This includes the Lt. Governor joining a semiconductor roundtable in Taylor this afternoon with House Speaker Nancy Pelosi, Congresswoman Debbie Dingell (MI-12), Congressman Dan Kildee (MI-05), Congresswoman Haley Stevens (MI-11), Congressman Andy Levin (MI-09), Congressman Pete Aguilar (CA-31), and key private sector leaders. If passed, the CHIPS Act would boost domestic chip production, shore up American manufacturing, and support businesses and workers across Michigan.

"The CHIPS Act would create and protect thousands of good-paying, high-skill jobs in Michigan, lower costs for working families, and show businesses that the United States is the place to build the future of cars, computers, and electronics. This is game-changing, bipartisan legislation that will make a real difference in people's lives if we get it done, and it's the kind of policy that can set us up for decades of economic prosperity." said Governor Gretchen Whitmer. "We have an obligation to Michigan's strong automotive industry and hardworking auto workers to get this done and work together to build a strong domestic chip supply chain here in Michigan and across the nation."

The CHIPS Act currently being considered would fund $52 billion in incentives to boost domestic semiconductor production and research, $2 billion of which would be dedicated to incentivizing production of the "mature node" semiconductors used by automakers and parts suppliers, thanks to advocacy from Michigan's U.S. Senators Debbie Stabenow and Gary Peters. Mature node chips are also used in medical devices, agricultural machinery like farm tractors and combines, as well as radiation-proof chips required by our national defense industrial base.

"I was honored to welcome our nation's foremost policymakers to Michigan today to discuss how we overcome the semiconductor chips shortage and boost our state and national economic competitiveness," said Lt. Governor Garlin Gilchrist II. "Through partnerships with semiconductor chip manufacturers in our state, Governor Gretchen Whitmer and I have worked hard to train and grow Michigan's workforce as we expand semiconductor research, development, and manufacturing. We look forward to Congress' quick passage of the CHIPS Act, and we are grateful for the Michigan congressional delegation's work on this critical legislation. Governor Whitmer and I will never stop working to put Michigan in the lead on this issue and ensure the technologies of the future are made by high-skilled workers right here in Michigan."

The CHIPS Act would be a vital step toward increasing domestic chip production near automakers and other manufacturers helping to spur innovation, reduce inefficiencies, and avoid costly delays. By securing a robust semiconductor supply chain in the state – anchored by existing Michigan companies including Hemlock Semiconductor, SK Siltron CSS, KLA and Calumet Electronics – Michigan stands to attract long-term, sustainable investments from companies around the world.

Governor Whitmer has been tackling the chip crisis facing U.S. manufacturing head on for more than a year. In April, she announced Michigan would become the third state in the nation to develop a Semiconductor Apprenticeship Network Program, which will support the SEMI Foundation in addressing a shortage in the semiconductor workforce.

Governor Whitmer also worked to secure a $302 million investment from SK Siltron, a new semiconductor wafer manufacturing and R&D facility, which is creating 150 jobs near Bay City to support electric vehicle growth and support auto industry needs in-state. In addition, she facilitated the opening of a new facility by KLA, a high-tech, Fortune 500 firm specializing in systems and software integral to chip and electronics manufacturing which created 600 good-paying jobs in Ann Arbor. Michigan's robust semiconductor talent and processes is also supported by Hemlock Semiconductor and the University of Michigan, which is a global leader in semiconductor R&D, design and education.

Michigan's ability to support the semiconductor industry extends from its deep knowledge as a customer of the sector and as the global epicenter of the automotive industry. The state is home to nearly one-fifth of U.S. auto production—more than any other state in the nation—and has the greatest concentration of Original Equipment Manufacturers (OEM) in the country, with 26 having headquarters or technology centers in the state. Late last year, the Michigan Legislature, businesses, labor, and utilities worked with Governor Whitmer to pass bipartisan economic development legislation that helped Michigan land a $7 billion investment from GM creating and retaining 5,000 good-paying jobs, as well as a $2 billion investment from Ford creating 3,200 jobs. Funding the CHIPS Act paves the way for similar projects. The CHIPS Act will revitalize chip manufacturing and design in the U.S., leading to more transformational projects that will invest billions into our communities and create thousands of good-paying jobs.

Chip Crisis Impact

Semiconductor chips are a vital component of many products used by people every day. The global shortage of these chips, exacerbated by the pandemic and supply chain constraints, has impacted people and industries across the country from auto manufacturing to consumer electronics, home appliances, medical devices, agriculture, defense and more. These shortages have resulted in reduced production and in some cases, idled plants, impacting more than 575,000 auto-related American jobs. In 2021, automakers in North America lost an estimated 2.2 million vehicles, equaling over 3,000 days of work.

This means workers with less income, higher prices at the store, less products for consumers to buy and an ever-growing dependence on foreign supplies. In the long run, increasing domestic production of chips will protect and create jobs, strengthen our supply chain, and grow the economy.

Fully funding the CHIPS Act will bring chip manufacturing back home, creating and protecting thousands of good-paying jobs, growing Michigan's economy, and lowering costs for families.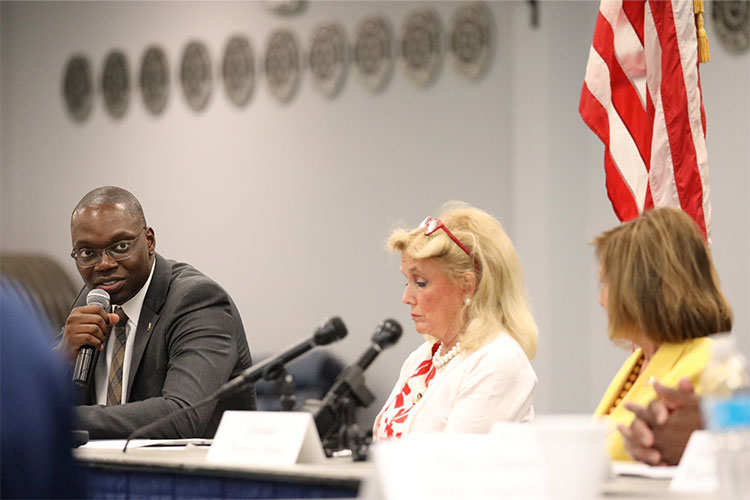 About Michigan Economic Development Corporation (MEDC)