LANSING, Mich. – Today, Governor Gretchen Whitmer joined the Michigan Economic Development Corporation to announce Michigan Strategic Fund (MSF) approval of support for a new semiconductor technician apprenticeship program intended to strengthen the pipeline of the semiconductor workforce. MSF also approved $1.5 million in Community Development Block Grant (CDBG) Coronavirus, Aid Relief and Economic Security Act (CARES) funds grant that will be used to plan and develop the program.

"As global demand for semiconductors continues to grow, Michigan is poised to be at the center of semiconductor and battery manufacturing and R&D efforts nationwide," said Governor Gretchen Whitmer. "Michigan is one of only three states that will be launching planning work to define curricula to support employers in the semiconductor industry. With this new apprenticeship program, along with our global manufacturing and automotive R&D leadership, we are leading the charge in addressing the universal industry demand for semiconductors while creating good-paying jobs for Michiganders."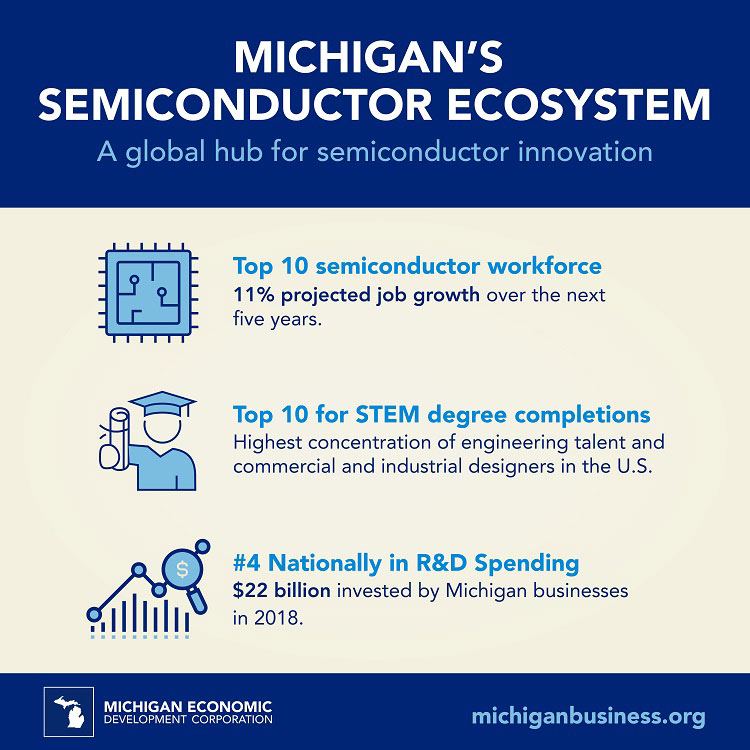 The Semiconductor Career and Apprenticeship Network (SCAN) Program grant will provide $1.5 million in CDBG-CARES funding to the SEMI Foundation, an arm of the global microelectronics industry association SEMI. The SEMI Foundation's mission is to support economic opportunity for workers and the sustained growth of the microelectronics industry by creating pathways and opportunities for job seekers, and tools and systems for semiconductor companies to attract, develop and retain a diverse, innovative and skilled workforce.

"SCAN is a critical program that will provide economic opportunity and mobility to Michigan residents and support the health of the microelectronics industry by addressing its significant workforce challenges," said Shari Liss, Executive Director of the SEMI Foundation. "We are thrilled to launch this important work in partnership with the strong workforce development organizations and ecosystem within Michigan."

The SEMI Foundation will provide the planning and development of the SCAN program in two phases: Phase 1 will focus on the workforce ecosystem by engaging key microelectronics employer partners, end users in the auto and manufacturing space, educational partners and key workforce development partners; Phase 2 will focus on customization through conducting extensive discovery and focus groups with employers to confirm job roles, skills and competencies needed to successfully build and diversify a robust and knowledgeable incoming workforce.

Michigan's ability to support the semiconductor industry extends from its deep knowledge as a customer of the sector, as the global epicenter of the automotive industry. The state is home to nearly one-fifth of U.S. auto production—more than any other state in the nation—and has the greatest concentration of Original Equipment Manufacturers (OEM) in the country, with 26 having headquarters or technology centers in the state.

Governor Whitmer is tackling the chip crisis facing the auto industry. She worked with SK Siltron, a new semiconductor wafer manufacturing and R&D facility, by investing $302 million and creating 150 jobs near Bay City to support electric vehicle growth and support auto industry needs in-state. She also facilitated the opening of a new facility by KLA, a high-tech, Fortune 500 firm specializing in systems and software integral to chip and electronics manufacturing which created 600 good-paying jobs in Ann Arbor. Michigan's talent and processes is also supported by Hemlock Semiconductor and the University of Michigan, which is the top global institute for semiconductor training.

In March, Governor Whitmer joined President Biden and other key public and private leaders at the White House to speak about economic competitiveness legislation and urge full funding for the CHIPS Act.

The CHIPS Act would fund $52 billion in incentives to boost domestic semiconductor production and research, $2 billion of which would be dedicated to incentivizing production of the "mature node" semiconductors used by automakers and parts suppliers. Mature node chips are also used in medical devices, agricultural machinery like farm tractors and combines, as well as radiation-proof chips required by our national defense industrial base. 

"As Michigan continues leading the mobility industry in the development of electric and autonomous vehicles, we must remain competitive and ensure that our friends and neighbors are prepared and trained to help us address the global demand for semiconductors. The SCAN program is just one of Team Michigan's efforts to prepare Michiganders for the future and ensure Michigan is the perfect home for the semiconductor industry to continue to expand and grow," said MEDC CEO and Michigan Strategic Fund President and Chair Quentin Messer, Jr. "We're grateful for Governor Whitmer's efforts in leading national, bipartisan support for full funding of the CHIPS Act, which would boost domestic chip production, shore up American manufacturing, and support businesses and workers across Michigan."

MiREV EV Jobs Academy – Job Training Platform Development Program grant
The Michigan Strategic Fund also approved $1.5 million in CDBG-CARES funds for the MiREV EV Jobs Academy planning grant. Announced in September 2021, the Michigan Revolution for Electrification of Vehicles Academy/Academies (MiREV) initiative was created to help position Michigan at the center of that growth by proactively preparing the talent needed for automotive mobility and electrification current, emerging, future jobs and career pathways.

Today's grant will be provided to the Southeast Michigan Community Alliance (SEMCA) Workforce Intelligent Network (WIN) to address critical workforce needs, align education and training programs, prepare individuals for emerging technologies, and target training to incumbent, displaced, and underserved individuals seeking opportunities in the mobility and auto sectors.
About Michigan Economic Development Corporation (MEDC)