• Lake Michigan EV Circuit to expand EV infrastructure network along Lake Michigan, support region's tourism industry. • MiREV RFP issued to help prepare Michigan's workforce for automotive mobility and electrification jobs and career pathways. • Michigan remains center of high-tech vehicle production and job creation
MACKINAC ISLAND, Mich. – At the Mackinac Policy Conference, Governor Gretchen Whitmer today announced two new initiatives to continue advancing Michigan's electric vehicle (EV) and mobility landscape by building out critical charging infrastructure in the state and ensuring the strong pipeline of talent needed for automotive mobility and electrification career pathways. The Lake Michigan EV Circuit and the Michigan Revolution for the Electrification of Vehicles (MiREV) build on yesterday's launch of Governor Whitmer's MI New Economy plan that focuses on growing the middle class, supporting small businesses and investing in our communities.

"I am laser focused on growing our economy, creating good-paying jobs and building the future of mobility and electrification right here in Michigan," said Governor Whitmer. "Today's announcements build on our rich Pure Michigan tradition of exploration and bring together communities and small businesses to ensure that we honor our past as the place that put the world on wheels and continue to invest in our workforce as we lead the transition to electric vehicles."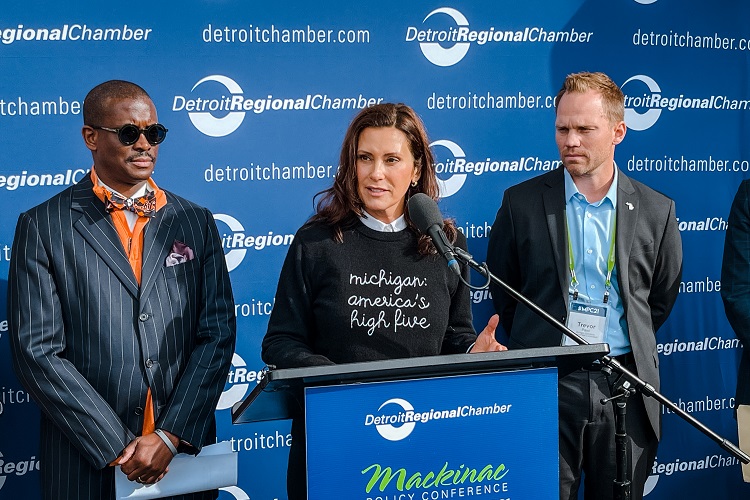 The Lake Michigan EV Circuit: Expanding Michigan's EV Infrastructure
The Lake Michigan EV Circuit delivers on the Governor's 2019 vision for an electric vehicle route with reliable charging options along Lake Michigan and key tourism clusters, creating the best new road-trip for EV owners in America. The Lake Michigan EV Circuit will tie together key coastal and rural communities, state and national parks and tourism attractions into a wider EV infrastructure network, installing EV infrastructure along sites where chargers are needed to fill the route's demands of high summer utilization and challenging winter weather battery performance constraints.

The charging sites along the Lake Michigan EV Circuit will include either DC fast charging or level 2 chargers depending on the electrical infrastructure at the host site. Grants to install the charging infrastructure will be provided through the Michigan Department of Environment, Great Lakes and Energy (EGLE) Charge Up MI program with $1.25 million in funding initially available and eligibility limited to site hosts that meet the geographical and user-experience designs of the Lake Michigan EV Circuit's route.

"Michigan put the world on wheels. Now we are making those wheels more sustainable, less polluting, and part of the push to decarbonize Michigan's economy by 2050 through the state's  Mi Healthy Climate Plan," said Liesl Clark, EGLE Director. "Building muscle onto Michigan's EV charging infrastructure is a cornerstone of moving away from climate pollution."

EGLE will work in partnership with the Office of Future Mobility and Electrification and Michigan Department of Transportation on the initiative to support a more environmentally conscious transportation infrastructure here in the state that benefits businesses and consumers alike.

"The Lake Michigan EV Circuit fits nicely with MDOT's goal of enhancing connectivity," said MDOT Director Paul C. Ajegba. "I am very pleased we can work with our partners in government and the private sector and help fund an initiative that supports our state's major job providers and our shared goal to reduce emissions that harm the planet."

Michigan's tourism industry contributes more than $26 billion to the state's economy, supporting more than 350,000 jobs. One of the industries hardest hit by the impacts of COVID-19, the Lake Michigan EV Circuit builds on the continued success of the state's Pure Michigan campaign to help the industry recover by offering an exciting ecotourism attraction and reducing range anxiety for out-of-state visitors from population centers along Lake Michigan, such as Chicago and Milwaukee.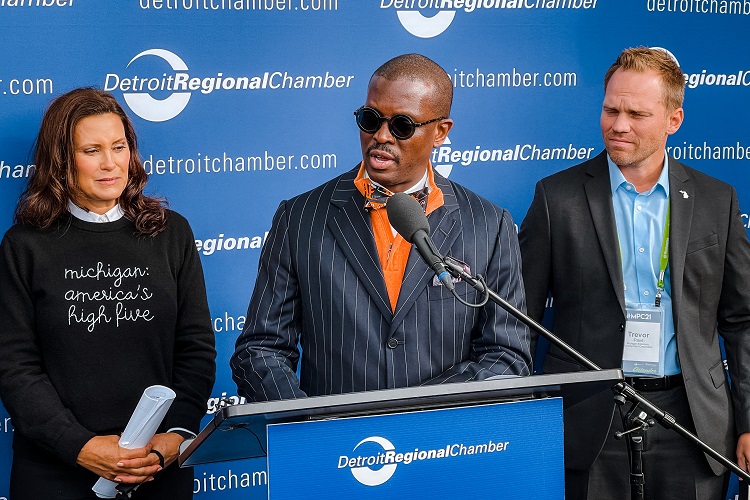 MiREV to Further Enable Michigan's Mobility and EV Workforce
The Whitmer Administration has remained laser-focused on making sure Michigan workers can access the training and education they need to stay competitive in this new economy. The Michigan Revolution for Electrification of Vehicles Academy/Academies (MiREV) will help position Michigan at the center of that growth by proactively preparing the talent needed for automotive mobility and electrification current, emerging, future jobs and career pathways. LEO is looking to partner with three to five organizations for this effort for a total investment of up to $5 million through a competitive RFP process.

"By using an employer-led collaborative approach, we can effectively respond to the specific knowledge and skill demands of the automotive mobility and electrification industry," said Susan Corbin, Director of the Michigan Department of Labor and Economic Opportunity (LEO). "MiREV will deliver a measurable return on investment for both employers and learners."

MiREV will work directly with employers to ensure Michigan has the right kinds of programs and resources to fill both current and future talent gaps for in-demand and emerging jobs in the mobility and electrification industry. This will include determining projected job openings, identifying competencies, credentials and other hiring requirements, reskilling and upskilling incumbent workers, identifying training opportunities for job seekers interested in industry and conducting career awareness and promotion of EV-related industries and its occupations with Michigan's future workforce.

"The outcomes of this RFP will ensure employers are able to address their most critical workforce needs while job seekers have access to better employment outcomes and career pathway opportunities in the mobility and electrification industry," said Stephanie Beckhorn, Director of LEO's Office of Employment and Training. "As this industry continues to expand, investments like MiREV will support the growth opportunities for companies, investors and workers."

Beginning today, September 22, LEO's Office of Employment and Training and the Office of Future Mobility and Electrification have released a Request for Proposals that seeks to identify one or more conveners who can lead this statewide initiative, with applications due November 8. For details on eligibility and to access the RFP visit Michigan.gov/MICA.

MiREV will further support Michigan's efforts to create a clean energy future through electrification while continuing to prepare the state's workforce to secure the new jobs that are being developed in Michigan's automotive and mobility sector and keep Michigan on track to meet Governor Whitmer's goal of having 60% of the working-age population with postsecondary education or skills training by 2030.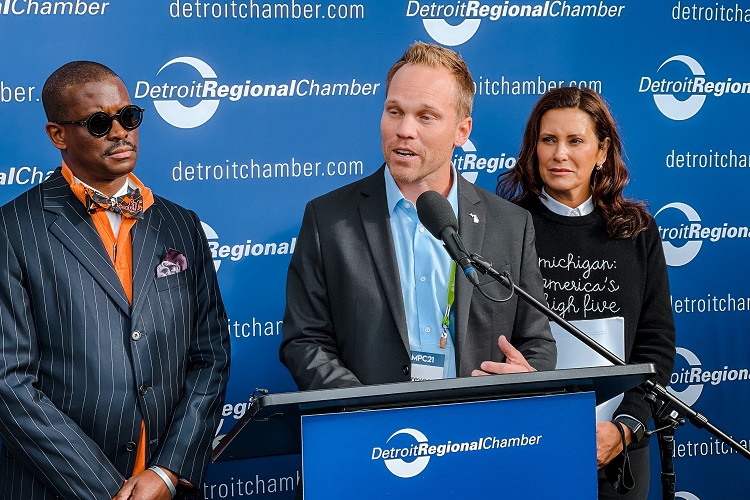 Michigan remains the center of high-tech electric vehicle production in the U.S.
More than 15,000 mobility and automotive manufacturing jobs have been created since 2019 – many supporting increased electric vehicle manufacturing here in Michigan.
Last week, Ford announced a new $250 million investment and 450 direct jobs across three southeast Michigan facilities – Rouge Electric Vehicle Center, Rawsonville Components Plant, and Van Dyke Electric Powertrain Center – to support F-150 Lightning production capacity increase.
GM located its first fully dedicated electric vehicle assembly plant in Hamtramck, with a commitment of 2,200 jobs.
Stellantis is building JEEP plug in hybrid models at the first new assembly plant in Detroit in three decades as part of investment creating 6,433 jobs in Michigan, including for more than 4,100 Detroit residents.
Manufacturers, suppliers and R&D facilities are also choosing Michigan with XL Fleet opening its new Fleet Electrification Technology Center in Wixom and Magna International building a state-of-the-art facility in St. Clair to support GM's new GMC Hummer EV.
Just as Michigan put the world on wheels, with the MI New Economy plan as its foundation, the state is once again where the future is being built – as the epicenter of high-tech electric vehicle production in the U.S. as well as the premier location for young companies to start, scale, commercialize and grow technologies redefining the movement of people and goods.

"By working collaboratively across both the public and private sector we can continue to encourage EV adoption, enable our workforce and build our manufacturing core all while working to meet our goals to be carbon neutral in Michigan by 2025," said Trevor Pawl, Chief Mobility Officer at the Office of Future Mobility and Electrification. "From charging stations spanning the Lake Michigan shoreline to building the pipeline to fill critical jobs in EV-related industries today and in the future, we are building a stronger state economy through safer, more equitable and environmentally conscious transportation for all Michigan residents"
About Michigan Economic Development Corporation (MEDC)