PURE DEFENSE
From the Arsenal of Democracy to the Arsenal of Innovation, Michigan's defense industry ranks high above the rest. In partnership with the Michigan Defense Center, MEDC acts as a liaison between the state and defense interests in the federal government, defense agencies, the defense industry, academia and the defense community. The Michigan Defense Center develops and offers defense specific resources to assist Michigan companies in doing business in federal contracting and the supply chain.
Defense Industry Services
Proposal & Grant Writing
Improve your chances of winning a federal contract with this grant program that assist Michigan firms in writing a winning bid response. Grant funds can subsidize up to 50% of the cost of proposal writing services.
Apply Now
Bid Targeting System
BTS is a online software that helps identify and prioritize federal contracts right for your business. With thousands of federal contracts available, BTS uses your business profile to automatically identify federal contract opportunities.
Learn More
Cybersecurity Grant Program
This comprehensive, one-stop shop provides a solution to the federal mandate, driving standardization, accountability and cost-effectiveness for Michigan's small and medium-sized defense contractors.
Apply Now
WATCH: Michigan Powers America's Defense Industry
Michigan's strong R&D assets, infrastructure, advanced manufacturing expertise, and exceptional skilled and engineering workforce, make the state a leader in the defense-sector and related industries.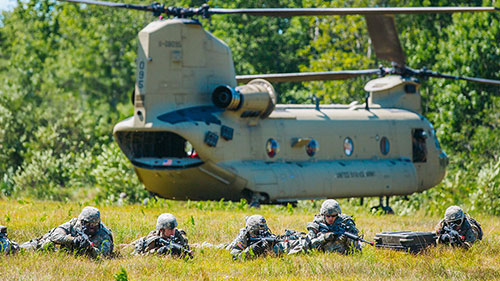 NEWS
Michigan Displays Defense Prowess with Military Exercise
The country's largest National Guard Bureau-sponsored military exercise took place across Northern Michigan with over 7,000 participants from 25 states, one territory and four international partners.
Read More
Top Michigan Defense Contractors
Mission Focused. Michigan Made.
Michigan is where the automotive industry got its start. More than 100 years later, it's still the global center and nexus of commercial automotive, electrification and military vehicle technology. Locating in Michigan is an opportunity for your company to connect to the next generation of vehicle innovation and cybersecurity leaders, as well as leverage world-class research, talent, manufacturing and technology assets.
MEDC leads the state's Protect and Grow Initiative, a comprehensive statewide effort for Michigan's Defense, Defense Aerospace and Homeland Security Sectors.
Michigan's National Security Defense Industry Assets
From the Upper Peninsula to South East Michigan, Department of Defense and Department of Homeland Security defense industry assets can be found across the state.
Learn More
Connect with APEX Accelerators, Michigan's Government Contracting Experts
Michigan Alliance of APEX Accelerators is a not-for-profit organization made up of 10 different offices across the State of Michigan, which are dedicated to helping businesses understand and succeed in the government marketplace.
Learn More