Defense manufacturer breaks sales goals and expands with assistance from Michigan Economic Development Corporation to support military contracts and international trade
A growing manufacturer in the defense solutions space, Great Lakes Sound & Vibration (GLSV) of Houghton County in Michigan's Upper Peninsula (U.P.) is finding success as a small-town business with a worldwide impact. GLSV has utilized various programs and service providers from Michigan Economic Development Corporation (MEDC) for several years, finding assistance at key points in the company's growth. These resources have helped the multi-functional engineering company to find new markets, expand in the U.P. and better its business.
When GLSV required an upgraded facility, additional equipment and new hires to support the latest contracts, the company was evaluating competing sites in northern Wisconsin. In 2019, with the help of MEDC, its Micro Michigan Business Development Program (MBDP) provided the needed incentive assistance to keep GLSV growing in Michigan. MBDP is an incentive program aimed at providing grants, loans and other economic assistance to businesses for highly competitive projects in Michigan that create jobs and/or provide investment and results in a net-positive return to the state.
"The management and employees of Great Lakes Sound & Vibration are delighted to be expanding in the Copper Country," said GLSV President Steve Mattson. "We are appreciative of the commitment and partnership of our defense customers and the warfighters they serve, which has provided the opportunity for this expansion. We are also grateful that the great state of Michigan, the MEDC, Keweenaw Economic Development Alliance, and Franklin Township believe strongly enough in our company to make an investment that simplified our decision to continue to provide complete, customer-specific design and build solutions for noise, vibration and shock problems from our preferred home in the Keweenaw."
Assistance from the Northwest Michigan Procurement Technical Assistance Center (PTAC) has helped GLSV land new U.S. government contracts and grants. The Northwest Michigan PTAC has been a large supporter of GLSV since 2011. To execute on new contracts with military customers, the company purchased and rehabbed the former Goodwill Training Center in Franklin Township; the completion of an entire remodel of the facility is expected at the end of February 2022. Based on growth and job creation, GLSV is on track to claim an MBDP performance-based grant for job creation in May 2022.
With the support of MEDC's programs and strategic processes, GLSV achieved its goal to make $10 million in revenue in 2020, five years ahead of schedule. The company is targeting $15.5 million in 2022, with the aim to be employee-owned by 2025. As the company expands with new military contracts and defense customers, Great Lakes Sound & Vibration is sure to make the Great Lakes State proud.
GLSV also has a growing international presence, thanks to its engagement with MEDC's International Trade Program since 2014. After landing its first international contract in Canada with the help of MEDC service provider Foster Swift Collins & Smith PC, the company has increased its overall revenue and revenue from international markets. With only a few years of exporting experience, the company's percentage of total sales from international sales is nearly 13 percent. The contract with Canada gave GLSV the confidence and know-how to seek out connections and contracts with other allied nations, including Norway, Japan, Sweden and Iceland.
To continue building on the international success they saw in Canada and create a strategic plan for expanding into global markets, GLSV participated in the MEDC- and U.S. Commercial Service-hosted program, ExporTech, September-November 2019 in Marquette, Michigan. The intensive, 10-week export planning course program helped the company craft a strategic export plan, provided market research on their highest potential markets, and offered resources and connections to services that can support them along the way, including other MEDC International Trade services and MEDC partner programs. GLSV has plans to participate in future international trade shows, building on best practices and relationships built with help from MEDC.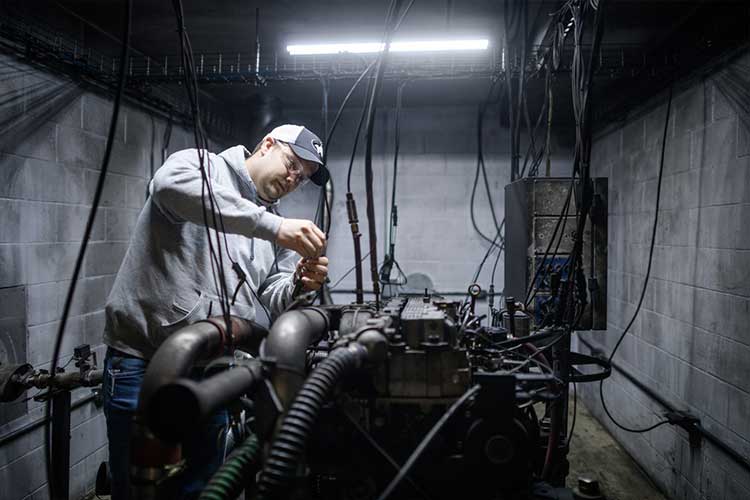 When GLSV was looking for market research as well as learning tactics to do their own market research going forward, they sought out help from MEDC's Second-Stage Growth Solutions (SSGS) program. SSGS provides second-stage companies with the technical research assistance and business expertise they need to continue to grow profitably and be prepared for the future. In addition to the company's engagement with the first step of the process, Mattson attended the Next Steps Retreat, where he was able to develop action items and network with other company leaders.
"The [SSGS] team was phenomenal in being fluid and flexible for our wants and needs during the engagement," said Mattson. "This helped our company get the maximum benefit from the program. We received numerous items and data packages throughout the engagement that showcased tools, techniques and methodologies for our business to use internally as we look to grow our business strategically."
The company has also utilized the MI-STEP program to offset the cost of export-related activities, as well as the Michigan Canada Center, which is one of MEDC's international trade centers. GLSV's participation in Pure Michigan Business Connect (PMBC) events in 2018 led the company to meeting buyers such as General Dynamics and RCO Aerospace Products, connecting with the latter at the AIAM Upper Peninsula Aerospace Expo.
In 2022, GLSV was selected by Defense Logistics Agency (DLA) Land and Maritime to supply exhaust mufflers for the U.S. Marine Corps Assault Amphibious Vehicle (AAV). The AAV is a fully tracked amphibious landing vehicle and is the current amphibious troop transport vehicle of the United States Marine Corps. It is used to land ground forces and their equipment in a single trip from offshore and to conduct mechanized operations and related combat support once ashore. GLSV is a proud supplier to DLA and will continue to support their land vehicle and maritime efforts.
The PMBC Access and Certification Grant has allowed GLSV to acquire assistance to enhance its quality management system and open doors of opportunity into new supply opportunities related to ground vehicles, marine, amphibious and aerospace. GLSV has been awarded the PMBC Access and Certification Grant in January 2021 and March 2022.
GLSV began undergoing auditing to the new AS 9100 standards in June 2022; its contract awards with DLA in this segment generate significant revenue and establish credibility in the commercial markets. GLSV used funds from the PMBC grant for both certification and access to identify the important supply opportunities with DLA.
Utilizing the MEDC's suite of services, from International Trade and Michigan Business Development Program to Second-Stage Growth Solutions and Pure Michigan Business Connect, has given GLSV the tools for success.
MEDC is here to help Michigan businesses – learn more about our Pure Partnership opportunities. If you're looking to expand your company's footprint internationally and/or grow in the state of Michigan, learn more about MEDC's International Trade Services and Michigan Business Development Program.