THIS JUST IN: Historic GM Investment Recognized with 2022 Impact Award for Electric Vehicles by Business Facilities
Tuesday, January 17, 2023
One year after GM's historic $7 billion investment in Michigan to grow the state's electric vehicle and advanced battery manufacturing, Business Facilities recognized the deal in its 2022 Impact Awards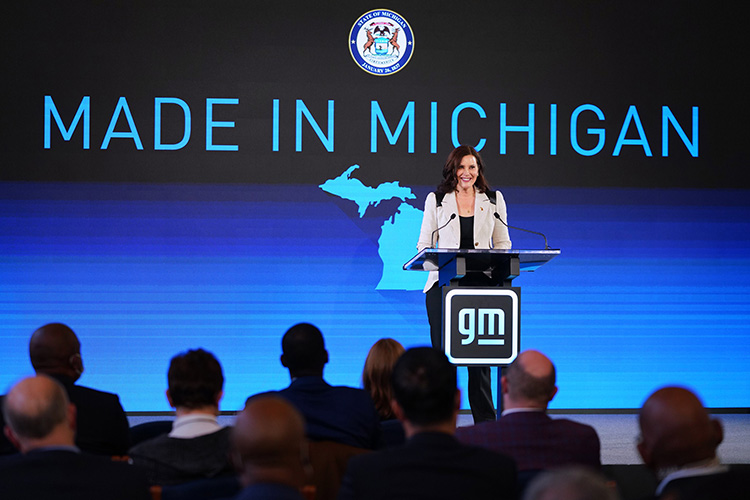 General Motors' (GM) $7 billion investment in Michigan was recognized in the Electric Vehicles (EV) category of Business Facilities' 2022 Impact Awards, announced last week as part of the publication's annual Deal of the Year awards. The news comes days after Michigan was recognized by CNBC as one of the top three states set to "dominate" U.S. battery manufacturing by 2030.
As the largest investment in the company's history, the project includes a $4 billion investment to convert GM's Orion Township assembly plant to produce full-size EV pickups and up to $2.5 billion to build Ultium's third U.S. battery cell plant in Lansing, growing the state's global leadership in EV and advanced battery production.
"2022 was truly a year like no other for the state of Michigan, and we're thrilled the project that kicked it all off, GM's historic investment, has been recognized in Business Facilities' Impact Awards," said MEDC CEO Quentin Messer, Jr. "GM's transformational investment underscored the strength of the workforce within our state's automotive sector and the bipartisan, Team Michigan commitment to winning the future of mobility and EV manufacturing here in Michigan. While we are celebrating this win, we realize more work remains to be done and together, we will do it."
The January 2022 investment was the first transformational project secured with the bipartisan Strategic Outreach and Attraction Reserve (SOAR) fund, signed into law in December 2021. The programs in the SOAR fund were created to position Michigan as a top competitor for attracting jobs and billions of dollars in investment to the state.
GM's historic investment also kicked off a historic year for Michigan, with transformational EV and battery investments across the state including:
Following a year of more than $13 billion in EV and battery manufacturing investments in the state, the MEDC Executive Committee approved a new, four-year contract for Messer as CEO in January 2023, continuing the momentum of economic development statewide.
Michigan is poised to lead the EV revolution with tools including the SOAR fund, along with the state's innovative Electric Vehicle and Mobility Talent Action Team, which focuses on supporting the talent transition in the EV and mobility sectors. The team's goal is to train thousands for workers in the first year by delivering professional development programs that engage workers in improving their skills and competencies in line with in-demand roles. To date, the team has already made significant progress in fostering collaboration among private industry partners, universities and the state.
Full coverage of the Impact Awards will be featured in the January/February issue of Business Facilities.
To learn more about how Michigan is the home of Pure Opportunity when it comes to automotive manufacturing, mobility and electrification, visit www.michiganbusiness.org/mobility.
About Michigan Economic Development Corporation (MEDC)