LANSING, Mich. – Today Governor Gretchen Whitmer joined the Michigan Economic Development Corporation in announcing Michigan Strategic Fund support for a transformational investment by Our Next Energy, a home-grown Michigan company that has chosen to build its first-ever battery manufacturing campus in Van Buren Township in Wayne County. The facility will be one of the few wholly US-owned manufacturers of both LFP and anode-free cells.

"Our Next Energy's $1.6 billion investment creating 2,112 jobs in Van Buren Township will build on our economic momentum and secure the future of mobility and electrification right here in Michigan," said Governor Gretchen Whitmer. "This innovative, Michigan-made company is on the cutting-edge of battery technology, and the work they're doing will increase the range of electric vehicles to over 600 miles on a single charge. With this new gigafactory, we will continue bringing the supply chain of electric vehicles, chips, and batteries home to Michigan and the USA while creating a sustainable, clean energy economy. I am proud that Democrats and Republicans in Michigan came together to build up our economic development toolkit and empowered our state to compete for every project and every job. We will work with anyone and compete with everyone to keep putting Michiganders first, creating good-paying jobs with great benefits, and building the future of the auto industry right here in Michigan."

"Michigan is, and always has been, a home to risk-takers: daring men and women who have a dream for a better future, and the grit, tenacity and creativity to make that dream a reality. The team at Our Next Energy demonstrates the very best of Michigan's talent, having built their business from the ground up to achieve global success," said Quentin L. Messer, Jr., CEO of the MEDC and President and Chair of the MSF Board. "We are proud to congratulate ONE on taking this exciting step and are grateful to them for choosing Michigan, where ONE started a few years ago. Through the steadfast support of our bipartisan legislative partners, the Whitmer-Gilchrist Administration and our many local partners, we are continuing to demonstrate that Michigan is a place for pure opportunity."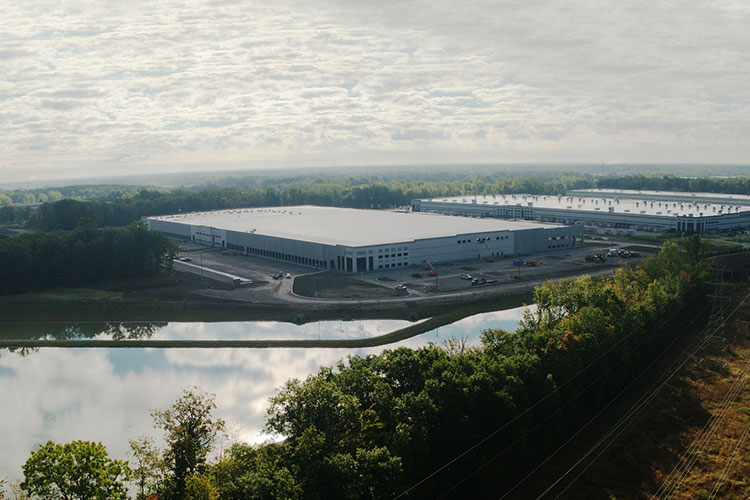 Our Next Energy (ONE) is an energy storage company headquartered in Novi, MI founded with the mission to double the distance electric vehicles can travel using safer, more sustainable materials. Founded in 2020, ONE uses safe, sustainable, low-cost battery chemistries for consumer and commercial electric vehicles, in addition to developing technology for stationary storage – particularly around utility-scale energy storage systems. ONE is dedicated to the long-term vision of achieving vertical integration for American energy storage manufacturing by working to develop a robust and resilient domestic supply chain for critical minerals.

"ONE is thrilled to select Michigan for our first cell factory, due to the state's unique combination of battery talent, proximity to material supply and access to low-cost energy," said Mujeeb Ijaz, founder and CEO of ONE. "We applaud the leadership of Governor Gretchen Whitmer and the MEDC team, led by Quentin Messer. In addition, our collaboration and new strategic partnerships with DTE Energy, Van Buren Township, and Wayne County have helped ONE build a strong foundation for clean tech manufacturing in Michigan."

This gigafactory battery cell manufacturing campus, which the company has dubbed ONE Circle, will create 2,112 good-paying jobs and generate $1.6 billion in capital investment. The gigafactory will further have a generational impact in terms of workforce development, economic impact and tax revenue.

The ONE Circle factory will be ONE's first cell and EV battery pack Gigafactory. ONE is partnering with Ashley Capital to locate this inaugural factory in the Crossroads Distribution Center, where it will establish a state-of-the-art 659,589 square foot facility in Van Buren Charter Township, Wayne County. ONE will use a newly developed cell factory model in this project with an emphasis on developing a North American raw material supply chain and a co-located material refinement strategy. The campus plans to scale to 20 GWh capacity within five years, and will include raw material refinement, cathode materials production, as well as cell and battery manufacturing.

"Today's announcement is a perfect example of what can happen when state government, local communities and businesses work together to bring economic development to the state to create new, good-paying jobs in Michigan," said Jerry Norcia, DTE Energy chairman and CEO. "We are particularly pleased that Our Next Energy will be using our new large industry electric rate as they bring 2,000 new, high-tech jobs to Southeast Michigan."

The ONE Circle development will comprise five core components, including:
Material Refinement: ONE will process battery materials in-house and have more control over our supply chain, prioritizing North American materials and utilizing technologies that will actively seek to minimize environmental impact.
Cell Manufacturing: ONE will be one of the few wholly US-owned manufacturers of both LFP and anode-free cells, which will directly address exponentially growing market demand.
Gigafactory-to-Grid: Energy Storage: This approach to production line integrated utility-scale energy storage and energy optimization and will provide utilities with a cost effective, flexible, and high-capacity energy storage solution, while onboarding renewable energy to power ONE Circle and the surrounding community.
Pack Manufacturing: ONE will manufacture battery packs with key partners for both commercial and consumer applications, that outperform in volumetric density and provide industry leading range
Recycling & Second Life: ONE will integrate materials from recycled sources back into their products, prioritizing second-life capabilities. These techniques minimize environmental impact and complete ONE Circle's model of circularity.
"We are excited to have a site that is being considered for this transformative clean energy manufacturing project. We are well positioned in a region that is widely known as the birthplace of automotive innovation," said Van Buren Township Supervisor Kevin McNamara. "Our talented residents, our proximity to the Willow Run and Detroit Metropolitan Airports, and our strong community amenities make Van Buren Township a terrific place to do this kind of business."

Gemini™ is a novel dual-chemistry architecture that pairs two battery chemistries within one battery pack to enable 600 miles of range. ONE has also demonstrated the pack using a retro-fitted Tesla Model S with a ONE battery pack that drove 752 miles on a single charge. ONE recently signed an agreement with BMW Group to build a prototype vehicle that incorporates ONE's Gemini™ Dual-Chemistry battery technology into their BMW iX all-electric Sports Activity Vehicle. The Gemini™ battery platform can provide an EV with enough battery range to drive roundtrip from Detroit to major cities like Chicago, Toronto, Indianapolis, Pittsburgh, Cleveland, Cincinnati, Mackinaw City, Grand Rapids, and Traverse City without another charge.

A significant factor in ONE's decision to build its very first Gigafactory here in Michigan was in part due to the Governor's MI Healthy Climate Plan, which outlines a path to carbon neutrality by 2050 and a specific focus on supporting increased electric vehicle infrastructure access and affordability. The plan can be found here.

"When Our Next Energy began in 2020, it was clear that it was only a matter of time before this company began to change the landscape of electrified mobility as we know it," said Trevor Pawl, Chief Mobility Officer for the State of Michigan. "ONE continues to demonstrate what it means to be a Michigan-born company: to see barriers as challenges to tackle, and problems as opportunities to solve. We are proud of all that ONE has accomplished and look forward to their bright future ahead, as they invest in the state that has supported them since Day One."

In support of the project, the Michigan Strategic Fund Board today approved a total of $236.6 million in state support, including:
A $200 million Critical Industry Program performance-based grant through the Strategic Outreach and Attraction Reserve ("SOAR") Fund
A $15 million Jobs for Michigan Investment Fund Loan
State Essential Services Assessment Exemption valued at $21.6 million
Michigan was chosen for the project over competing sites in the U.S. and Canada. The project will bring more than 2,000 well-paying, highly skilled engineering, manufacturing, and operations jobs for Michiganders, including those in disadvantaged regions of the state. The company is partnering with Focus:HOPE to develop a training program that will provide skills-based training for its employee base modeled after established certification programs.

The company's investment will create a significantly bigger impact on the state's overall economy than just the direct new jobs created. It is expected that 3.3 jobs will be created for every new direct job this project is creating. In addition, the project will result in significant job creation and capital investment. It is anticipated the influx of jobs will result in spin-off investments and redevelopment opportunities. More than $13 billion in new personal income is expected to be generated by the direct, indirect, and induced jobs that this project will create over 20 years.

This announcement by Our Next Energy builds on additional EV investments and projects, all of which fall within Manufacturing Week in the state of Michigan this week. During today's meeting, the MSF Board also took action to support a transformational investment by Gotion to build its first-ever Michigan location in Big Rapids. The Board also approved support for critical infrastructure improvements in Muskegon County to support continued growth opportunities for the region's robust agribusiness community.

Local Community Voices Support for ONE Growth in Michigan:

"Wayne County is the center of the nation's automotive industry and the development of electric vehicles. This iconic investment in the new battery plant demonstrates why we're also the preferred location for companies who wish to drive the automotive supply chain of the future." said Warren C. Evans, Wayne County Executive.

"The Detroit Region continues to serve as the global epicenter for mobility innovation," said Maureen Donohue Krauss, president and CEO of the Detroit Regional Partnership. "Up and down the supply chain, from startups to mid-size companies to Fortune 500 OEMs, the Detroit Region is home to pioneers like Our Next Energy who continue to push the envelope on cutting-edge battery, EV and advanced mobility technologies. We congratulate ONE on their tremendous growth and applaud all the partners who helped secure this project for our region."

"Our Next Energy's battery cell manufacturing campus strengthens Southeast Michigan's role as a leader in the next generation of automotive technology," Oakland County Executive Dave Coulter said. "Investing in electric vehicles, autonomous driving, and connected cars will help us maintain our title as the automotive capital of the world."

"Novi is a dynamic community on many fronts, from a magnet to businesses around the globe to being a sought after, welcoming, diverse neighborhood that more than 65,000 residents call home," said City of Novi Mayor Bob Gatt. "It provides great excitement to watch one of our own have the opportunity to expand right here in Michigan and I couldn't be happier for Our Next Energy. Once again, Novi shines as leader in the business world as the host of their headquarters and to watch their vision and factory come to fruition in Wayne County shows how our community and the state work as a team, support one another and work together for the betterment of all."

"I'm happy to stand side-by-side with the MEDC in welcoming Our Next Energy to Van Buren Township," said State Rep. Alex Garza (D-Taylor). "Van Buren Township will now be at the forefront of sustainable, state-of-the-art battery manufacturing thanks to the ONE Campus, and the over 2,000 jobs this will create. I applaud all of the efforts in bringing this project to fruition."
About Michigan Economic Development Corporation (MEDC)