Gov. Whitmer: Ford to Invest $2 Billion to Create More than 3,200 New Manufacturing Jobs, Secure Critical EV Production in Michigan
• $2 billion investment ensures future opportunity for EV manufacturing growth, while securing internal combustion engine portfolio in Michigan • Third EV/battery-related investment of more than $1 billion secured in Michigan since beginning of the year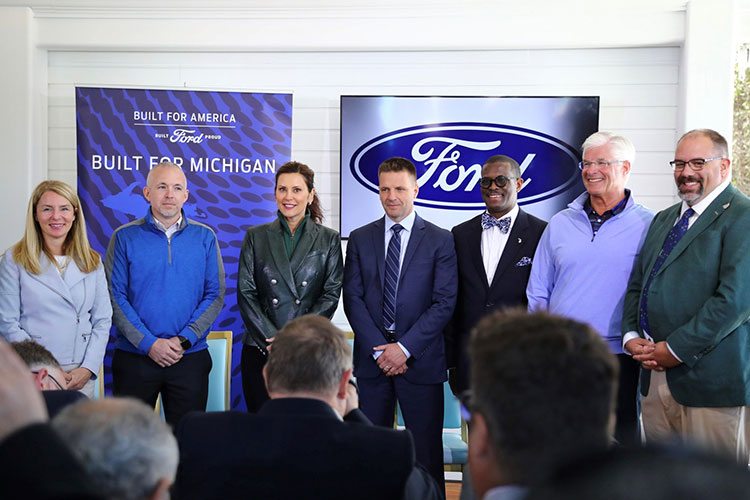 MACKINAC ISLAND, Mich. – Today, Governor Gretchen Whitmer joined Ford Chief Policy Officer and General Counsel Steven Croley, elected officials and state leaders during the Mackinac Policy Conference today to announce an investment by Ford of more than $2 billion across the company's plants in Michigan. The project is expected to create more than 3,200 good-paying, UAW jobs and help further the company's electric vehicle future in the state while also securing the company's existing internal combustion engine vehicle operations in Michigan.

"We are thrilled that Ford is advancing its long legacy in Michigan by investing $2 billion to create 3,200 good-paying UAW jobs," said Governor Whitmer. "Today's announcement marks another historic economic win for the state in recent months and will help our economy grow even stronger. I am proud that we came together to deliver economic development legislation that has helped us land huge projects, creating thousands of jobs. With this announcement, Michigan has added nearly 25,000 auto jobs since I took office and we continue to lead the future of mobility and electrification. Let's continue in this spirit of collaboration to keep growing our economy, creating jobs, and advancing the future of mobility and electrification."

Investments announced today will secure critical activities related to electric and internal combustion vehicle production. More than 65 percent of the new jobs supported through the Critical Industry Program will help drive new EV and other vehicle production-related activities across five plants in Southeast Michigan, including a new packaging facility in Monroe Charter Township. As the company continues to electrify its existing fleet, the remaining investment will help ensure those vehicles will also be built in Michigan by providing a strong base in Michigan for future decisions around converting vehicles and plants to electric.

Today's announcement follows a historic $7 billion investment by General Motors to build its all-electric future in the state, converting its Orion Township assembly plant to produce full-size EV pickups and building Ultium's third U.S. battery cell plant in Lansing and a $1.7 billion investment by LG Energy Solution to quintuple its battery production capacity in Holland. Collectively, these investments demonstrate Michigan's continued growth in, and efforts to attract significant investments in the advanced manufacturing, EV and mobility sector to the state.

"Ford is committed to leading the electric vehicle revolution and strengthening our portfolio of iconic vehicles that customers love. That's why we're announcing historic investments in our home state of Michigan, creating thousands of high-quality union jobs to expand production of the all-new F-150 Lightning as well as the next generation global Mustang and Ranger for the U.S. market," said Kumar Galhotra, president, Ford Blue. "Ford is proud to assemble more vehicles and employ more union auto workers in the U.S. than any other auto manufacturer, and with today's announcement, we will have created or retained 10,000 jobs and invested more than $10 billion in Michigan since 2016."

Ford's decision to expand in Michigan will have a far-reaching impact on the entire state, with the influx of jobs resulting in spinoff investments and local redevelopment opportunities. More than $22.5 billion in new personal income is expected to be generated by the direct, indirect, and induced jobs that this opportunity will create over 16 years. This personal income will be utilized to not only support the many small businesses in the community that are still recovering from the COVID pandemic, but will spur demand to redevelop underutilized and blighted properties in the community and the state for commercial and residential purposes.

In addition, the project has an employment multiplier of 4.3, which means that an additional 3.3 jobs in Michigan's economy are anticipated to be created for every new direct job, due to the extensive supply chain that exists in Michigan.

To support today's transformational investments, the Michigan Strategic Fund today approved:
Critical Industry Program (CIP) through Strategic Outreach and Attraction Reserve Fund (SOAR) – $100.8 million


The Critical Industry Program will support investments at five facilities in Michigan that will lead to the creation of 3,030 new jobs and $1.16 billion of investment.

State Essential Services Assessment (State ESA) Exemption - $34.4 million


The State ESA will support investments at 10 in Michigan facilities, including the five also supported by CIP, that will lead and additional $854 million of investment and the creation of an additional 230 new jobs.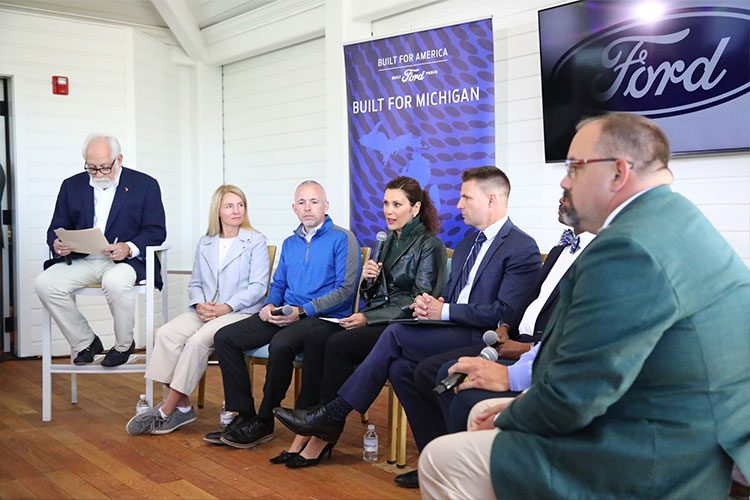 Signed into law by Gov. Whitmer in December, the Critical Industry Program and Strategic Site Readiness Program were created to ensure Michigan could effectively compete for billions of dollars in investment and attract tens of thousands of jobs to bolster the state's economy.

"Michigan, thanks in large part to Ford, has put the world on wheels for decades, and we intend to keep doing so for decades to come. Regardless of party, we're all committed to doing whatever it takes to keep our title as the car capitol of the world," said Senate Majority Leader Mike Shirkey (R-Clarklake).

"Michigan workers have the best skills, the most training and the strongest work ethic of anyone nationwide. They deserve the good-paying jobs and long-term commitment this project will provide," said Speaker of the House Jason Wentworth (R-Farwell). I look forward to going through the details of this plan with the Appropriations Committee and finalizing the agreement soon."

Since 2016, Ford has announced nearly $10 billion in investment in Michigan, largely around electric and autonomous vehicle manufacturing, supporting nearly 10,000 new and retained jobs for Michigan's manufacturing workforce.

Today's news builds on Ford's February announcement that it was forming a new partnership to activate the Michigan Central Innovation District in an effort to attract and retain highly skilled talent and high-growth companies while supporting the development of neighboring neighborhoods.  This new district, anchored by the iconic Michigan Central Train Station, will serve as a globally recognized hub for talent, mobility innovation, entrepreneurship, sustainability, affordable housing, small business opportunities and community engagement.

"Ford's decision underscores the continuing vitality of our state's EV and mobility sector. Through a bipartisan and pragmatic approach, Team Michigan demonstrated again its commitment to winning the future of mobility and EV manufacturing here in Michigan," said MEDC CEO and Michigan Strategic Fund President and Chair Quentin Messer Jr. "Michigan is competing aggressively to win every EV and mobility investment. We appreciate and are grateful for Ford's continued vote of confidence in Michigan and their partnership on this economic win that will positively impact Michiganders across our state for decades to come." 

Google has also joined Ford as a Founding Member of the Innovation District, where it will leverage the assets of the district to collaborate on new products and services that will define the future of mobility. As founding members, Google and Ford will also help mentor entrepreneurs and local businesses, as well as develop the workforce in Detroit.

"This announcement is a testament to UAW members who contribute their skill, experience, and knowledge to the success of Ford Motor Company," said UAW President Ray Curry. "We are always advocating to employers and legislators that union jobs are worth the investment. Ford stepped up to the plate by adding these jobs and converting 3000 UAW members to permanent, full-time status with benefits."
 
"The essential necessity of quality healthcare and full-time employment are longstanding principles that have been communicated to the Company by the UAW International Union and our UAW Local Unions since our inception," said UAW Vice President and Director of UAW's Ford Department Chuck Browning.  "I applaud the actions of Ford Motor Company to address these issues outside the realm of collective bargaining. These unprecedented steps taken by Bill Ford Jr. and CEO Jim Farley are both a refreshing and innovative approach to labor relations that delivers great benefit when most needed by our hard-working members."

Quotes from legislators and local officials:

"Ford knows that the most talented and dedicated workers come from right here in Michigan. Today's announcement is only possible when bold industry and government leaders share a commitment to the prosperity of our state and its people. The positive ripple effects of this major investment will be felt far and wide." 
Senate Minority Leader Jim Ananich (D-Flint)

"When we funded the strategic outreach and attraction reserve fund in the legislature,  this is just the type of transformational investments we were aiming to bring to Michigan. These thousands of new, good-paying, union jobs represent not just a great contribution to our state's economy but also meaningful, secure employment for thousands of households in our state— the kind of economic stability Michigan families need to thrive."
House Democratic Leader Donna Lasinski (D-Scio Township)

"We're excited to hear the news that one of our anchors and largest employers in Wayne County is expanding its footprint and solidifying itself even deeper in our community. We've always known Wayne County is a great place for global companies to call home and we're excited for what this means for our economy. This investment shows the state's commitment to the largest county in the state and the well-being of its 1.75 million residents."
Wayne County Executive Warren C. Evans

"Macomb County has a long history of providing the tools and teams necessary for automotive innovation, so we welcome this announcement from Ford and appreciate their ongoing commitment to our community when it comes to both EV and internal combustion technology. "Macomb's skilled and talented workforce can help them meet rising consumer demand for vehicles, including the All Electric F150 Lightning. And we stand ready to get the job done."
Macomb County Executive Mark Hackel

"On behalf of the County of Monroe, we are excited to have another Ford facility here in Monroe County. We appreciate this significant capital investment and the new jobs it will bring to the area and look forward to continuing this long-lasting relationship."
Tim Lake, president and CEO of the Monroe County Business Development Corporation
About Michigan Economic Development Corporation (MEDC)