Gov. Whitmer Joins New Michigan Central Innovation Announcement
State plans to align more than $126 million in new and existing investments, programming, and resources to support the 30-acre campus that is expected to hold 5,000 workers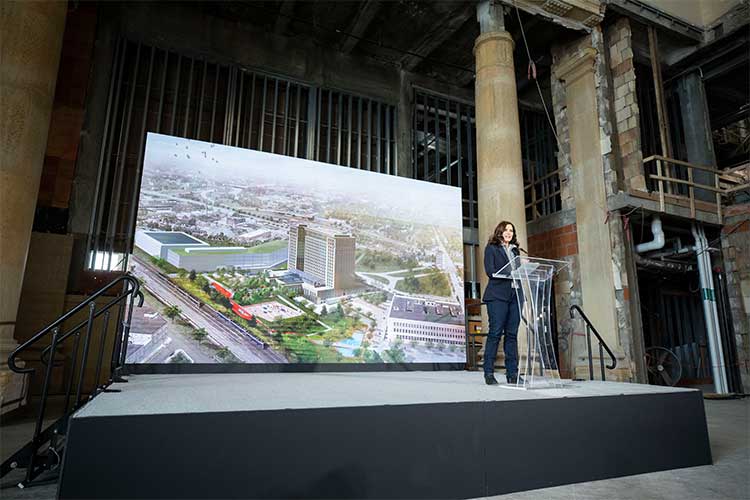 DETROIT, Mich. – Governor Gretchen Whitmer today joined Ford Motor Co. Executive Chairman Bill Ford, Google Senior Vice President and Chief Financial Officer Ruth Porat and Detroit Mayor Mike Duggan to announce a new partnership to activate the Michigan Central Innovation District in an effort to attract and retain highly skilled talent and high-growth companies while supporting the development of neighboring neighborhoods. This new district, anchored by the iconic Michigan Central Train Station, will serve as a globally recognized hub for talent, mobility innovation, entrepreneurship, sustainability, affordable housing, small business opportunities and community engagement.
"Ford is an American icon that has left its mark on Michigan – and the world – for over 100 years, and we are proud to partner with Ford and other Founding Members at Michigan Central to shape the next century of transportation solutions while reducing emissions and accelerating electrification," said Governor Whitmer. "By embracing a whole-of-government approach in our collaboration with Michigan Central and the city of Detroit, we are writing the playbook for a new kind of partnership that keeps Michigan at the forefront of mobility for generations to come. Together, we can continue growing Michigan's economy, putting Michiganders first, and win the next century of auto manufacturing and technology development."

As part of a Memorandum of Understanding (MOU) between Ford, the state of Michigan and the city of Detroit, the state plans to align more than $126 million in new and existing investments, programming, and resources to support the goals of the district. This pledge involves the cross-departmental collaboration between the Michigan Office of Future Mobility and Electrification (OFME), the Michigan Economic Development Corporation (MEDC), Michigan Department of Labor and Economic Opportunity (LEO), Michigan State Housing Development Authority (MSHDA), Michigan Department of Transportation (MDOT), and the Michigan Department of Environment, Great Lakes, and Energy (EGLE).

The City of Detroit and its Administration will provide resources for a new real-world testing site within the district, called the 'transportation innovation zone'. This site will make it possible for mobility-focused companies to fast-track the safe piloting and deployment of new transportation solutions.
Since 2018, Ford has invested $740 million in the 30-acre campus in Corktown that is expected to hold 5,000 workers, with at least 2,500 of those jobs being non-Ford employees.

"Only a few short years ago, I announced Ford's investment in Detroit because I believed in a vision that reimagined the iconic Michigan Central train station and surrounding area as a place of possibility again," said Bill Ford, Executive Chair, Ford Motor Company. "Today's announcements reflect our commitment to that vision, attracting the best and the brightest to come together to solve some of the world's toughest challenges. The arrival of Google as a founding partner is exactly the kind of investment and progress I knew was possible to revitalize our hometown. And I could not be more pleased that the City of Detroit and the State of Michigan are also joining us in this ambitious effort. I know it is only the beginning of what we can achieve together."

Under the MOU, the partnership will focus on four key pillars:
Economic Development: The state of Michigan, coordinated by the OFME, will support the launch and growth of programs in the district that create conditions for high-skill job creation, startup company growth, risk capital, technology commercialization and other economic opportunities.
Workforce Development: LEO will provide world-class training, post-secondary adult education and career readiness resources in the district, including a potential physical space to host apprentice programs, employer-led collaboratives, the Going Pro Talent Fund and more, to prepare local workers for high-tech jobs in mobility and other emerging fields.
Community Development: MSHDA will promote housing and community development and civic engagement in a way that ties industry growth and innovation with neighborhood vitality and inclusiveness both in and around the Innovation District. MDOT will also assist in making roadways near the district more accessible and usable by all modes of transportation.
Transportation Innovation Zone: The Michigan Central Innovation District will be designated as an Innovation Zone by the city of Detroit for the development, pilot, and deployment of mobility technologies and solutions in real-world environments to support surrounding neighborhoods.
"Just a few years ago, this train station was our city's international symbol of abandonment," said Detroit Mayor Mike Duggan. "Now, it's the symbol of our city's resurgence and soon will anchor this new innovation district, developed by Ford, where innovators from around the world will create the future of mobility. For more than a century, Detroit has been the leader in automotive innovation and today marks a major step forward in keeping Detroit at the forefront of mobility innovation for the next century."


Google will also be joining Ford as a Founding Member of the Innovation District, where it will leverage the assets of the district to collaborate on new products and services that will define the future of mobility. As founding members, Google and Ford will also help mentor entrepreneurs and local businesses, as well as develop the workforce in Detroit.

"We're proud to join Ford as a Founding Member at Michigan Central," said Ruth Porat, Chief Financial Officer, Google. "This partnership will expand our work in Michigan and help a substantial number of people gain the skills and tools they need to succeed. By offering digital skills training, mentoring to high schoolers learning to code, and Google Cloud technology for Michigan Central projects and research on the future of mobility, we look forward to contributing to Michigan Central's mission and all it will accomplish."

Today's announcement builds on years of investment from Ford within southeast Michigan, cementing its commitment to testing, developing, and deploying future mobility solutions from the state. Ford has remained committed to electrifying the future of mobility in Michigan, having announced Ford Ion Park, its new global battery center of excellence, in Romulus, as well as its plans to invest $250 million and create 450 more jobs across three of its Michigan facilities over the past year alone.

The Michigan Central Innovation District is also a key partner in a new study with MDOT, OFME, Michigan Aeronautics Commission, the Province of Ontario and others to explore the feasibility of creating commercial drone testing corridors. And the district recently partnered with Electreon, Next Energy, and Jacobs Engineering Group to win MDOT and OFME's request for proposal to make Michigan the first state in the U.S. to implement a public wireless EV charging system. The project will include dynamic and stationary wireless EV charging along a 1-mile corridor, which will be hosted by and live within the district.

"I, like many, had relatives that first entered Michigan through Detroit and Michigan Central Train Station. They were looking for a better life and a more inclusive community. By activating Michigan Central Innovation District, we are honoring the inspiring history of this place, which so many Michiganders share," said Trevor Pawl, Chief Mobility Officer for the State of Michigan. "And by investing in new mobility solutions and entrepreneurial resources within this district, we are creating a global platform that can drive high-tech job creation and community empowerment."
About Michigan Economic Development Corporation (MEDC)