MEDC Executive Committee Acts to Continue Growth of Economic Impact Across Michigan
Tuesday, January 17, 2023
Quentin L. Messer, Jr. to continue as CEO of Michigan Economic Development Corporation for a new, four-year term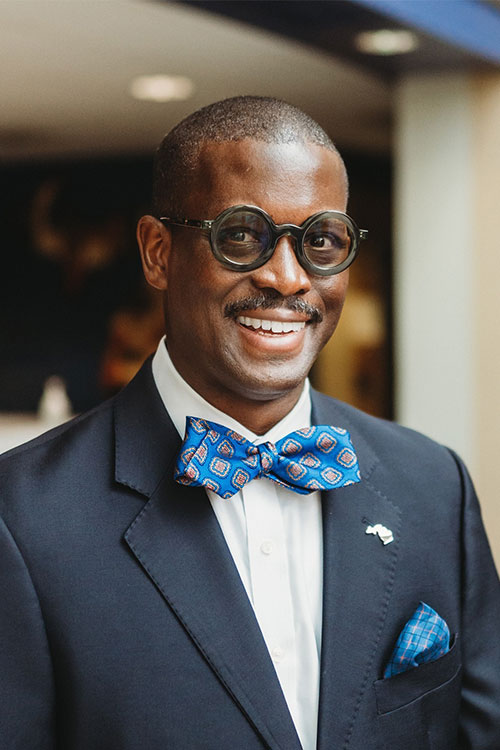 LANSING, Mich. – The Michigan Economic Development Corporation Executive Committee today sent a strong signal on the continued momentum of economic development statewide and continued support for MEDC CEO Quentin L. Messer, Jr. approving a new, four-year contract for Messer. Today's action follows a year with more than $14 billion in EV and battery manufacturing investments in the state, as well as the elevation of small business, regional relevancy and community development and placemaking within MEDC's strategic plan.
"Director Messer brings an incredible dedication to delivering impact and opportunity to people across Michigan through the economic development efforts of MEDC and Team Michigan," said Governor Gretchen Whitmer. "He's used our powerful, bipartisan economic development tools to bring home over $14 billion in investment and secure nearly 13,000 jobs. Together, we will continue to stay laser focused on growing our economy, competing for every good-paying job, and making sure businesses and people alike know Michigan is a place that welcomes them all. Let's keep delivering on the issues that matter, support businesses of all sizes, spur innovation, and move Michigan forward."
As MEDC CEO and President and Chair of the Michigan Strategic Fund, Messer is charged with implementing and executing MEDC's core mission of business development and attraction, community development, providing access to capital and enhancing Michigan's image and brand with a focus on building a strong and equitable economy for all Michiganders. His responsibilities include managing the administration of all programs, funds, personnel, contracts and other administrative functions of MEDC.
"Over nearly two years, Quentin has brought tremendous passion, energy, expertise and a Team Michigan mentality to economic development here in our state," said Awenate Cobbina, Chair of the MEDC Executive Committee. "He has worked tirelessly to drive results around building a strong and vibrant economic recovery to help our state's businesses retain, grow and create more good-paying jobs for Michigan's working families. Today's action is a recognition of the results he has delivered, and will continue to deliver, while providing certainty and consistency to MEDC, our customers and our partners across the state of Michigan."
In addition to serving as a member of Governor Whitmer's cabinet, Messer serves on the boards of the American Center for Mobility, Michigan Israel Business Accelerator, International Economic Development Council (IEDC) and Oklahoma University's Economic Development Institute (OU EDI) and is a member of the Michigan Council on Climate Solutions.
"I am humbled by the opportunity to continue to serve Michigan in the best job and on the best team in economic development alongside my colleagues here at the MEDC," Messer said. "Working alongside our partners in the Whitmer administration, the MEDC Executive Committee, the bipartisan legislature, our local and regional partners and in labor and talent development and education we will continue to out-hustle and out-compete to get the job done – from bringing new investment to the state and revitalizing communities on both peninsulas to strengthening the business environment for our Michigan-grown companies – in order to secure economic opportunity for today, and future generations here in Michigan. We have made a lot of progress and we embrace the challenge of completing the remaining work. Let's get it!"
Since Messer started as CEO of MEDC in July 2021, the state has seen significant momentum in bipartisan economic development efforts including Governor Whitmer signing legislation establishing the SOAR fund, a renewed emphasis on site readiness in the state, the creation of a EV/mobility and semiconductor Talent Action Teams to fill in-demand jobs in key industries, the creation of the Small Business Services & Support Team at MEDC to strengthen the ecosystem of support for entrepreneurs and the deployment of nearly $100 million in American Rescue Plan dollars to enhance community vitality while addressing impacts of the pandemic on public gathering places and office buildings.
Messer was named by Financial Times as a member of the 2021 Agenda Diversity 100, Crain's Detroit Business, 50 Names to Know in Government (2021), Biz New Orleans CEO of the Year (2020), Biz New Orleans Businessperson of the Year (2019), by Consultants Connect as one of North America's Top 50 Economic Developers (2020, 2019) and by Ebony Magazine for its Ebony Power 100 as a Power Player (2018).
Messer is a degree recipient from Princeton and Columbia Universities. Read Messer's full bio here.
About Michigan Economic Development Corporation (MEDC)