Entrepreneurship in Michigan: Celebrating the Dreamers, Risktakers and Innovators
Monday, November 13, 2023
The Michigan Economic Development Corporation recognizes the contributions entrepreneurs and small business owners make to grow Michigan's economy
Michiganders are known for their entrepreneurial and creative spirit. That's why the Michigan Economic Development Corporation (MEDC) recognizes and supports entrepreneurs at all points of their journey. After all, it's the dreamers, risktakers and innovators across our two peninsulas who help set Michigan apart and contribute to the economy in impactful ways.
The MEDC's Entrepreneurship & Innovation initiative assists high-tech startups and entrepreneurs find the programs, services and expert counsel to accelerate research, license intellectual property, form companies, create jobs, support early stage growth and engage with other Michigan businesses. Since 2011, the initiative has led to 1,323 companies being formed, over 9,000 tech companies served and 2,221 new patents issued. In 2022, Detroit also earned the distinction as the No. 1 emerging startup ecosystem by Startup Genome, further underscoring Michigan's role as a high-tech hub in the Midwest.
Starting and growing a business takes grit, courage and tenacity – and here in Michigan, those traits run deep in our DNA. While work remains, MEDC's Entrepreneurship and Innovation and Small Business Services teams, especially, are working harder and smarter daily to facilitate more risk-takers across the state realizing their entrepreneurial dreams. Working with ecosystem partners and successful founders, Team Michigan is facilitating access to the capital and other support business creators need to be successful and build a future right here in Michigan.
Funding the Dream
Financial assistance is critical to the success of startup companies and entrepreneurs. The MEDC's Entrepreneurship & Innovation team provides various opportunities and avenues for early-stage funding.
Michigan Economic Opportunity Fund
With support from the MEDC, Michigan Women Forward, Huntington National Bank and the Ballmer Group, the Michigan Economic Opportunity Fund will lend to individuals who don't qualify for traditional loans through banks or other financial institutions, providing opportunities for those who are socially and economically disadvantaged due to a lack of access to capital and credit.
Announced in March 2023, the new $10 million microbusiness loan program will give women and entrepreneurs of color in Michigan the opportunity to apply for up to $50,000 in funding. The Michigan Economic Opportunity Fund will diversify the economy by providing equitable access to capital for marginalized communities while helping build sustainable businesses, generate wealth, create jobs and positively impact the state's economy.
Michigan Innovate Capital Fund
The Michigan Innovate Capital Fund (MICF) is a new program aimed at continuing to grow a vibrant and robust entrepreneurial ecosystem in Michigan. The program, approved by the Michigan Strategic Fund in June 2023, received a $23 million allocation from the Jobs for Michigan investment fund. In October 2023, Lt. Governor Garlin Gilchrist II announced four Michigan nonprofit organizations would receive initial awards from the MICF program; Ann Arbor SPARK, Biosciences Research and Commercialization Center (BRCC), Invest Detroit and InvestUP received $18 million in funding from the program, with the remaining $5 million currently in the review process.
These funds will help early-stage, high-tech companies develop products and put them on the market, creating good-paying, high-skilled jobs that keep talent in Michigan and diversify Michigan's economy. MICF gave preference to nonprofits in underserved locations that clearly addressed the funding gap in underrepresented communities.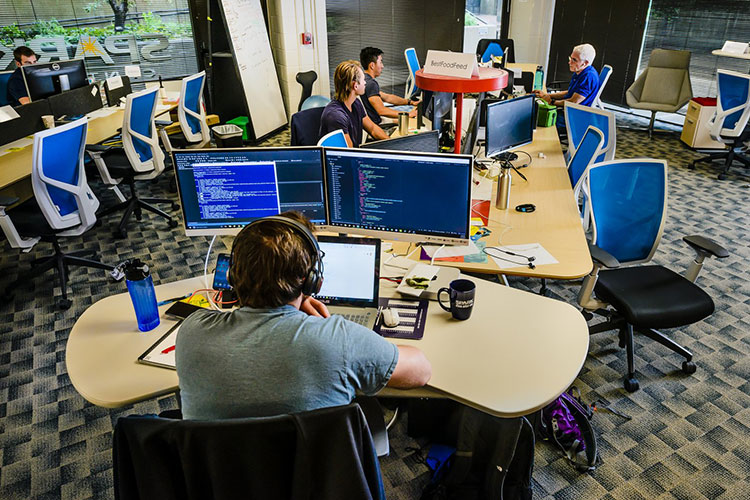 At Your Service
Through various partnerships and programs, the MEDC can help aspiring entrepreneurs and startup companies find the help they need to succeed in Michigan.
Small Business Support Hubs
In June 2023, Governor Whitmer announced the new Small Business Support Hubs program aimed at investing in the state's small business ecosystem.
Small Business Support Hubs will bring new and more comprehensive resources to small businesses across the state by providing funding to entrepreneurial hubs for operations, programming and direct support to small businesses. The program will provide up to $6 million in funding to entrepreneurial hubs to invest in regional operations, deployment of a variety of business support services, as well as direct grant support to small businesses who were disproportionately impacted by COVID-19.
The demand for the program far exceeded the $75 million in funding available, with over 80 applications requesting $275 million in total. On Nov. 9, it was announced that 27 grantees were awarded funding across the state's 10 prosperity regions.
Programming across the 27 hubs is designed to meet regional needs as well as economic competitiveness measures, such as resources for strategic sectors including ClimateTech and Advanced Manufacturing. The hubs will also offer targeted support to family-owned and rural businesses to drive resiliency in a rapidly evolving economic climate.
Resources available from the hubs will include one-on-one coaching, cohort-based learning and accelerators, mentor matchmaking, pitch competitions, networking events, access to capital, partner referrals, and statewide resource navigation.
SmartZones
Michigan currently has 20 SmartZones located throughout the state, providing distinct geographical locations where technology-based companies, entrepreneurs and researchers can locate in close proximity to community assets that assist in their endeavors. The SmartZones include technology business accelerators that provide various services including business development mentoring, feasibility studies, business planning, entrepreneurial training, market analysis, technology assessments, technology mining and more. They also facilitate the commercialization of technologies developed at Michigan universities by partnering with tech transfer offices.
SmartZones have assisted Michigan-based businesses across the state, including Max Analytical Technologies, which joined the entrepreneurial ecosystem at the Central Michigan University Research Corporation (CMURC) SmartZone. Support from the CMURC SmartZone helped the Mount Pleasant-based company grow and led to an acquisition by the largest chemical instrumentation company in the world.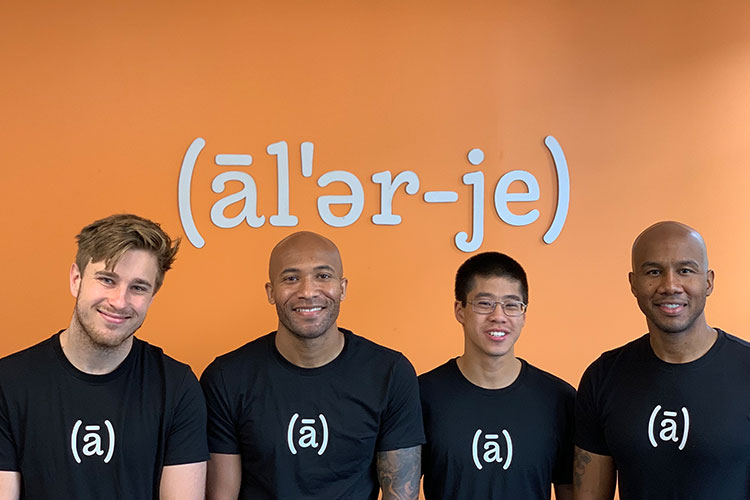 Looking for business development support, Alerje founder Javier Evelyn turned to TechTown Detroit—an MEDC SmartZone. Javier met with the team to further develop his idea for a food allergy management platform through mentorship, introductions with key investors and experts and help with pitch programs. Once the initial business plan was created, Javier used the resources provided at TechTown to apply for a $7,000 Business Accelerator Fund (BAF) grant, which helped him secure the startup's first IP.
With help from resources provided by MEDC, Alerje has created a comprehensive and convenient food allergy management platform to help improve the quality of life of patients dealing with severe and life-threatening food allergies.
Michigan Small Business Development Center
Headquartered at Grand Valley State University, the Michigan Small Business Development Center (SBDC) enhances Michigan's economic well-being by providing consulting, training and research for new ventures, existing small businesses and advanced technology companies. Representing a long-term collaboration between the Small Business Administration and the State of Michigan, the SBDC operates 11 regional offices and more than 20 satellite offices, providing entrepreneurs and business owners with convenient access to consulting and training throughout Michigan at low or no cost.
Business owners in Michigan have received invaluable support from the SBDC including Fred Sliger, owner of Calderwood Enterprises in the Upper Peninsula. The Northern Michigan-based contractor found essential business skills through small business workshops with the SBDC, participating in several training courses and getting connected with a marketing expert to help craft a digital presence for the business. The business now has its first website and Google Business page, vastly expanding the online visibility of the company.
When The Poke Bowl owners Jeron Dotson and Justin Bush wanted to bring a poke dish concept back to their hometown in Flint, they were able to secure a location and build a business with the help of the SBDC and winning various local pitch competitions. By engaging early-on with the SBDC, The Poke Bowl was able to access a range of consultant and support services, from pitch development and financing resources to building acquisition support and partner referrals. This resource was essential for The Poke Bowl to begin, but the surrounding community proved to be its secret ingredient for success.
Start your entrepreneurial journey with the MEDC. For more information, visit https://www.michiganbusiness.org/services/entrepreneurial-opportunity/.
Contact Us