Max Analytical Technologies
CMURC SmartZone support helps Mount Pleasant-based company grow, leads to acquisition by largest chemical instrumentation company in the world
With its acquisition by Thermo Fisher Scientific, the largest chemical instrumentation company in the world, Max Analytical Technologies is a prime example of how opportunities from the Michigan Economic Development Corporation (MEDC) lead to support, growth and success. The journey began in a garage, with a company called Prism Analytical Technologies, Inc. (Prism).
Founded in 1992, Prism was started from an introduction by Paul Sears of Isabella Bank and Trust and two people he thought had to meet: his neighbor Martin Spartz and a good friend Les Keepper. This connection was instant – the pair brought in Bruce Gartner and the rest is history.
As the company grew and started to develop new technology, with a goal to create gas analysis technology for in-processes monitoring, Prism sought investment and capital, talent and lab space to foster additional growth in the state of Michigan. The company engaged with the Michigan Economic Development Corporation and joined the entrepreneurial ecosystem at the Central Michigan University Research Corporation (CMURC) SmartZone in September 2009.
CMURC is a professional and diverse coworking space with accelerator programs focused on product and strategic development for entrepreneurs to positively impact the economy in the Great Lakes Bay Region. It brings together local, regional and statewide partners to accelerate the success of entrepreneurs, professionals and corporations growing businesses and jobs by leveraging the resources of Central Michigan University, the Mount Pleasant SmartZone District and the MEDC.
"When launching an innovative business, there are many different opportunities through the MEDC SmartZone network that can help accelerate a company forward," said President and CEO of CMURC Erin Strang. "All entrepreneurs can benefit from the resources available to support the growth of their company – whether that be space and programs or investment."
Utilization of the CMURC SmartZone's high-end lab space and entrepreneurial support was critical to the success for the company.
"My advice to new entrepreneurs is to stick to your plan and vision. It's easy to get sidetracked and lose faith in certain areas, but if you really truly believe inside you've got something – you do," said Les Keepper, co-founder of Prism. "I can't say enough good things about the support offered. It was CMURC who really helped grease the skids to make it work for us and make all this happen."
The ripple effect from the founders has made a major impact on the local economy. Prism was purchased by Montrose Environmental Group. With its technology developed in the incubator, Prism became an Enthalpy Analytical LLC laboratory (a subsidiary of Montrose Environmental) devoted to the chemical identification and analysis of contaminants in the air. The company is still housed in the SmartZone today with over 25 high-wage jobs in Mount Pleasant.
Max Analytical was formed in 2017 as a spinoff company after a divestiture of assets was completed by Prism. With 17 patents and counting, Max Analytical is a leader in developing FTIR gas analysis technology for in-processes monitoring, source testing, and ambient air monitoring. Coca Cola, Air Products, Ford, 3M, Intel and various other industry leaders have utilized these technologies.
A substantial achievement was the successful acquisition of Max Analytical by Thermo Fisher Scientific in March 2022; Thermo Fisher Scientific is the largest chemical instrumentation company in the world. With $40 billion in annual revenue and 130,000 employees, Max Analytical looks forward to working with their new colleagues and providing the world's most innovative FTIR gas analysis solutions.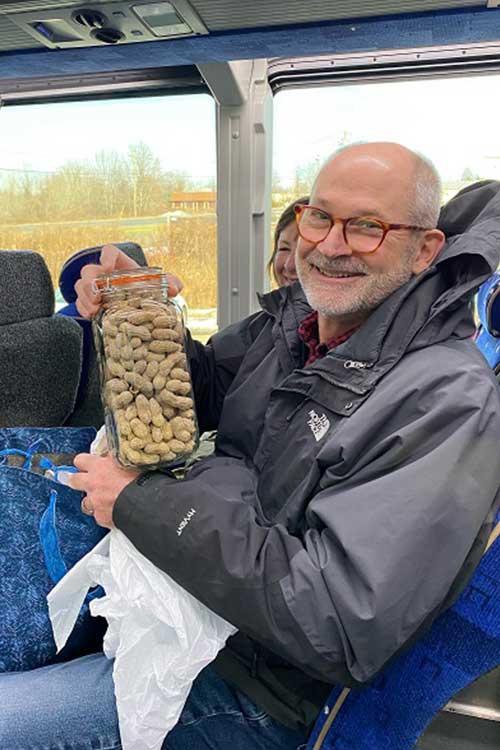 Even amid great success, Prism Analytical Technologies embraces its humble beginnings in Mount Pleasant as a source of pride and motivation.
Martin Spartz, CTO of Max Analytical, recalls this memory from the early stages of their company Prism: "We began seeking investment and we set up a dinner meeting with an investor group. By the end of the dinner, the potential investor told us he wasn't going to invest in our company and handed us each a jar of peanuts. The funny thing is that every year since then, we've always brought peanuts to our annual board meeting to serve as some motivation," said Spartz.
Find out how the Michigan Economic Development Corporation helps support entrepreneurship at https://www.michiganbusiness.org/services/entrepreneurial-opportunity/.
For more information on developing innovative technologies and coworking space, learn about the Central Michigan University Research Corporation SmartZone at cmurc.com.