From making percussion instruments in a garage to exporting its products across the globe, Black Swamp Percussion is reaching musicians worldwide thanks to the MEDC's International Trade services
Music has always been a part of Eric Sooy's life. After starting with piano lessons in elementary school, he began learning the drums in 7th grade, playing in the high school band and in rock bands with friends in Elyria, Ohio. Sooy has also been building and fixing instruments since he was a kid, working on more complex projects as he grew up and attended Bowling Green State University. There, he earned both a bachelor's and master's degree in music.
After college, Sooy dabbled in teaching and freelance gigs with orchestras, but continued his hobby of building instruments in his basement and garage before finally starting a business. He says the name Black Swamp Percussion – referencing an area of Northwestern Ohio in the drainage basin of the Maumee River – wasn't meant to be serious, but it stuck.
"The name was just a quirky thing," Sooy said. "Turning this into a bona fide business was hardly a conscious decision in the early years."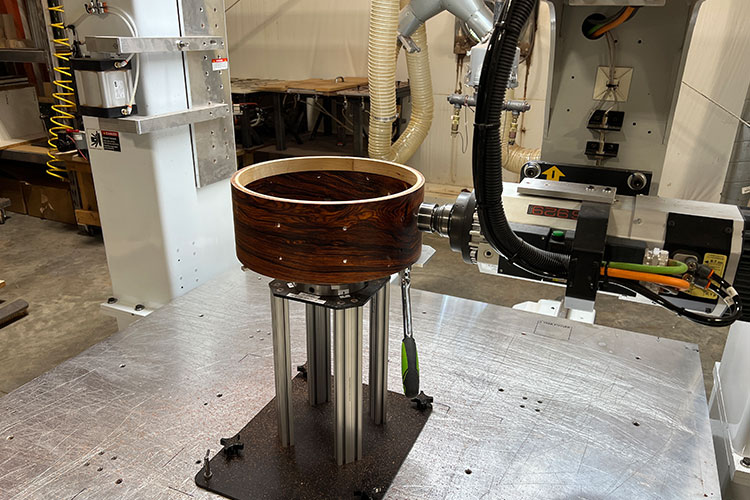 After college, Sooy and his wife moved to Adrian, Michigan before relocating to Holland in 1997. As business continued to grow, Black Swamp Percussion moved into a 9,000-square-foot facility in Zeeland in 2005, where they continue to manufacture high-end instruments today.
"A wise customer of mine once told me, 'Don't grow too fast, you'll grow yourself right out of business.' He has since passed away, but his business was and still is my largest customer. That was valuable advice for a guy who was a musician and had with no business experience – advice I did not always follow while I was trying to manage sales growth of 20-25% year over year."
To handle his company's growth, Sooy began working with a mentor at the Michigan Small Business Development Center (SBDC), who connected him to his current financial manager, Kristen Lucksted.
"She had significant experience with managing the finances of large and small businesses and brought desperately needed financial discipline to my business. She was the prime driver of whipping us into financial shape and helping us grow in a sustainable fashion. As did many, we got hit hard by the effects of the pandemic in 2020, but we had our best year ever in 2022."
Sooy also learned about the Michigan Economic Development Corporation (MEDC) through his involvement with the Michigan SBDC; the company has now utilized MEDC's resources for the past decade, including MI-STEP grants to attend trade shows and assistance from International Trade Centers.
To date, Black Swamp Percussion has received $66,109.08 in MI-STEP funds, and report $3.6 million in facilitated sales. The company has new dealers in Spain, Thailand and Peru, and has increased sales to Italy and New Zealand.
"The MEDC has assisted us in foreign trade missions, conventions with international reach, vetting new dealers in foreign countries, aiding our understanding of working with other business cultures, and many other various questions we have had," Sooy said. "[International Trade team members] Weiwei Lu and Natalie Sandborn have been exceptional people to work with. They are truly interested and engaged in promoting the success of Michigan businesses and their international presence. Our international sales now account for over 1/3 of our business, much of that quantifiably attributed to MEDC's expertise and support. We recently went to Europe on a trade mission to visit several of our dealers. Some are small yet very influential among musicians and music groups, and one is the largest retailer of music products in the world. Strengthening our relationships by taking the time to visit them is very important to us, and they also greatly appreciated the effort we made to come to their location. Zoom and email can only go so far. We are already seeing a boost in their attention and an emphasis on offering our products to their customers."
Black Swamp has also benefited from the expertise of several International Trade Centers, including the China Center, Europe Center, Brazil Center, Mexico Center and South Korea Center.
"This program has been tremendously helpful for us, and we are now represented by dealers on 6/7 continents – not much going on in Antarctica at the moment – with exports accounting for over 1/3 of our sales," said Sooy. "I could not have predicted 28 years ago that my instruments would have such a far-reaching impact on musicians around the world, and the MEDC has been instrumental in making that happen. I have often boasted about this program to business colleagues in other states, and they are insanely jealous. Michigan truly has a treasure in the MEDC and their focus on the international success of Michigan businesses."

Learn how the MEDC's International Trade services can help your business hit the right notes and go global at https://www.michiganbusiness.org/services/international-trade/.