Michigan's East Coast: Where business goes to grow
Thursday, February 10, 2022
In Michigan, the sun isn't the only thing that rises in the east. Companies do, too. With a business-friendly climate, robust talent pipeline, pantheon of innovative entrepreneurs and global recognition of the state's unique manufacturing heritage, Michigan's East Coast is a natural location for growing business. From Metro Detroit to the Great Lakes Bay, Midland to Monroe, the Sunrise Coast along Lake Huron is lined with Michigan counties and communities making their mark. If Michigan is America's high five, the East Coast is its thumbs up.
Ideally located, Michigan is within 500 miles of nearly half the U.S. and Canadian population and commerce centers, with the state's East Coast giving businesses unparalleled access to markets. More than 25% of more than $700 billion in annual trade between the U.S. and Canada crosses the Ambassador Bridge, the most active border crossing in North America. At the southern point of Lake Huron, the Blue Water Bridge serves as a major international crossing over the St. Clair River, connecting Port Huron, Michigan and Point Edward, Ontario. The Blue Water Bridge is considered one of the fastest links between the Midwest and Ontario.
Michigan's range of airborne transit options includes Detroit Metropolitan Wayne County Airport (DTW), one of the largest air hubs in North America. In Spring 2021, DTW was named the best airport in North America for customer service amid the COVID-19 pandemic. Meanwhile, Flint Bishop International Airport was named home of Allegiant's forthcoming operational base, increasing route expansion and providing additional nonstop flights to and from the Flint region.
It is clear Michigan has the infrastructure needed to help companies access markets across every corner of the globe, and some Michigan companies extend the state's footprint even beyond national and continental borders.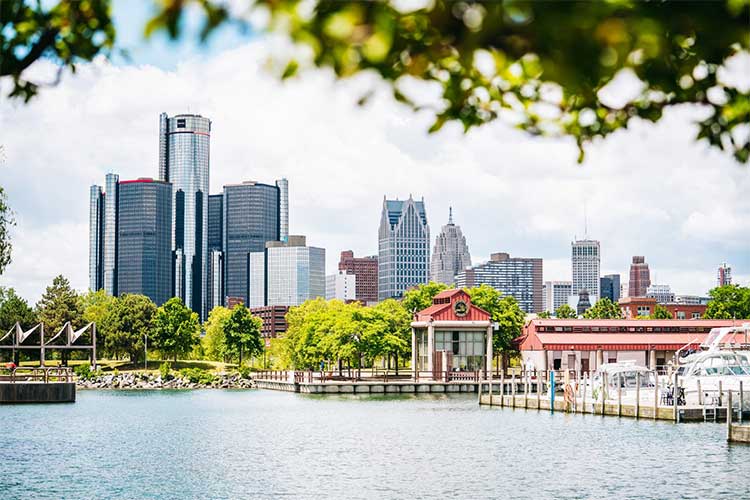 For more than 12 years, and with the ongoing support of the Michigan Economic Development Corporation, Farmington-based Global Health Services Network (GHSN) has made a name for itself as a top health care management and consulting firm, focusing its business exclusively on international markets. Through the funding and guidance received from the MEDC, GHSN has expanded its business into the Middle East over the years, with contracts in Erbil, Iraqi Kurdistan.
As a small business, GHSN can tap into Michigan's intellectual capacity and concentration of talent, offering everything from a hospital housekeeper to help teach how to clean properly and prevent infections, to physicians, nurses and management. Michigan's East Coast provides GHSN with the necessary workforce, headquarters and resources to grow all in one location.
Businesses and residents in Michigan's East Coast area are in close proximity to many of the state's world-class educational institutions, such as the University of Michigan, Michigan State University, Wayne State University, Central Michigan University, Kettering University, Lawrence Technological University and more. With degree and certification programs focused on STEM, business, entrepreneurship and supply chain management, Michigan's colleges and universities cultivate a robust talent pipeline across several core industries.
Michigan's high quality of life and affordable cost of living also helps the state to attract and retain its skilled, knowledgeable talent, with the state being ranked the fourth most affordable state in the country. And with the growth of remote workforces allowing people to work and live anywhere in the country, East Coast Michigan is emerging as a place where talent across all industries can find the perfect work-life balance, with Detroit being considered among the top 10 best places to work remotely in the nation.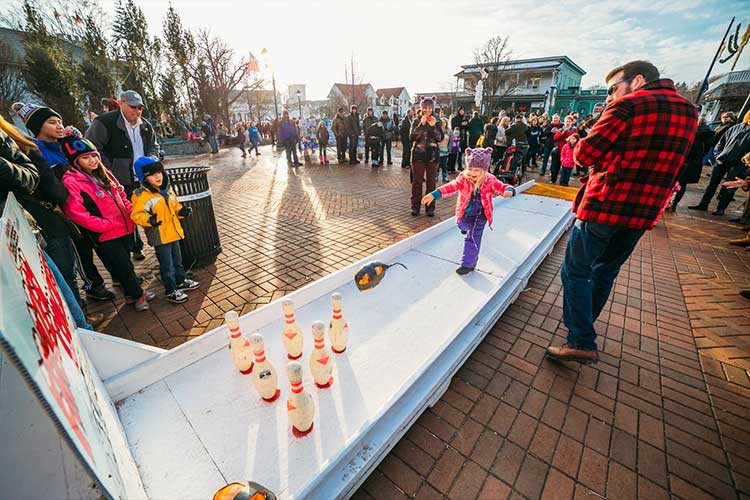 Contributing to this supreme quality of life is an unparalleled number of recreational opportunities throughout the state; the East Coast of Michigan, shaped by Lake Huron, is dotted with communities and attractions along the Sunrise Coast to enjoy throughout the year. The Great Lakes Bay region – comprised of Bay City, Frankenmuth, Midland, Saginaw and surrounding areas – offers a cozy, winter wonderland in the cold months and a sunny, Pure Michigan lakeside retreat in the summer. Frankenmuth, known as Michigan's Little Bavaria, welcomes more than three million visitors annually, while Midland's Dow Gardens boasts the country's longest canopy walk and 110 acres of botanical gardens.
The Great Lakes Bay area of Michigan is also home to several major global corporations, including Dow Chemical and Wacker Chemical Corporation. Dow has called Michigan home since 1897; the Dow Michigan Operations Industrial Park in Midland, administered by Dow and including other companies, leverages best-in-class manufacturing practices, safety and environmental standards. The I-Park is home to more than 7,000 employees and contractors. In 2022, Dow announced plans to modernize its silicones manufacturing and R&D activities at the Midland facility, generating millions in capital investment and retaining hundreds of jobs.
Germany-based WACKER, a technological leader in the chemical industry and manufacturer of products for key global industries, also has strong ties to Michigan. Adrian serves as the headquarters of Wacker Chemical Corporation, WACKER's North American subsidiary, while nearby Ann Arbor was chosen as the site for the company's R&D center for silicones in 2017. In 2020, WACKER announced plans to expand in Michigan with a new North American Innovation Center & Regional Headquarters in Pittsfield Charter Township.
KLA has been part of the most significant technological breakthroughs throughout its 45-year history. As we continue our journey at the forefront of semiconductor technology, we're thrilled that Ann Arbor and the state of Michigan are now part of our story.
KLA, an industry-leading equipment and services provider that enables innovation throughout the electronics industry, chose Ann Arbor, Michigan as the location for its R&D semiconductor research center in October 2018. The Silicon Valley-based corporation invested in Michigan as its home for growth based on the area's rich talent base and affordable cost of living. KLA's presence in Michigan is one example of the state's emerging leadership in the semiconductor industry. In 2021, semiconductor wafer manufacturer SK Siltron announced plans to establish a new manufacturing and R&D facility in Bay County to meet the demand for electric vehicle components.
Michigan's momentum in leading the charge into next generation transportation and manufacturing can be seen in Magna International's decision to construct a new manufacturing facility in St. Clair, building complex battery enclosures. The project underscores the talent and drive that exists in East Coast Michigan to design, develop, test and build the next generation of industry solutions within the state while also demonstrating the depth of the state's automotive supply chain. The enclosures being built in St. Clair are being built for GM's new GMC Hummer EV being built at Factory ZERO.
A global automotive supplier, Magna currently has more than 10,000 employees located in Michigan and continues to invest in the state. Michigan's high concentration of engineering talent, strong mobility and EV ecosystem and automotive manufacturing prowess continues to support the company's growth. And with one-third of the U.S. battery production and development coming from Michigan – much of it concentrated in Southeast Michigan – Magna is in the ideal location to build up its competitive edge and increase its leadership position in the battery frame market.
As the state that put the world on wheels over 100 years ago, Michigan continues to be a leader in the automotive industry thanks in large part to the Big Three – Ford Motor Company, General Motors and Stellantis. From GM's Factory ZERO, its first fully dedicated EV assembly plant in Hamtramck, to Stellantis' Dundee Engine Plant and Ford's Michigan Assembly Plant in Wayne, the Big Three's presence is found throughout Michigan's East Coast.
Carrying on that tradition of innovation, the Metro Detroit area is also a hub of the state's entrepreneurial and startup ecosystem. From TechTown in Detroit to Automation Alley in Troy, designated SmartZones along Michigan's East Coast provide opportunities for technology-based companies, entrepreneurs and researchers to locate in close proximity to community assets that assist in their endeavors. Since 2015, Michigan's entrepreneurial ecosystem has produced five unicorn startups – Duo Security, Llamasoft, Onestream Software, Rivian Automotive and StockX – that underscore the state's opportunities for economic growth.
The talent in Michigan, and Detroit specifically is incredible. You have phenomenal, just grit and determination, and we found that these are hard workers that are, you know, hungry to innovate. It's just been amazing, and a huge part of what's helped StockX grow is having the Michigan talent base that we have. I just think the perception of Detroit is going to continue to change, which is going to attract more talent, and just make it an even more vibrant ecosystem.
As stories like these illustrate, Michigan's commitment to business is rock-solid, and its support is highly diverse. East Coast Michigan, specifically, offers a great quality of life, vibrant communities and low cost of living unlike anywhere else. In this environment, it's easy to understand why Site Selection magazine ranks Michigan among the top 10 states nationally and the top three in the Midwest for business competitiveness.
For more information on how MEDC can help your business grow, please visit https://www.michiganbusiness.org/why-east-coast/.
Contact Us