Global Health Services Network
For more than 12 years, Global Health Services Network has been making a name for itself around the world as a top health care management and consulting firm with the ongoing support of the MEDC's International Trade Program.
Global Health Services Network (GHSN) is a Michigan-based, woman- and minority-owned organization built around providing international hospital and health care consulting, staffing, training, management and technical assistance with the goal of helping governments and private organizations in developing and emerging countries to improve quality and efficiency of their services.
Their team of more than 55 specialized health care professionals has worked in more than 60 countries throughout the last 12 years on a variety of projects. Even though the company is based in Michigan, GHSN works exclusively in international markets which poses a unique challenge for a small business.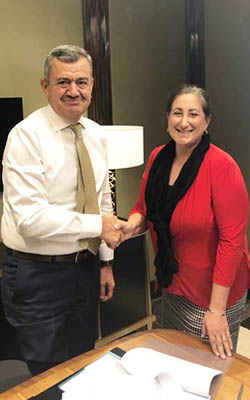 "I firmly believe it's about building relationships and building trust – and then you do business," said Patricia Williams, president of GHSN. "So, having the ability to go to these countries and meet with people in person is really an important aspect of what we do. Yet we don't always have the necessary funds to cultivate these face-to-face relationships that are crucial to expanding our business."
Then, Williams discovered MEDC's International Trade Program. Since 2013, the MEDC has helped GHSN secure just over $32,000 in Michigan State Trade Expansion Program (MI-STEP) funding for international projects, sales trips, trade shows and marketing materials. According to Williams, the funding allows her to pursue business opportunities in key international markets that she may not have been able to otherwise.
GHSN's latest trip supported by MI-STEP was to the International Hospital Federation (IHF) World Hospital Congress in Muscat, Oman in November 2019, which produced significant results. While at the IHF World Congress, Williams and her team developed new business relationships with potential clients in the Middle East through networking, strengthened existing relationships and promoted their new book. Following the Congress, GHSN met with interested parties in Kuwait to discuss a governmental contract for hospital management.
During the same trip, GHSN signed a three-year contract with a 164 bed hospital in Erbil, Iraqi Kurdistan to manage and operate their medical hospital, which will result in more than $2.7 million in revenue over three years with the potential for an extension for up to 10 years. The Erbil hospital contract is the first of its kind, as this project will be the only American-operated hospital in Iraq's history when it opens.
"The initial contact for this project was through the World Bank," said Williams. "In fact, we've been able to familiarize the World Bank with our services through several MI-STEP funded trips, including a recent one to attend their health care conference in Barcelona. Over the years we've developed a relationship with some World Bank health leaders. It was through this connection that we were introduced to the client and ultimately short listed with about six other companies from all over the world that competed, and we ended up winning the award."
GHSN will develop the systems, hire and train all staff and help strengthen the overall operation. Their goal is to get the hospital accredited by the Joint Commission International. GHSN plans to recruit upwards of 700 positions. The non-Iraqi foreign staff positions will be open to medical professionals in the U.S. and the international community, with priority given to Michigan talent.
"Much of what we do is export Michigan expertise. We contract a lot of people within the state of Michigan," said Williams. "We can offer everything from a hospital housekeeper to help teach how to clean properly in order to prevent infections, to physicians, nurses and management. This is all Michigan intellectual capacity that we're exporting, while also promoting all the great resources and knowledge that exist in Michigan."
Williams is thankful for the support the state gives to businesses who want to grow internationally. Early on, as she learned more about the MEDC, her passion to put Michigan first, and Michigan companies first, has grown stronger. "The connections and the resources MEDC provides is tremendous. The comfort and confidence I have knowing the MEDC exists is a huge benefit for us being in Michigan," added Williams.
For more information about how the MEDC can provide your business with opportunities to grow internationally, visit https://www.michiganbusiness.org/services/international-trade/.