General Motors' Historic $7 Billion Investment Forges Michigan's Future as Leader in Electrification
Tuesday, January 25, 2022
The investment is expected to create 4,000 job and retain an additional 1,000 jobs, securing Michigan at the forefront of the future of EV and mobility
On January 25, 2022, General Motors announced plans for an historic investment solidifying Michigan's role in the future of electrification in the automotive industry. The $7 billion investment in the state is the largest in the company's history, making a strong bet on Michigan's automotive workforce and future in EV and advanced battery manufacturing.
The investment is the first transformational project secured since the bipartisan SOAR legislation was signed into law in December 2021. The programs were created to position Michigan as a strong competitor for attracting jobs and billions of dollars in investment to the state. With these programs, existing Michigan-based companies and those considering expansion in our state need not look to invest anywhere else in the country to make their mark on the world of mobility and beyond.
The history paves the way for the future of transportation and mobility
For more than 100 years, Michigan has sat in the driver's seat of the automotive industry's growth, progress and innovation. As the birthplace of the assembly line, Michigan put the world on wheels; now, the state is continuing in its role as a global leader, steering the automotive industry into a future that promotes sustainability and electrification through educational programs, partnerships and the world's best concentration of skilled workforce.
As a leader in future transportation solutions, Michigan has the ecosystem and talent to advance electrification technologies. These innovations not only have the power to impact the automotive industry, but can contribute to job creation, advanced talent pipeline, and community vitality – all of which makes Michigan the best place to be.
Amid the industry's shift from the combustible engine to electric and fuel cell propelled vehicles, Michigan is poised to lead the high-tech automotive transition yet again. Advances in electric power generation and storage, autonomous vehicles, vehicle sensing and vehicle-to-vehicle and vehicle-to-infrastructure communications are shaping the economics of mobility, with Michigan at the helm.
The state continues to build on its automotive legacy to drive next generation transportation. From policy, testing centers and deployments and pilot projects to talent advantages, Michigan has created a rich environment for automakers, auto suppliers, entrepreneurs and innovators who are leading the way in the mobility evolution.
With the highest concentration of engineering talent in the nation, a wealth of university-led advanced battery research and proximity to 26 OEMs, Michigan is an ideal location for emerging battery and EV manufacturing. In fact, the state is home to about one-third of U.S. battery production, ranking 6th nationally for employment related to electric vehicle battery manufacturing.
That innovative spirit and talent pool have Michigan poised to remain a strong prospect for automotive companies. The state consistently ranks as the No. 1 site for automotive and mobility research and development (R&D), and Michigan's automakers continue to help build an economy that is equitable and environmentally conscious.
Proof of this lies in GM's $7 billion investment, which includes $4 billion to convert GM's Orion Township assembly plant to build full-size EV pickups and up to $2.5 billion to build Ultium's third U.S. battery cell plant in Lansing, is expected to create and retain 5,000 manufacturing jobs. In addition to these EV-related investments, GM also announced a $510 million investment in its two Lansing-area vehicle assembly plants to upgrade their production capabilities.
GM's announcement is the latest in recent EV investments, with the automaker also recently announcing the Wallace Battery Cell Innovation Center to speed up battery production while lowering costs and locating its first fully dedicated electric vehicle assembly plant, GM Factory Zero, in Hamtramck, with a commitment of 2,200 jobs.
Ford Motor Co. is also choosing Michigan to lead the way in EV manufacturing, research and development. In September 2021, Ford announced a new $250 million investment and 450 direct jobs across three southeast Michigan facilities to support F-150 Lightning production capacity increase. Ford is opening its new global battery center of excellence – called Ford Ion Park – in Michigan later in 2022 to accelerate the company's research and development of battery and battery cell technology.
Stellantis is building JEEP plug-in hybrid models at the first new assembly plant in Detroit in three decades as part of an investment that brought 6,433 jobs in Michigan, including for more than 4,100 Detroit residents. Meanwhile, semiconductor wafer manufacturer SK Siltron is establishing a new facility in Monitor Township to support electric vehicle growth, an investment of $302 million that will create up to 150 jobs.
Manufacturers, suppliers and R&D facilities are also choosing Michigan with XL Fleet opening its new Fleet Electrification Technology Center in Wixom, and Magna International building a state-of-the-art facility in St. Clair to support GM's new GMC Hummer EV.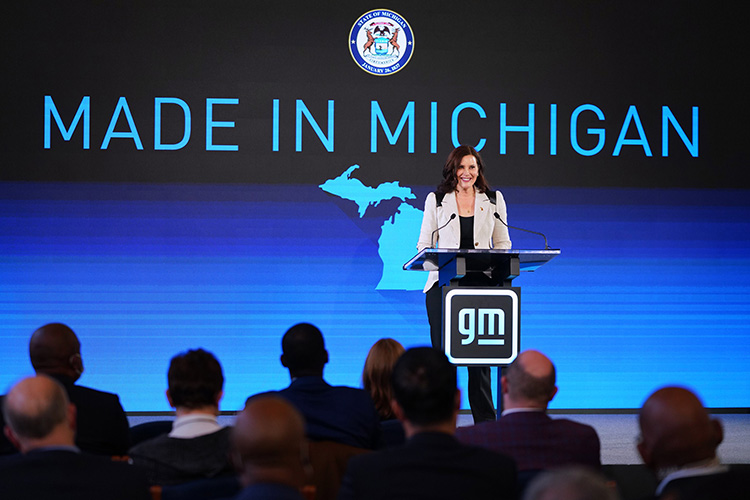 Forging partnerships
Manufacturers have also forged partnerships with government and academic organizations throughout the state through enterprises like the American Center for Mobility (ACM) — regarded as a leader in R&D for mobility and for helping companies to achieve comprehensive and accurate eMobility test results. Automotive companies are also able to collaborate with in-state universities. Mcity at the University of Michigan and Kettering University GM Mobility Research Center offer similar support, pairing academic safety and efficiency research with testing facilities for autonomous vehicles.
These partnerships also include three of the top 100 U.S. research universities comprising Michigan's University Research Corridor (URC). URC universities have conducted more than $2.4 billion in R&D, and among the eight research clusters the consortium benchmarks itself, they rank third in the Innovation Power Ranking. Additionally, educational programs at Michigan Tech and the Michigan Mobility Institute strengthen the automobile industry pipeline by building strong candidates in everything from software development to autonomous and EV vehicle repair.
From the world's first mass-produced vehicle to e-mobility, Michigan remains at the forefront of automotive advancement. This latest EV investment from GM was made possible thanks in part to the SOAR legislation recently signed into law, which helps the state secure transformational projects that create economic opportunities for our workforce and families across Michigan.
With the Strategic Site Readiness Program providing grants, loans, and other economic assistance for the purpose of creating investment-ready sites to attract and promote investment in this state and the Critical Industry Program allowing Michigan to make game-changing investments to make market-responsive pitches to incumbent and new businesses, Michigan is poised to be a leader in the EV industry and beyond as we move towards a more sustainable future.
To learn more about how Michigan is the home of Pure Opportunity when it comes to automotive manufacturing, mobility and electrification go to michiganbusiness.org/mobilitymi/.
Contact Us