THIS JUST IN: Ford Announces Global Battery Center of Excellence in Michigan
$185 million investment adds momentum to Michigan's emergence as EV R&D and manufacturing leader
Ford today announced a $185 million investment to establish a new global battery center of excellence – called Ford Ion Park – in southeast Michigan. Ford Ion Park will be home to a cross-functional team to drive high-volume battery cell delivery, better range and lower costs for customers. The announcement is the latest in a growing number of OEMs and major suppliers choosing Michigan as the home for EV research and development efforts, as well as vehicle manufacturing.
"This $185 million investment will bolster our economy, attract innovative talent to Michigan, and help us continue to lead the world in advanced mobility and manufacturing," said Governor Gretchen Whitmer. "Ford is an American icon that has left its mark on the world over a century, and with this new facility and their research, they will shape the next century while reducing emissions and accelerating electrification."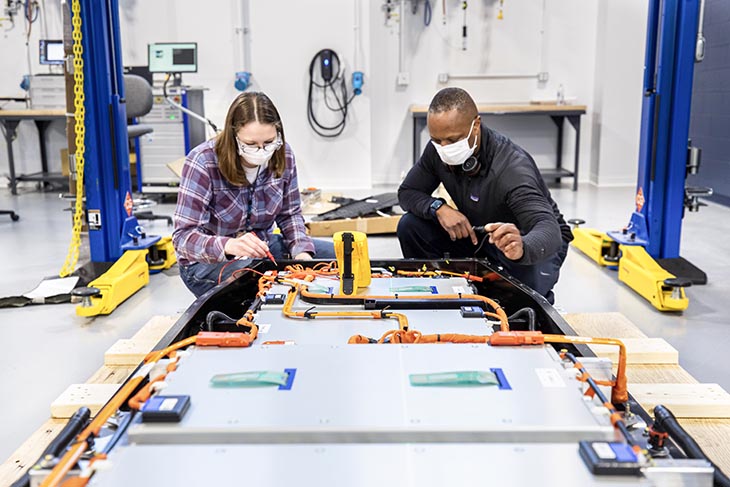 Ford is building on nearly two decades of battery expertise by centralizing a cross-functional team of 150 experts in battery technology development, research, manufacturing, planning, purchasing, quality and finance to help Ford more quickly develop and manufacture battery cells and batteries.
Read the full announcement here.
Since December of 2019, Ford has announced nearly $2.5 billion in investment in Michigan largely around electric and autonomous vehicle manufacturing. They also represent more than 3,700 new jobs for Michigan's manufacturing workforce. Other recent announcements by Ford include:
$1.45 billion investment in southeast Michigan to support production of Ford' new electrified variants of its F-150 truck series and create a new vehicle modification center where Ford's first autonomous vehicles will be completed. That announcement included the creation of 3,000 new jobs and was made possible through the support of the Good Jobs for Michigan program.
$850 million investment in the Rouge Factory in Dearborn and Van Dyke Plant in Sterling Heights, creating and retaining a total of 725 Michigan jobs to continue to expand all-new F-150 and all-electric F-150 production and make e-motors and e-transaxles for new electric vehicles, including the all-electric F-150.
Ford is also transforming the historic, Michigan Central Station and several adjacent properties in Detroit's Corktown neighborhood into an innovation hub for Ford's vision for the future of transportation. Projects like these, in partnership with the efforts of the Office of Future Mobility and Electrification, ensure Michigan remains the home for economic opportunity as well as mobility solutions for today and the future.
And while autonomous vehicles dominated the mobility landscape in recent years, the past year has seen the rise of the electric vehicle. Bloomberg New Energy Finance projects that global EV sales will quintuple between 2018 and 2025 and each of Michigan's Big Three auto manufacturers has identified strategies to lead in that growth.
GM announced in January that it would phase out gasoline-powered vehicles by 2035 and has committed to a $2.2 billion plan to manufacture all-electric vehicles at the Factory Zero Detroit-Hamtramck plant. The plan includes an all-electric GMC Hummer EV pickup and a completely new self-driving vehicle, the Cruise Origin, and will create more than 2,000 good-paying jobs.
Earlier this year, Ford launched the Mustang Mach-E – the company's inaugural battery-electric vehicle – in addition to investing hundreds of millions of dollars in the past year in manufacturing plants to support production and assembly of electric vehicles in Michigan.
And continuing the momentum of FCA's historic investment in Michigan in 2019, Stellantis announced plans for the company to launch 10 new hybrid, plug-in hybrid or all-electric vehicles in the coming year.
Michigan remains well positioned to capitalize on this tailwind toward EV R&D and vehicle manufacturing, securing a slate of recent projects that will only continue strengthen and grow the automotive ecosystem in the coming years.
Electric truck manufacturer Lordstown Motors Corp. announced plans to establish an automotive R&D center in Farmington Hills that will consist of offices, space for vehicle inspection and benchmarking, and labs for testing, validation and prototyping. Lordstown is the 22nd OEM to have a presence in Michigan.
Navistar is establishing its NEXT eMobility Center in Rochester Hills, focused on vehicle electrification for the truck and school bus markets to meet the future demand for electric vehicles.
Magna International is constructing a new manufacturing facility in St. Clair to build complex battery enclosures for electric propulsion vehicles. The company has been awarded a new program for the all-new 2022 GMC Hummer EV, set to begin initial production at GM's Factory Zero facility in Detroit-Hamtramck this fall.
"Michigan has the expertise and collaborative ecosystem to ensure companies can innovate and develop future transportation solutions and then bring those solutions to life with a workforce that builds and assembles the best vehicles driving the roads today," said Josh Hundt, Chief Business Development Officer and Executive Vice President at the Michigan Economic Development Corporation. "Ford's global battery center of excellence demonstrates the strength of the talent in the state's R&D and automotive sectors and will drive new advancements in future mobility and EV manufacturing right here in Michigan."
To learn more about Michigan's leadership in mobility and automotive manufacturing, click here.
For more news from the MEDC visit www.michiganbusiness.org/news.
About Michigan Economic Development Corporation (MEDC)