Lordstown Motors establishing R&D facility in Farmington Hills, building on Michigan's leadership in design and production of autonomous and electric vehicles
Tuesday, November 17, 2020
Electric truck manufacturer investing, adding jobs with support from Michigan Strategic Fund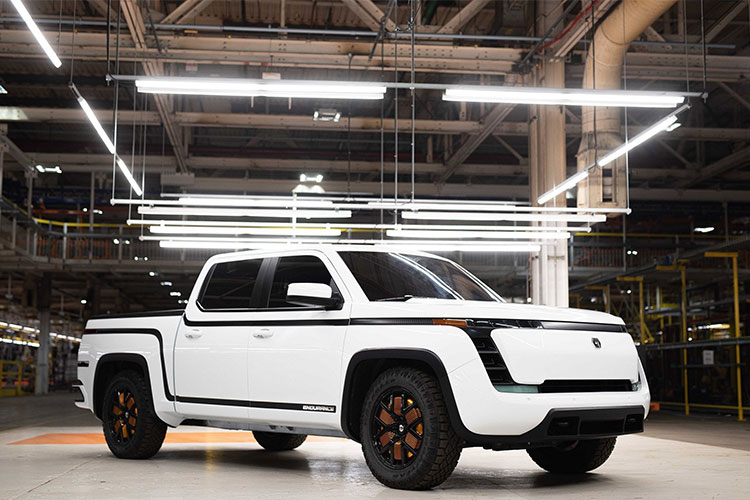 LANSING, Mich. – Michigan continues to claim its position as the automotive capital of the world with the announcement by Ohio-based Lordstown Motors Corp. on plans to establish an automotive R&D center in Farmington Hills with support from the Michigan Strategic Fund, the Michigan Economic Development Corporation announced today. The project is expected to create 141 jobs.

"Lordstown Motors' new R&D facility will drive new advancements in future mobility and demonstrates the strength of the talent in the state's R&D and mobility sectors," said MEDC Chief Business Development Officer and Executive Vice President Josh Hundt. "This new facility reinforces Michigan's reputation as the global center of the automotive industry and a leader in future automotive technology and electrification, and we're pleased to work with our local partners to support Lordstown's investment."

Lordstown Motors Corp., a leader in electric light-duty trucks, is developing the world's first all-electric pickup truck, the Lordstown Endurance.™ Founded over a year ago, Lordstown Motors officially debuted the Endurance at its Ohio headquarters over the summer and has received more than 50,000 pre-orders for the vehicle.

Lordstown Motors plans to establish an automotive R&D center in Farmington Hills that will consist of offices, space for vehicle inspection and benchmarking, and labs for testing, validation and prototyping. The company's decision to locate its R&D headquarters in Michigan is part of its long-term vision of establishing an electric vehicle epicenter in the Midwest.

"While we are proud of the truck we've built, the secret to Lordstown Motors has always rested in the workers – both the worker building the truck and the worker using the truck," said Lordstown Motors CEO Steve Burns. "It takes a village and the opening of this center in Michigan reinforces the proof that innovation and manufacturing can be developed in the Midwest."

The project is expected to generate a total private investment of $3.6 million and create 141 jobs, resulting in a $1 million Michigan Business Program performance-based grant. Michigan was chosen over competing sites in California and Ohio.

"Lordstown Motors' decision to locate its engineering center in Oakland County will expand our region's footprint as a world-class destination for mobility and manufacturing," Oakland County Executive Dave Coulter said. "Plus, we are pleased to be part of the auto industry evolution toward reducing our dependence on fossil fuels."

Lordstown plans to invest in its employees through on-the-job training, various advancement opportunities and a competitive benefits package. The company is working with local universities to recruit individuals, and Oakland County Michigan Works! has partnered with Lordstown to assist in workforce assessment, talent recruitment, and training support. The city of Farmington Hills has offered free use of its Costick Center for recruitment events. Individuals interested in careers with Lordstown Motors Corp. should visit here.

"Michigan alone accounts for 72 percent of all U.S. automotive R&D. As a known leader in vehicle electrification, Lordstown Motors' decision to establish a new R&D center in Farmington Hills is continued proof of the Detroit region's unrivaled ability to bring new automotive innovation to the market," said Detroit Regional Partnership President and CEO Maureen Krauss. "The Detroit Regional Partnership was proud to support the MEDC on this project, and provide Lordstown Motors with strategic connections to key local workforce and educational partners."

"We are thrilled to welcome Lordstown Motors Corp. to the community. As Michigan continues to position itself as the leader of transportation mobility, Farmington Hills works hard to provide a robust, business-friendly environment that supports Lordstown and its employees. The city of Farmington Hills works hard to provide a robust, business-friendly environment that supports Lordstown and its employees," said Farmington Hills Economic Development Director Samantha Seimer. "The city of Farmington Hills is eager to help Lordstown find the talent they need to continue to push their revolutionary success forward and strengthen their roots in the community and the Detroit region."

The project aligns MEDC's strategic focus on growing the mobility ecosystem in the state and fostering high-wage job growth. It also builds on the state's work to position itself as the global leader in the future of mobility and vehicle electrification, and offers potential for significant follow-on projects in the long term.

Today's announcement builds on the recent announcement by Navistar that it is planning to establish its NEXT eMobility Center in Rochester Hills creating 50 high-wage jobs focused on eMobility-specific engineering roles, as well as the expansion in Ann Arbor announced by May Mobility in August.

"Lordstown Motors' decision to expand into Michigan for R&D speaks to the type of investments and job creation our state is seeing right now. Michigan presents powerful competitive advantages because of how robust our mobility ecosystem continues to be," said Trevor Pawl, Chief Mobility Officer with the Office of Future Mobility and Electrification (OFME).

This new office, launched by Governor Gretchen Whitmer earlier this year, is working across state government, academia and private industry to enhance Michigan's mobility ecosystem, including developing dynamic mobility and electrification policies and supporting the startup and scale-up of emerging technologies and businesses.

Additional info about the truck:
The Endurance pickup truck is designed with features fleets want, like an onboard power export, allowing workers to run power tools at the job site without the need for a portable generator or leaving the truck running. Fleet managers benefit from less breakdowns, lower maintenance, and most importantly, lower cost. The overall benefit is an attractive Total Cost of Ownership (TCO), which translates into a significantly lower lifetime operational cost compared to traditional pickup trucks.

The Lordstown Endurance is engineered to be lightweight, with all-wheel drive and a low center of gravity, while maintaining ground clearance. Lordstown Motors has set a goal to make the Endurance pickup truck the safest, most economical, and greenest electric pickup truck ever built. The Endurance will be manufactured and assembled at the Lordstown Facility.
About Michigan Economic Development Corporation (MEDC)