Michigan: Building the Future of Mobility and Electrification
For more than a century, Michigan has been known globally as the place where automotive technology is developed, built, and refined, and where skilled workers can count on earning a good living.
Automotive innovation has helped Michigan's economy grow and thrive, and today, a new generation of innovators across the state is helping to define the future of transportation around the world.
As the world of automotive mobility and electrification continues to grow and develop, investments in manufacturing, technology and testing are leading to significant growth, expanding opportunities for companies, investors, and workers. And Michigan is again positioning itself to be at the center of that growth.
Innovation
Michigan's automotive expertise and robust entrepreneurial ecosystem are at the heart of a statewide culture of innovation that is ensuring the technology solving the world's mobility related challenges is being developed here in testing sites and real world environments across the state.
Take Derq for example, a startup headquartered in Dubai that chose Detroit, Michigan to test technology to help prevent traffic crashes. The startup installed software and hardware at a key intersection in downtown Detroit to test their system of cameras and radar developed to detect potential red-light runners and other hazards, then community them to road users within two seconds. This real world testing was happening just blocks from the global headquarters of GM – demonstrating another Michigan advantage: a robust automotive ecosystem that offers access to the 23 OEMs that have a presence in the state.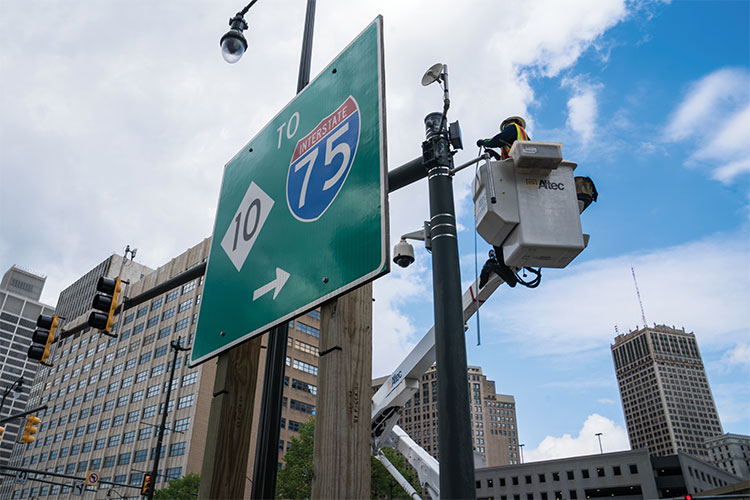 From progressive policies and a unique diversity of geography (with urban, suburban and rural communities throughout) and four-season weather to a robust offering of public and private partnerships, Michigan is the ideal proving group for testing, pilots and deployments of mobility and EV-related technologies.
A key reason Derq was testing in Michigan was as the first recipient of an innovative pilot and testing grant program, at the time called the PlanetM Grants, through the Michigan Economic Development Corporation.
Other examples of the commitment toward public/private partnership in the mobility and EV space is demonstrated through the $8 Million Michigan Mobility Challenge – a joint initiative of the MEDC and the Michigan Department of Transportation, which provided 13 grants to address core mobility gaps for seniors, persons with disabilities and veterans across the state – and the Grand Rapids Autonomous Vehicle Initiative – which brought together the city of Grand Rapids, the state, private sector partners including Consumers Energy, and May Mobility to launch a free autonomous vehicle within the city's existing DASH West bus route to help prove civic infrastructure and operational capabilities of the rapidly growing AV market.
The impact of these projects can be seen through $8 Million Michigan Mobility Challenge recipient MUVE, a technology start-up venture founded in Montreal dedicated to reinventing accessible transportation. MUVE joined local partners in Michigan's Upper Peninsula to pilot a rideshare and community-building platform in the central UP that will focus on increasing accessible transportation options and efficiencies to ultimately reduce isolation for those facing mobility challenges.
Through the new Office of Future Mobility and Electrification, created by Governor Gretchen Whitmer in 2020, the state of Michigan is being more strategic and collaborative than ever working across state departments, the private sector, academic and more to continue to strengthen and evolve one of the most significant automotive and technology ecosystems across the globe.
Infrastructure
Michigan is leading the way when it comes to infrastructure with more than 600 miles of activate roadway equipped for autonomous and connected vehicle testing.
The Michigan Connected Corridor is a first-of-its-kind connected and autonomous vehicle (CAV) corridor building the road of the future with a goal of improving transportation across Southeast Michigan and continuing Michigan's leadership in smart infrastructure and future mobility. Cavnue, a company founded by Sidewalk Infrastructure Partners, was selected to lead the project in partnership with the state of Michigan, including the Office of Future Mobility and Electrification, the Michigan Department of Transportation and the Michigan Economic Development Corporation. The first phase of the project will test technology and explore the viability of a more than 40-mile driverless vehicle corridor between Downtown Detroit and Ann Arbor.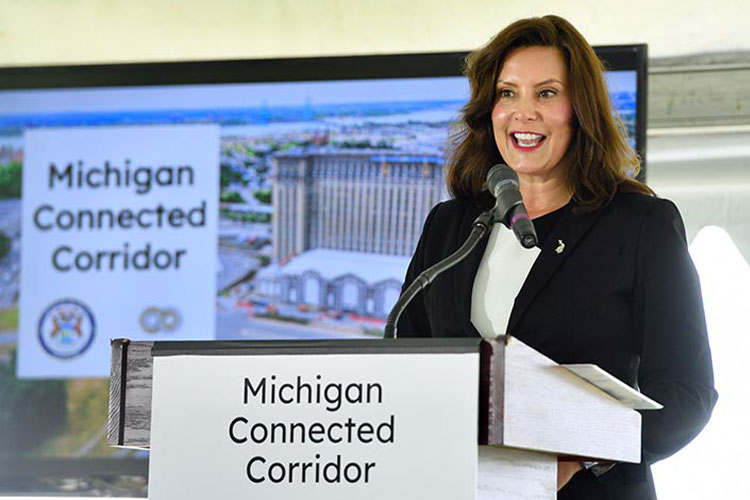 As production and adoption of electric vehicles continues to accelerate, Michigan is not only supporting that transition to EV vehicles; it is also working to expand the number of charging stations across the state.
Michigan currently offers 480 publicly accessible charging stations featuring nearly 1,400 charging outlets, in addition to 146 private charging stations throughout the state. Michigan continues to build out this infrastructure to encourage further EV adoption, putting the state within the top 25 percent of states for electric vehicle registrations.
The state's Department of Environment, Great Lakes and Energy operates a multi-stakeholder initiative to determine the placement of DC fast-charging stations and other infrastructure needed along Michigan highways and select residential areas to support light-duty electric vehicle travel across the state. The initiative included a partnership with Michigan State University to develop a charging site optimization map to identify precisely where chargers were needed to combat range anxiety and ensure EV drivers are able to utilize their full range after each charge, regardless of where they are in the state. The state is now in the process of securing commitments to build out 75 additional DC fast-charging stations with equipped with nearly 300 chargers throughout Michigan by 2030.
Talent
Home to 16 colleges and universities with degree programs in automotive technology and design, infrastructure and other emerging mobility technologies Michigan is preparing the talent needed of the jobs of the future.
Collaborating with its university partners, the Michigan Mobility Institute-whose programs develop talent in artificial intelligence, cybersecurity, robotics, and other advanced technology areas-will begin offering a Master of Mobility degree this year. And Ford recently announced a $75 million investment in a new robotics and mobility facility at the University of Michigan. The collaboration will give Ford the space, technologies, and talent needed to conduct mobility and robotics research.
That talent extends beyond the university system and into the state's vast high-tech entrepreneurial ecosystem. More than 20 start-ups and accelerators are involved in the mobility industry statewide, and Michigan continues to rank first nationally in the ratio of research spending to venture capital investment. Eight groups of angel investors and 22 venture capital firms are active in the mobility arena, backing 141 Michigan companies.
Innovation is in Michigan's DNA and it's community of creators are part of a mobility and electrification ecosystem the includes the highest concentration of electrical and mechanical engineers in the U.S. Michigan also boasts a technology workforce that is growing faster than the national average making it a top 10 state for net tech employment and attracting investments from companies including Amazon, Microsoft and Google.
Testing
Michigan is home to globally recognized testing sites for connected and autonomous vehicles, including maritime and unmanned aerial vehicle technology ensuring that testing and deployment happening in Michigan is impacting the way goods and people move across air, land and see.
Testing sites like the American Center for Mobility, Mcity at the University of Michigan, the Mobility Research Center at Kettering University in Flint and the Keweenaw Research Center at Michigan Tech University in Houghton host companies from all over the world for testing and validation of new transportation solutions.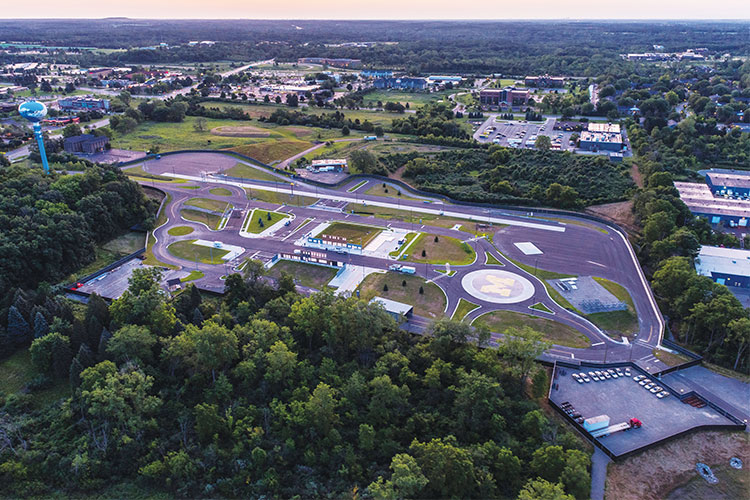 They also are driving federal funding for research in mobility and EV-related areas, including recent grants from the U.S. Department of Energy. DOE awarded a $4.7 million grant to Michigan-based cybersecurity company The Dream Team LLC to develop a first-of-its-kind infrastructure that protects the electric grid from cyber-attacks on electric vehicles (EV) and electric vehicle charging systems – work that is taking place at the American Center for Mobility. Michigan Tech was also chosen one of four institutions across the nation to receive grant funding for Phase II of the Next-Generation Energy Technologies for Connected and Automated On-Road Vehicles (NEXTCAR) program.
It's not just start-ups taking advantage of Michigan's infrastructure and testing resources. According to the Detroit Regional Chamber's Automobility Report, 58 percent of Michigan automotive suppliers conduct automated vehicle testing in the state, and 65 percent of Michigan suppliers participate in connected vehicle technology development.
What's Next
While autonomous vehicles dominated the mobility landscape in recent years, 2020 and 2021 have seen the rise of the electric vehicle. Consider, Bloomberg New Energy Finance projects that global EV sales will quintuple between 2018 and 2025 and each of Michigan's Big Three auto manufacturers has identified strategies to lead in that growth.
GM announced in January that it would phase out gasoline-powered vehicles by 2035 and has committed to a $2.2 billion plan to manufacture all-electric vehicles at the Factory Zero Detroit-Hamtramck plant. The plan includes an all-electric GMC Hummer EV pickup and a completely new self-driving vehicle, the Cruise Origin, and will create more than 2,000 good-paying jobs.
Earlier this year, Ford launched the Mustang Mach-E – the company's inaugural battery-electric vehicle – as well as investing hundreds of millions of dollars in the past year in manufacturing plans to support production and assembly of electric vehicles in Michigan.
And continuing the momentum of FCA's historic investment in Michigan in 2019, Stellantis announced plans for the company to launch 10 new hybrid, plug-in hybrid or all-electric vehicles in the coming year.
As Michigan's automakers execute their mobility and electrification strategies, top-tier suppliers are defining their own growth plans. For example, Akasol, a leading European manufacturer of high-performance battery systems for multiple applications, announced plans to open its first North American production facility in the Detroit area. With capacity similar to Akasol's production site in Germany, the plant will serve global customers and will create more than 200 jobs over the next five years.
Across these themes, Michigan's competitive advantages make the state a place where mobility solutions are born and where companies find long-term success and support. All while keeping a focus on solutions that improve the lives of Michigan residents and create a more equitable state in which to live, work and play.
To learn more, visit www.michiganbusiness.org/mobility.
Contact Us