Michigan, Cavnue Creating Road of Future Between Ann Arbor and Detroit
Thursday, August 13, 2020
● A first-of-its-kind connected and autonomous vehicle (CAV) corridor will improve transportation across Southeast Michigan and continue Michigan's leadership in smart infrastructure and future mobility.
● Cavnue, a company founded by Sidewalk Infrastructure Partners, selected to lead the project in partnership with the state of Michigan.
● The first phase of the project will test technology and explore the viability of a more than 40-mile driverless vehicle corridor between Downtown Detroit and Ann Arbor.
● Cavnue, project will draw on advisory committee of automotive and autonomous mobility companies, including Ford, GM, Argo AI, Arrival, BMW, Honda, Toyota, TuSimple, & Waymo.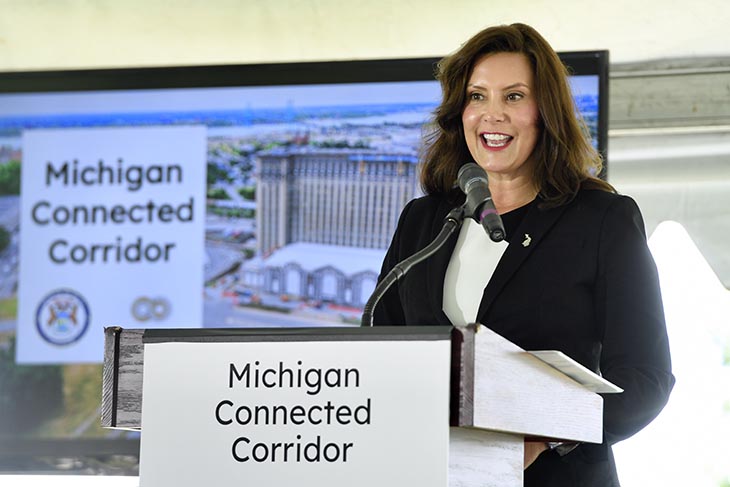 DETROIT, Mich. – Governor Gretchen Whitmer today announced an initiative to develop a first-of-its-kind corridor for connected and autonomous vehicles designed to improve transportation for communities in Southeast Michigan. A key goal of the project will be to design the corridor with a focus on closing long-standing gaps in access to transit and transportation across the region.

Cavnue, a subsidiary of Sidewalk Infrastructure Partners (SIP) with a focus on building the future of roads, has been selected by the state to serve as Master Developer of the corridor project. This public-private partnership will explore the opportunity and viability of this project working with state and local partners, stakeholders, and communities across the corridor from Detroit to Ann Arbor.

"The action we're taking today is good for our families, our businesses, and our economy as a whole. Here in Michigan, the state that put the world on wheels, we are taking the initial steps to build the infrastructure to help us test and deploy the cars of the future," said Governor Whitmer. "As we rebuild our roads to ensure every Michigander can drive to work and drop their kids at school safely, we will also continue working to build smart infrastructure to help prepare us for the roads of tomorrow. In Michigan, where the health of our workers and our economy are directly tied to the health of our auto industry, we will continue this innovative work to secure our state's position as the automotive capital of the world."

Cavnue will work with the Michigan Department of Transportation (MDOT), the Michigan Office of Future Mobility and Electrification, the Michigan Economic Development Corporation, the Michigan Department of Labor and Economic Opportunity (LEO) and industry and local project partners throughout Phase One of the effort, expected to last approximately 24 months.

Connected and Autonomous Vehicle Corridor Project Overview
The vision for the corridor is intended to create lanes that are purpose built to accelerate and enhance the full potential of CAVs and move people. To achieve this, Cavnue will work with regional partners to plan, design, and develop the world's most sophisticated roadway, combining innovations in physical, digital, coordination, and operational infrastructure to help increase the safety, efficiency, resilience and operations of roadways, and improve the mobility experience for users by enabling a faster and more coordinated dedicated autonomous mobility corridor. At its core, the project is designed to be "future proofed" and evolve to meet transportation goals, beginning with connected buses and shared mobility vehicles such as vans and shuttles, and expanding to additional types of CAVs such as freight and personal vehicles.

The project will advance key policy goals, including improving safety, achieving neutrality among vehicle OEMs through standards-based approaches, enhancing accessibility, affordability, and equity, and aligning with regional planning, thus encouraging innovation, R&D, economic development, open data access and shared learnings, cybersecurity, and replicability. Throughout the planning and development process, stakeholders will carefully evaluate potential impacts on the transportation workforce and ensure that it supports good-paying jobs.

The project envisions connecting Detroit and Ann Arbor along with key communities and destinations along Michigan Avenue and Interstate 94 in Wayne County and Washtenaw County with an innovative infrastructure solution that allows for a mix of connected and autonomous vehicles, traditional transit vehicles, shared mobility, and freight and personal vehicles. It will build on existing investments made by the state of Michigan and local communities in smart infrastructure and transit and will link key destinations including the University of Michigan, Detroit Metropolitan Airport, and Michigan Central Station. The corridor includes up to a dozen Opportunity Zones, where expanded mobility will connect individuals, small businesses, and communities to Southeast Michigan's most important industrial, technological, and academic clusters. This includes leading test tracks, universities, automotive companies, and key economic anchors.

"As a company focused on the future of infrastructure, we are thrilled to launch Cavnue to build the future of roads, and partner with Michigan and the communities along the corridor on a first-of-its-kind CAV corridor," said Jonathan Winer, co-founder and co-CEO of SIP.

During the feasibility analysis in Phase One, work will focus on technology testing and roadway design, and exploring different financing models with an aim toward determining project viability from both a technology and business perspective. Subsequent construction and implementation would be part of future phases of the project, to be determined following the initial 24-month period.

"The time has come to start to integrate all of the momentum happening on the vehicle technology side with an equally strong push for innovation on our road assets themselves. We believe that combining technology and physical infrastructure can help unlock the full potential of CAVs and fundamentally transform mobility to improve safety, congestion, and public transit," said Brian Barlow, co-founder and co-CEO of SIP.

"This project, and the decision by Cavnue and Sidewalk Infrastructure Partners to invest here, continues to reinforce that the future of mobility will be designed and built in Detroit and Southeast Michigan," said Mayor Mike Duggan, Mayor of the City of Detroit.

Cavnue expects to draw on an ecosystem of partner firms that bring global and Michigan-based capabilities in mobility, infrastructure and technology, planning, development, research and engineering.

Initial project partners include Ford Motor Company, which has pioneered mobility innovation in Michigan for more than 100 years; the University of Michigan, with its CAV research center and world-class Mcity Test Facility, Transportation Research Institute (UMTRI), and facilities along the proposed corridor; and the American Center for Mobility (ACM), a leading testing facility. Ford's chairman Bill Ford envisioned a connected corridor linking Detroit to Ann Arbor as part of the company's Michigan Central development. In June 2018, Ford outlined his vision that the company's new Corktown innovation hub would be a critical east end node in a circuit running from Detroit to Ann Arbor and Detroit Metropolitan Airport.
Today's announcement took place in front of Michigan Central Station which Ford purchased in 2018. The Station will be the centerpiece of the innovation district where new mobility solutions will be created and tested on smart infrastructure, including the Michigan Mobility Corridor.
"My vision for Michigan Central is to create an open mobility innovation district that solves tomorrow's transportation challenges and improves mobility access for everyone," said Bill Ford, executive chairman, Ford Motor Company. "Building out a connected corridor cements Michigan as a leader in creating a more connected, autonomous and electrified future. We thank the state for recognizing the community and economic benefits and the importance of creating smart infrastructure across southeast Michigan."

Cavnue will develop OEM-neutral standards and technology for the implementation of the corridor and permit connected and autonomous vehicles meeting specified safety and other standards to operate on the corridor regardless of the vehicle manufacturer. In developing OEM-neutral standards for the implementation of the corridor, Cavnue will draw on an advisory committee of automotive and autonomous mobility companies, including Argo AI, Arrival, BMW, Honda, Ford, GM, Toyota, TuSimple, and Waymo.

Project Continues Michigan's Commitment to Finding Advanced Transportation Solutions
The project reflects an evolution of transportation across the United States with CAVs providing the potential to reduce thousands of traffic crashes caused by human error, cut the growing hours commuters spend stuck in traffic, and increase access to personal and shared mobility options. According to the Michigan State Police, there have been almost 10,000 fatal automobile crashes in Michigan in the last decade. And the National Highway Traffic Safety Administration states 94% of automobile crashes are attributed to human error.

By aligning with regional planning and promoting neutrality among AV OEMs and operators with respect to the corridor, the project encourages continued innovation, R&D, and economic development efforts in Michigan. These efforts align with strategic policy objectives of the newly announced Office of Future Mobility and Electrification, which is tasked with coordinating and leading a cross-departmental approach around issues of mobility and electrification crucial to economic growth and job creation in Michigan.

"As the anatomy of vehicles continues to shift toward autonomous driving and electrification, Michigan has an opportunity to not only drive this evolution in the production of vehicles, but also in the very roads they drive on," said Trevor Pawl, Chief Mobility Officer of the State of Michigan. "This groundbreaking project reinforces Michigan's current position as a global leader in mobility innovation, and it also keeps us moving forward on a path to more equitable, safe and environmentally conscious transportation in the state."

As the world stands at the precipice of the biggest shift in transportation in more than a century, Michigan has been, and will remain, the leader of automotive research and innovation. To date, MDOT has activated the largest vehicle-to-infrastructure technology deployment – nearly 600 miles – in the United States. Michigan is also home to the most diverse collection of autonomous vehicle and drone testing environments in the world, more mobility-related patents than any other state, and more engineers per capita than anywhere else in the world.
# # #
Editor's Note
To access photos and additional assets related to the Corridor announcement, see the press package.

A livestream of the press conference is available at michiganbusiness.org/live as well as the Facebook and YouTube channel of the Michigan Economic Development Corporation.
Additional Support for the Connected Corridor from Key Stakeholders

Senator Gary Peters
"Michigan is at the forefront of this new frontier in mobility. Our state is home to a dense nexus of automakers, suppliers, engineers, universities and testing facilities that are pioneering advances in transportation that will transform how we get around," said Senator Peters. "This announcement is a major step forward towards ensuring Michigan continues to be the center of self-driving car research and development. I'm going to continue working at the federal level to develop a federal framework for the safe deployment of these revolutionary – and live-saving – technologies. I'll also continue working with Governor Whitmer and the Michigan Congressional delegation to ensure new manufacturing jobs around self-driving cars are created right here in our state."
Senator Debbie Stabenow
"This project showcases Michigan's leadership and innovation in creating the next generation of vehicles and the roads they will drive on," said Senator Stabenow. "Partnerships like this are helping to pave the way for the future of transportation in Michigan and across the country."
University of Michigan
"This Connected and Automated Vehicle Corridor will be so much more than a road. It will serve as a pathway to sustainability, to safer mobility, and to prosperity for underserved populations and for the state of Michigan as a whole. The effort brings together broad expertise – in technology, infrastructure, policy, community engagement, and more, and that's exactly what it takes to solve complex societal problems. We are proud to be part of it," said Alec D. Gallimore, the Robert J. Vlasic Dean of Engineering at the University of Michigan, the Richard F. and Eleanor A. Towner Professor, an Arthur F. Thurnau Professor, and a professor of aerospace engineering.
Wayne County
"Wayne County long has played an important role in the development of transportation and mobility innovation, and as the home of the global automotive industry," said Wayne County Executive Warren C Evans. "Just as Wayne County was the site of the first working stretch of freeway, it will again lead the way in development of a dedicated autonomous vehicle lane that will eventually welcome the first generation of self-driven vehicles."

About the Master Developer
Cavnue
Cavnue is a company founded by Sidewalk Infrastructure Partners (SIP) to build the future of roads. The interstate highway system defined mobility in the second half of the 20th century. Now, transportation in America and around the world is changing again. Mobility in the 21st century will be defined by intelligent, connected, and autonomous vehicles. Cavnue is designing the physical, digital, coordination, and operational infrastructure to accelerate and realize the full potential of connected and autonomous vehicles to make roads safer, less congested, shared, and sustainable. For more information, go to www.cavnue.com.

Sidewalk Infrastructure Partners (SIP)
Sidewalk Infrastructure Partners (SIP) pioneers more sustainable, resilient, and efficient infrastructure using technology. SIP builds, owns, operates, and invests in both advanced infrastructure projects and technology companies with innovations that enable and apply to those projects. SIP's investors are Alphabet Inc., Google's parent company and a world leader in technology; Sidewalk Labs, Alphabet's urban innovation platform; and Ontario Teachers' Pension Plan, one of the world's most respected institutional investors in infrastructure. To deliver first-of-its-kind connected corridor technology, SIP founded Cavnue. For more information, visit www.sidewalkinfra.com.
About Michigan Economic Development Corporation (MEDC)