Michigan Earns National Ranks, International Awards for Projects and Places
Wednesday, September 20, 2023
Michigan earned the No. 13 top state for doing business, the No. 4 state economic development agency and two international accolades for redevelopment projects.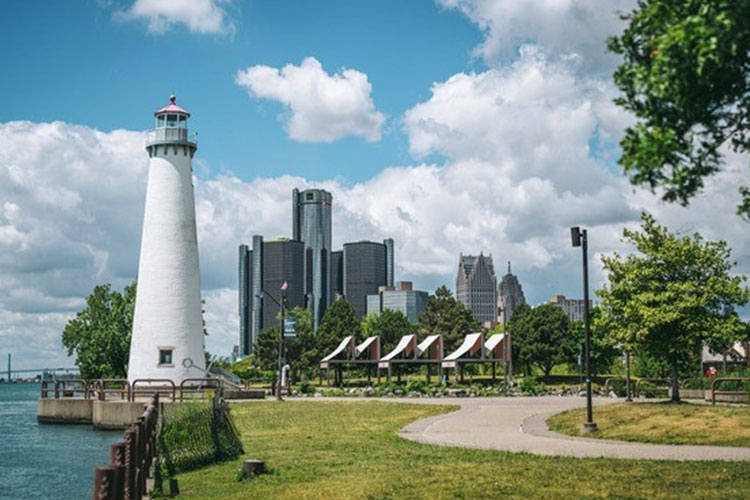 Michigan continues to be recognized as the home of opportunity for projects and places that make the state a leading place to live, work and do business.
Area Development's Top States for Doing Business 2023 lifts Michigan to the No. 13 spot overall, with the second-best ranking for industrial water availability and a top ten ranking for a cooperative and responsive state government. At the annual International Economic Development Council (IEDC) conference, the Development Counsellors International (DCI) named the Michigan Economic Development Corporation (MEDC) as the No. 4 best-in-class state economic development agency. Also at the conference, the IEDC awarded two MEDC-supported projects gold and silver for Real Estate Redevelopment & Reuse.
"Team Michigan is proud of this recognition of our efforts alongside businesses, employees and entrepreneurs to continue to attract and retain business investment for long-term economic resiliency across both peninsulas. By building on our state's innovation and problem-solving heritage and creating even more vibrant communities, we're encouraging everyone to join us in Michigan," said Quentin L. Messer, Jr., CEO of the MEDC. "We're always working hard to increase opportunities for people and businesses, and with this recognition, while significant work remains, we're showing the world that everyone can – and should consider – Make It in Michigan."
A Top State for Doing Business
Area Development asked location consultants to find the highest performers in over a dozen categories for companies making site selection decisions. Michigan earned its No. 13 ranking thanks to its manufacturing heritage and strong economic toolkit. Increasing the state's appeal and supporting important development is at the core of the Make It in Michigan economic strategy, one that has already helped bring home over $16 billion in projects and secured 16,000 jobs building electric vehicles (EVs), batteries, semiconductors and clean energy.
These cutting-edge industries play an important part in Michigan's economic future, and they rely heavily on utilities, including access to water. Michigan's second-place ranking in water availability stems from the state's miles of freshwater coastline and central lakes and rivers, as well as a multibillion-dollar dedication to upgrading its water infrastructure.
Michigan came in at No. 10 for cooperative and responsive state government thanks to its whole-of-government approach to winning projects. Team Michigan earned this ranking thanks to its focus on empowering businesses and developers, with moves such as introducing faster state permitting to lower costs and ensure permits get done on time while protecting the state's air, land and water.
Michigan Earns Recognition at the IEDC Annual Conference
The chorus around Michigan's success grew even louder at the IEDC 2023 Annual Conference held this week. The MEDC, which plays a central role in Team Michigan's strategy to offer services and support to businesses and communities, was ranked No. 4 for best-in-class state economic development organizations. The rankings were announced by DCI, a marketing leader in economic development and tourism, after conducting its own survey of location consultants.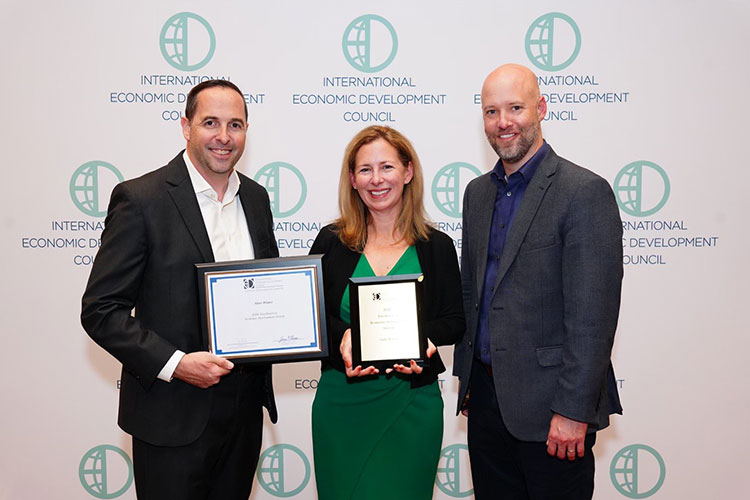 Also at the conference, two MEDC-support projects took home wins in the IEDC's Excellence in Economic Development Awards, which recognize the world's best economic development programs and partnerships. The Book Tower project brought home gold and the Merrill High School project silver, both in the Real Estate Redevelopment & Reuse award. This award recognizes innovative projects that create jobs, increase the community's tax base and catalyze economic development.
Revitalizing the Historic Book Tower
The historic Book Tower was once an icon of Detroit's architectural elegance, standing as the tallest structure in the city when it was built in 1916. Almost 90 years later, the dilapidated building had been vacant for nearly a decade and become a symbol of decline.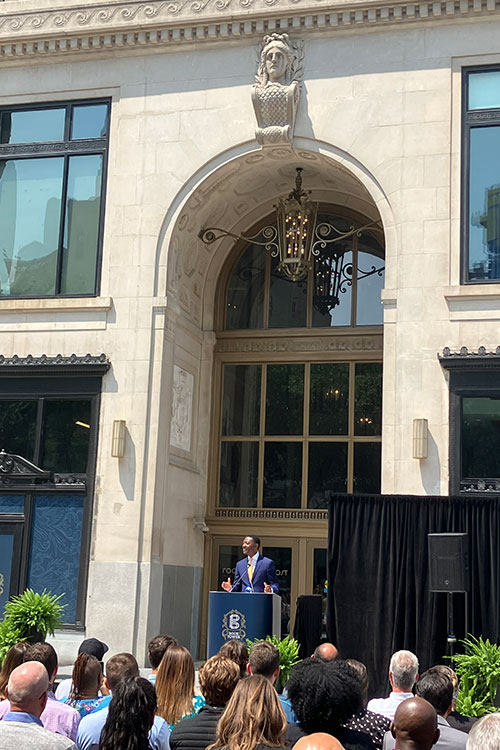 To return it to its former glory, Book Tower and three surrounding sites were tied together into one project, making it one of Michigan's largest adaptive reuse projects and the first to use a Transformational Brownfield Plan. The building is now a shining example of how the city can embrace its storied history and use it as a driver for economic development well into the future.
"These landmark developments are a milestone representing Detroit's credible new era of hope, optimism and growth," said developer Bedrock's founder and chairman Dan Gilbert when the project was approved. "This process has been an outstanding example of collaboration between multiple levels of government and private industry that will unleash billions of dollars of investment, resulting in transformational impact to Detroit, the region and the entire state of Michigan."
The project's $300 million investment created 229 new residential units, 117 hotel rooms with access to a lounge and fitness center, almost 40,000 square feet of office space, two restaurants, one pub and a rooftop bar.
Keeping Merrill High School for the Community
The old Merrill High School was built in 1937, serving the community for over six decades before it sat vacant and became unusable. Financing the building's transition into housing would prove a challenge with the area's relatively low market rental rate.
The MEDC and the Michigan Strategic Fund offered support with two Michigan Community Revitalization Program awards and a Brownfield Tax Increment Financing plan to not only preserve the location important to the community, but also place desperately needed housing units in the rural community while putting a former school building back on the tax rolls, positively affecting the local municipal budget.
The Merrill High School project renovated the building to create a multi-story residential development in the heart of the Village of Merrill. This 17,449-square-foot project redevelopment is the first major rehabilitation in the community. Within weeks of the ribbon cutting and open house, the entire project was fully rented.
Michigan Continues to Win
Earlier this year, Area Development also recognized the MEDC with a Silver Shovel in its Annual Shovel Awards, which honor the most success in new job creation and company capital investment. The MEDC earned the award for fostering Our Next Energy's announcement that the company would stay in its home state to build its first-ever battery manufacturing campus.
Area Development isn't the only one taking notice. Business Facilities' 19th Annual Rankings Report named Michigan the top state in the country for Automotive Manufacturing and EV Industry Investment, citing existing and expected capital investment and job creation.
Also this year, CNBC named Michigan a top ten state for doing business thanks to strong job growth, advanced manufacturing leadership and a low cost of doing business and living. Additionally, Newsweek said the state is home to the next Silicon Valley for automotive technologies and innovation, and a report from Climate Power ranks Michigan second in the nation for jobs and investment in clean energy investments projects following the Inflation Reduction Act of 2022.
Adding to the accolades, the MEDC's Redevelopment Ready Communities Resiliency Toolkit was selected in July as a recipient of the Outstanding Resilience and Sustainability Planning Excellence Award. This recognition was for the toolkit's holistic approach beyond just environmental sustainability that represents the changing needs of the state, awarded by the Michigan Association of Planning, the state chapter of the American Planning Association.
This wealth of business opportunity pairs with Michigan's redevelopment projects to support the growth of vibrant, diverse and resilient communities that attract and retain talent in our local communities. Together, these efforts keep Michigan's cities, towns and villages as top destinations for livability and leisure:
Detroit was recognized as one of the top 50 travel destinations around the world in TIME's World's Greatest Places in 2022.
Grand Rapids was ranked as the No. 1 place to raise a family by Rocket Homes and BestPlaces.net in 2022.
Ann Arbor ranked No. 2 in Livability's Top 100 Best Places to Live in America in 2021.
Traverse City made Condé Nast Traveler's list of the prettiest towns in the USA in 2020.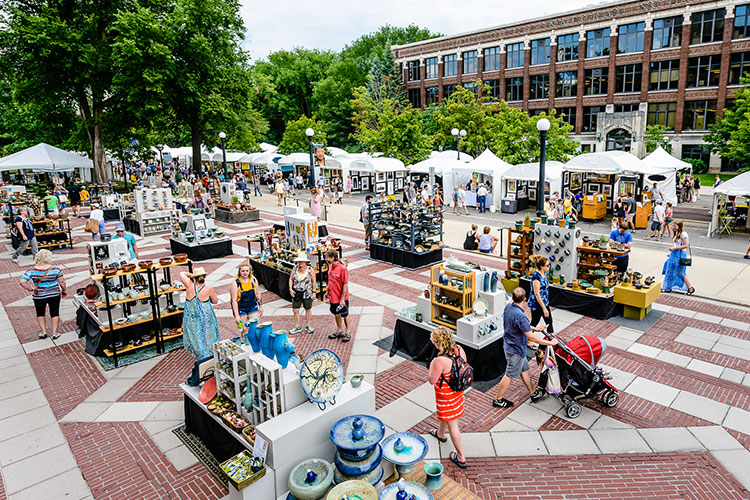 To learn more about why businesses are choosing to invest and grow in Michigan, visit www.michiganbusiness.org/why-michigan.
For more information about building vibrant, sustainable and unique places across the state, visit www.miplace.org.
About Michigan Economic Development Corporation (MEDC)