Our Next Energy's $1.6 billion investment to build its first cell and electric vehicle battery pack gigafactory in Michigan was recognized as a Manufacturing Project of the Year.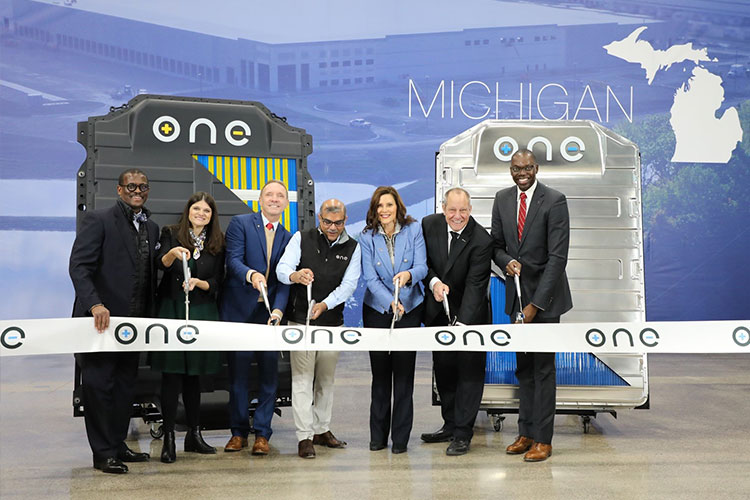 Continuing its momentum over the past 18 months, Michigan is once again receiving national recognition as a leader in the future of mobility and electrification.
Area Development, the leading publication covering site selection and facility planning, is recognizing Michigan with a Silver Shovel as part of its Annual Shovel Awards. In a year dominated by electric vehicle (EV), battery and semiconductor projects, Michigan is among 21 states recognized in the Annual Shovel Awards, which are presented each year to the states that have achieved the most success in terms of new job creation and company capital investment.
The Michigan Economic Development Corporation (MEDC) is receiving its Silver Shovel recognition for one of the many transformational EV projects announced in 2022: in October, home-grown Michigan company Our Next Energy (ONE) announced it would build its first-ever battery manufacturing campus in Van Buren Township in Wayne County.
The facility will be one of the few wholly U.S.-owned manufacturers of both Lithium Iron Phosphate batteries and anode-free cells – supporting not only Michigan's automotive ecosystem, but the overall supply chain here in the U.S.
This gigafactory battery cell manufacturing campus, which the company has dubbed ONE Circle, will create 2,112 good-paying jobs and generate $1.6 billion in capital investment. The gigafactory will further have a generational impact in terms of workforce development, economic impact and tax revenue. The ONE Circle factory will be ONE's first cell and electric vehicle battery pack gigafactory.
ONE will use a newly developed cell factory model in this project with an emphasis on developing a North American raw material supply chain and a co-located material refinement strategy. The campus plans to scale to 20 GWh capacity within five years, and will include raw material refinement, cathode materials production, as well as cell and battery manufacturing.
This marks Michigan's 15th Shovel since the award's 2006 establishment. Previous Silver Shovels were earned in 2006, 2007, 2009, 2010, 2012, 2013, 2015, 2016, 2017, 2018, 2019 and 2020; and Gold Shovels were earned in 2011 and 2021.
"This latest Silver Shovel Award is a recognition of Michigan's business environment which will lead the future of electrified mobility around the world," MEDC CEO Quentin L. Messer, Jr. said. "Our work continues as we build on our momentum from the past year and work with Governor Whitmer, the Michigan Legislature and our 10-million-plus friends and neighbors to win future projects for our state. We are grateful to companies, like Our Next Energy, who choose Michigan as their home."
In March 2023, Michigan kicked off the nation's largest-ever campaign through its EV/Mobility Talent Action Team to promote careers and recruit talent to fill jobs in Michigan's surging EV and transportation mobility sector. As part of the campaign, the Michigander EV Scholars Program features up to $10,000 scholarships to as many as 350 top tech students at participating universities who sign a letter of employment with an approved company and commit to staying for 12 months in Michigan.
ONE is among the 15 Michigan employers engaged in the public-private partnership with public universities and community colleges as part of the state's recruitment efforts, and one of eight employers participating in the Michigander EV Scholars Program. Michigan's focus on talent initiatives is one of the main reasons why ONE chose Michigan for its 2022 investment.
"Michigan offers an exceptional talent pool and ideal location to collaborate with customers and suppliers as we advance towards U.S.-based cell manufacturing," said Deeana Ahmed, Vice President of Strategy, Policy and Sustainability at ONE.
A Record of EV Excellence
Area Development's announcement builds on several accolades and transformational investments for the state's electric mobility ecosystem in the past 18 months.
A 2023 report from Climate Power shows Michigan continues to lead the race for jobs and investment, ranking as the number two state nationwide for clean energy investments with a combined $20 billion of investment since August 2022. The report also shows Michigan leading the nation after winning 14 projects in clean energy, battery and EV manufacturing.
In January 2023, General Motors' (GM) $7 billion investment in Michigan was recognized in the Electric Vehicles (EV) category of Business Facilities' 2022 Impact Awards, announced as part of the publication's annual Deal of the Year awards. The news came days after Michigan was recognized by CNBC as one of the top three states set to "dominate" U.S. battery manufacturing by 2030.
GM's historic $7 billion investment also kicked off a historic year for Michigan, with transformational EV and battery investments across the state including:
To learn more about Michigan's leadership in the future of mobility and electrification here.
About Michigan Economic Development Corporation (MEDC)