Michigan: The Hands that Feed You
As March marks Food & Agriculture Month, we celebrate the prominence, variety, and deliciousness of Michigan's agribusiness industry
This article was updated March 2023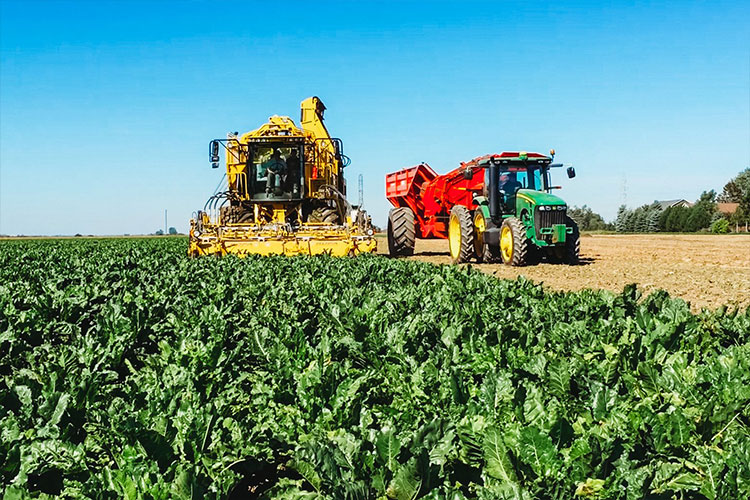 In honor and celebration of Michigan's farmers, the diversity of products grown and processed in our state and the partnerships that keep our food and agriculture industry thriving, Governor Gretchen Whitmer has proclaimed March as Michigan Food and Agriculture Month.
Michigan has a proud heritage of making things and providing for its communities, and that sustenance comes from the state's robust agriculture industry. Farms and food-processing companies throughout the state generate and grow essential products, creating tens of thousands of jobs. Production agriculture, food processing and related businesses comprise a large portion of the state's workforce, employing 805,000 people or 17.2% of our population, and contributing $104.7 billion to our state's economy each year. Michigan also offers access to a vast and efficient supply chain and logistics system, providing a cost-effective distribution throughout the Midwest, country and across the globe.
Thanks to its agricultural diversity, business climate and hardworking farmers, Michigan's agribusiness industry has a hand in feeding the world.
"Michigan's food and agriculture industry is a national powerhouse. We've generated 805,000 jobs, and more than $104 billion to our state's economy annually, getting things done every single day. Innovators and entrepreneurs within the food and ag sector continue to choose Michigan to grow and establish their operations. They offer new business and career opportunities for Michiganders, making food and agriculture a cornerstone of Michigan's continued reinvention."
The Cherry on Top
When it comes to the agriculture industry, Michigan is cultivating the ideal climate for both crops and business. With optimal weather conditions and a range of tools and resources, Michigan agribusinesses thrive and succeed.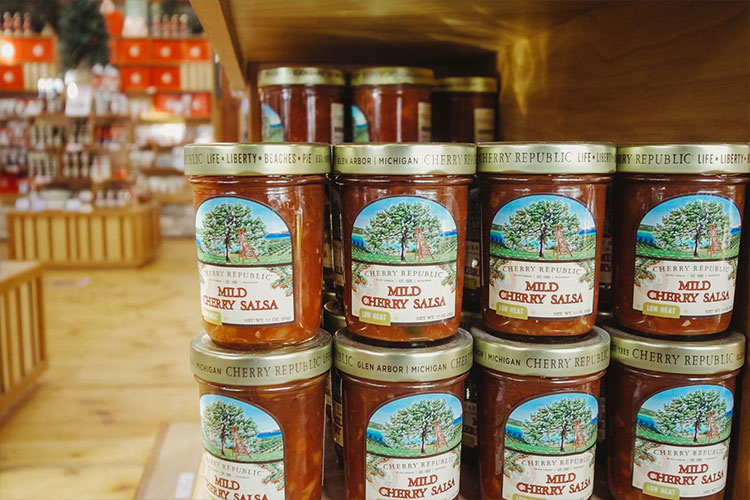 Did you know?
Michigan produces more than 300 agricultural commodities, ranking Michigan among the most agriculturally diverse states in the U.S.
Michigan is the No. 1 producer in the U.S. of tart cherries (65% of the U.S. total production), cucumbers, dry beans (cranberry, small red, black), squash and asparagus and ranks in the top 10 for production of many other valuable agricultural commodities.
Michigan ranks 6th in the nation and 1st in the Midwest for wine production.
According to the 2017 Census of Agriculture, 97% of farms in Michigan are family-owned.
There are nearly 250 farmers markets in Michigan.
Michigan is home to approximately 1,140 dairy farms raising more than 430,000 dairy cows. In 2021, Michigan produced nearly 12 billion pounds of milk. 7% of farms in Michigan are family-owned.
Traverse City is recognized nationally as the Cherry Capital of the World. Learn how Michigan's own Cherry Republic has built success – and sold over 200 cherry-related products – to customers around the globe, thanks to support from the MEDC.
Where Food Businesses Thrive
From Michigan's 10 million acres of farmland to its bustling cities and communities, the state is home to farms and businesses – both big and small – that are making a difference in the food industry.
Published in partnership with the Michigan Department of Agriculture & Rural Development (MDARD), Michigan Agriculture magazine is a guide featuring stories about the state's top crops, livestock, agribusiness, tourism, food safety and local products.
In its March 2023 issue, the publication celebrates a diverse array of businesses across the state, including hard cideries that highlight Michigan's prized fruit: the apple. Uncle John's Cider Mill in St. Johns, run by fifth-generation farmer Mike Beck, his wife and his brother-in-law, has been producing hard cider since the early 2000s, while Vander Mill in Grand Rapids sources apples for its cider from a local grower at Fruit Ridge Apple Company in Sparta.
Contributing to the state's agritourism, Blake's Orchard & Cider Mill in Armada holds events throughout the year at its 800-acre farm, from a Lavender Festival in July to its Cider Dayze beer, cider and wine festival in August. By processing its cider on-site, Blake's gives visitors the opportunity to learn how its products are made as they're enjoyed.
Visits to Michigan's flower and herb farms are blooming, thanks to places like Cherry Point Farm & Market in Shelby and Lavender Hill Farm in Boyne City, where their lavender is relieving stress, flavoring foods and attracting pollinators. Meanwhile, DeBuck's Family Farm in Belleville was voted one of the most beautiful sunflower farms in the country.
The March 2023 issue also highlights Michigan-based "JIFFY" Mix, the producer of the No. 1 dry grocery item in the United States and pantry staple, "JIFFY" Corn Muffin Mix. Manufacturing more than a million boxes a day at its facility in Chelsea, Chelsea Milling Company president Howard Holmes II says the vast majority of the company's ingredients come from Michigan – "a great advantage" to keeping the company in the state for over 100 years.
Previous magazine publications have highlighted businesses in Old Town Lansing, home to unique small businesses like Cravings Popcorn, Meat Southern BBQ & Carnivore Cuisine and the Old Town General Store, which offers a variety of Michigan-produced specialty foods and products.
Helping Hands
In addition to Michigan's food and agriculture businesses, companies across the state are working to ensure those businesses survive and thrive.
Everyone benefits from products made by Michigan farm families who take pride in perfecting the art and science of growing fresh, high-quality foods and products – yet they can't do it alone. Growers rely on partners like Six Lakes, Michigan-based Great Lakes Ag Irrigation Inc. to provide them with customized irrigation and water management solutions to help them keep up with the ever-growing demand for food and natural resources.
Through MEDC's Capital Access Program, which helps reduce risk for lenders to ensure small businesses are able to secure the loans and financing they need, Great Lakes Ag Irrigation Inc's President and CEO Clayton Irani was able to secure a $100,000 operating line of credit for his business.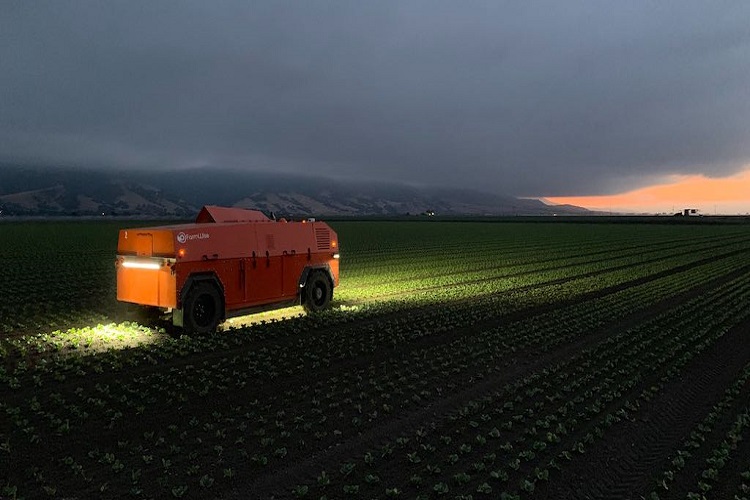 Meanwhile, the future of agriculture and technology are merging in Michigan thanks to partnerships, including one between Silicon Valley's FarmWise and Michigan-based Roush. In 2016, FarmWise was founded with the mission of providing farmers with a cost-effective alternative to pesticides for the health of the farmer, consumer and the environment. Michigan's mobility initiative, now the Office of Future Mobility and Electrification (formerly PlanetM), helped connect FarmWise to Michigan-based full-service product development supplier Roush to develop and test its autonomous vegetable weeders in Michigan. By working together to bring autonomous farming robots to life, FarmWise and Roush helped replace toxic herbicides, saving farmers on labor costs and increasing yield to improve overall farming efficiency.
Similarly, Stevensville-based Great Lakes Drone Company received a $50,000 grant in 2020 to test a first-of-its-kind aerial agriculture solution at the Michigan Unmanned Aerial Systems Consortium (MUASC). In partnership with California-based LahakX (previously Skyx Solutions), Great Lakes Drone Company utilized the funding to further develop an integrated hardware and software automated spraying solution to minimize environmental impact within the agriculture industry. This aerial solution would enable the use of a handful of drones to spray only the crops that need additional nutrients rather than blanket spraying all crops; the same is true for mosquito treatment of crops, allowing farmers to target larvae spots more accurately and, in turn, reduce the amount of chemicals used across their fields.
On the Right MTRAC
Michigan's robust university and research ecosystem is also contributing to the success of the state's agribusiness industry.
Created in 2012, the Michigan Translational Research and Commercialization (MTRAC) program accelerates the transfer of new technologies from Michigan's institutions of higher learning into the commercial market by way of licenses or startups. In 2016 the program expanded as a statewide program to support translational research throughout the state of Michigan. The expansion reinforces the commitment to entrepreneurship, innovation and economic growth by providing a pathway to accelerate the creation and transfer of new technologies into the commercial market.
Among the five Innovation Hubs across the state is the MTRAC Innovation Hub for AgBio, supported by the Michigan State University Innovation Center and Office of the Vice President for Research. Housed at MSU, the MTRAC Innovation Hub for AgBio accelerates commercial development of AgBio projects with a goal of translating research happening at the university level into the commercial market by way of a license or startup.
The MSU MTRAC program focuses on agricultural and industrial biotechnology, biomaterials, bioprocessing and related technologies that fall outside the domain of human medicine. This can include research in areas from animal and crop health to innovative machine learning and blockchain applications useful in agriculture and food production, as well as novel food, fiber and biomaterial processing. Recent examples of the areas of translational research have included funding in bio-based chemicals, biofuel synthesis, livestock health and nutrition, crop improvement, novel consumer food products and agricultural production tools and methods.
Growth across the State
Michigan also remains a strong player in the food and beverage industry, providing the good, safe products people need. In September 2022, Greece-based manufacturer of high-quality, natural baked snack foods SnackCraft announced plans to establish its U.S. headquarters in the city of Kentwood. The project includes a total capital investment of $41.75 million that will create up to 185 well-paying jobs. MEDC officials were on hand to celebrate the company's grand opening ribbon cutting in January 2023.
Welch Foods Inc., a producer of grape juices, jams and jellies, announced in January 2022 its plans to expand its operations in the village of Lawton to include a new bottling line for its single-serve beverages. The project is expected to generate a total capital investment of $26.2 million and up to 57 jobs.
Expanding its operations in Traverse City, Traverse City Whiskey Co. LLC presented plans for an all-encompassing campus, which will provide expanded distilling capacity and a unique immersion in whiskey culture and industry. The $20 million investment will create 100 good-paying jobs and bring out-of-state production back to Michigan.
Announced in October 2022, Muskegon County was awarded a $60 million Strategic Site Readiness Program performance-based grant for the Southeast Regional Force Main project impacting communities in Ottawa and Muskegon Counties. The project is intended to provide wastewater transport and disposal services for area agriculture companies including Fairlife, Continental Dairy, DeVries Meats, Applegate Dairy and Swanson Pickle, who plan to invest at least $187 million and create 145 jobs upon completion of the project.
Completion of the project will strengthen the state's agriculture industry, enabling existing employers to grow and expand, serving as a catalyst for future investment in the area.
These projects come in on the heels of Governor Whitmer's October 2021 announcement on agribusiness expansions across Michigan including food incubator Detroit Food Commons Redevelopment Project – expected to generate a total capital investment of $18.4 million, as well as food manufacturing company Request Foods' expansion of multiple locations in Holland – creating up to 198 jobs. Hear CFO Menaka Abel share her international path from Sri Lanka to Request Foods on The Michigan Opportunity Podcast.
The food and agriculture industry are key ingredients to the success of Michigan's growing economy. With the state's agricultural prowess and growth, the world is in good hands.
Learn more about Michigan's agribusiness industry at https://www.michiganbusiness.org/industries/agribusiness/.
Contact Us