Bipartisan economic development efforts help state secure transformational projects in Big Rapids and Van Buren Township, boost agriculture economy in Ottawa and Muskegon counties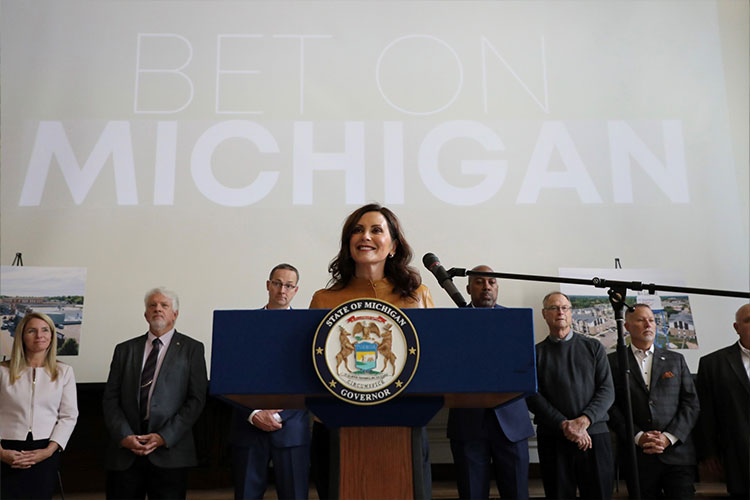 LANSING, Mich. – Today Governor Gretchen Whitmer joined the Michigan Economic Development Corporation in announcing Michigan Strategic Fund approval of three transformational projects around the state, including two electric vehicle battery investments that will serve increasing demand for battery production and a vital infrastructure improvement project in West Michigan. In total, the projects represent a capital investment of more than $4.1 billion and the creation of more than 4,600 new direct jobs in Michigan.

"Today, we're bringing home over $4.1 billion in investments to Michigan, creating more than 4,600 jobs across Big Rapids, Van Buren Township, and Ottawa and Muskegon counties," said Governor Whitmer. "This is yet another historic day for Michigan this year as we continue to secure generational opportunities in our manufacturing and engineering workforce, grow a sustainable economy, and make critical infrastructure improvements to support the state's robust agriculture industry. By working across the aisle on bipartisan economic development legislation, we've brought long-term opportunity to Michigan and created thousands of good-paying jobs for Michiganders. We have proven time and time again that we will compete for every dollar and every project to move Michigan forward."

"When the SOAR Fund received bipartisan approval at the end of 2021, we positioned Team Michigan to immediately attract and win more large-scale investments like the ones approved today that put us in a better position to secure high-paying jobs and suppliers, as well as other business opportunities for our 10-million-plus friends and neighbors for decades to come," said MEDC CEO and Michigan Strategic Fund President and Chair Quentin Messer Jr. "In less than a year, the SOAR Fund has been instrumental in securing transformational projects that are anticipated to create 7,370 new jobs, save at least 1,000 existing jobs, and invest $9.375 billion in communities across Michigan. We look forward to our continued partnership with legislative leaders, the Whitmer-Gilchrist administration, business and labor leaders, and our local partners to get the job done. Work remains and we will continue to get better, together, we will continue putting the world on notice that Michigan plays to win."

Homegrown battery storage provider Our Next Energy plans new Gigafactory in Van Buren Township, making a name for itself as an American success story, helping to drive a clean energy future through its continued growth in Michigan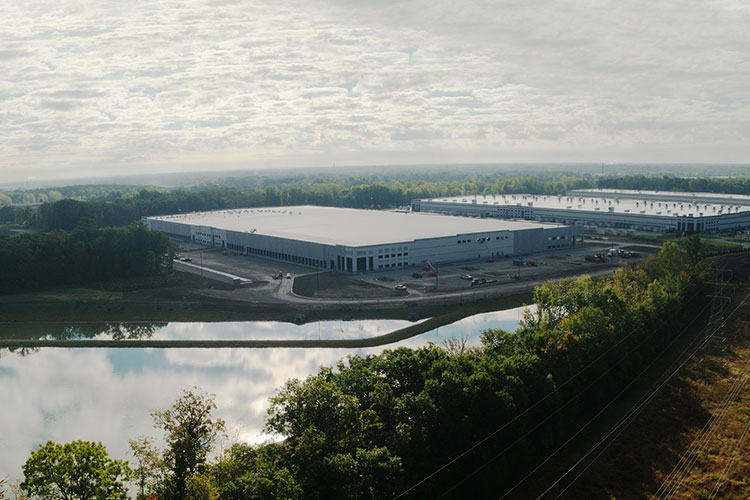 Our Next Energy (ONE) is a Novi-based battery storage company that uses safe, sustainable, low-cost battery chemistries for consumer and commercial electric vehicles.

ONE has developed sustainable battery manufacturing practices that promise to support American energy independence and position the U.S. as a leader in the disruptive energy storage technology. ONE plans to bring this technology to market by establishing its first cell and EV battery pack gigafactory in Van Buren Township. This state-of-the-art battery manufacturing campus, called ONE Circle, will manufacture two pack products that service the mobility market space. The facility will be one of the few wholly US-owned manufacturers of both LFP and anode-free cells. The new factory will achieve a 45 percent reduction in carbon emissions by 2028 through a circular manufacturing approach, in partnership with DTE Energy, 6K Energy, and a leading North American battery recycler.

The project is expected to generate a total capital investment of $1.6 billion and create up to 2,112 jobs. To support ONE's investment, the Michigan Strategic Fund has approved:
A $200 million Critical Industry Program performance-based grant through the Strategic Outreach and Attraction Reserve ("SOAR") Fund
A $15 million Jobs for Michigan Investment Fund Loan
State Essential Services Assessment Exemption valued at $21.6 million
Michigan was chosen for the project over competing sites in the U.S. and Canada. The project will bring more than 2,000 well-paying, highly skilled engineering, manufacturing, and operations jobs for Michiganders, including those in disadvantaged regions of the state. The company is partnering with Focus:HOPE to develop a training program that will provide skills-based training for its employee base modeled after established certification programs.

The company's investment will create a significantly bigger impact on the state's overall economy than just the direct new jobs created. It is expected that 3.3 jobs will be created for every new direct job this project is creating. In addition, the project will result in significant job creation and capital investment. It is anticipated the influx of jobs will result in spin-off investments and redevelopment opportunities. More than $13 billion in new personal income is expected to be generated by the direct, indirect, and induced jobs that this project will create over 20 years.

A significant factor in ONE's decision to build its very first Gigafactory here in Michigan was Governor Whitmer's MI Healthy Climate Plan, which outlines a path to carbon neutrality by 2050 and a specific focus on supporting increased electric vehicle infrastructure access and affordability. The plan can be found here.

Individuals interested in careers with ONE should visit https://one.ai/company/careers.

To read the full announcement on ONE's investment, visit here.

Chinese battery supplier Gotion constructing new production facility in Big Rapids, boosting state's battery production capacity and underscoring the strength of Michigan's manufacturing workforce




Gotion Inc. is a subsidiary of China Based Gotion High-Tech Co., Ltd., a global manufacturer of power batteries for electric commercial vehicles, passenger vehicles, and hybrid vehicles. The parent company is one of the 10 largest battery manufacturers in the world.

Gotion Inc. was incorporated in California in 2014, with a focus on research and development activities. Now the company is planning to establish production capacity for the U.S. by constructing a new manufacturing facility in Big Rapids that will include two plants for the production of battery precursor materials that will be used for electric vehicles, energy storage systems, and many other applications.

Gotion's historic investment in the state, the largest economic development project ever made in Northern Michigan in the state's history, will serve increasing demand in the battery production industry and continue to boost the state's global leadership in electric vehicle and advanced battery production. The project is expected to generate a total capital investment of more than $2.36 billion and create up to 2,350 jobs.

To support the company's transformational investment, the Michigan Strategic Fund today approved:
A Critical Industry Program grant through the Strategic Outreach and Attraction Reserve ("SOAR") Fund in the amount of $125 million for the creation of up to 2,350 jobs in the Big Rapids area;
A 30-year MSF-designated Renaissance Zone to Mecosta County valued at $540 million;
A $50 million Strategic Site Readiness Program performance-based grant through the SOAR Fund will be administered by The Right Place to assist with infrastructure improvements.
Michigan was chosen for the project over competing sites in several other states. In addition to bringing a large number of well-paying tech jobs to Mecosta County, Gotion will provide training and benefits to the new employees. By growing the state's battery production capacity, the project will better position Michigan to win future OEM assembly plants and related suppliers.

Gotion's decision to expand in Michigan will have a far-reaching impact on the entire state, with the influx of jobs resulting in spinoff investments and local redevelopment opportunities. More than $11.5 billion in new personal income is expected to be generated by the direct, indirect, and induced jobs that this opportunity will create over 20 years.

In addition, the project has an employment multiplier of 3.13, which means that an additional 2.13 jobs in Michigan's economy are anticipated to be created for every new direct job, due to the extensive supply chain that exists in Michigan.

Green Charter Township, Big Rapids Charter Township, and Mecosta County have authorized a 30-year Renaissance Zone in support of the project. Green Charter Township and Big Rapids Charter Township also anticipate approval of a 50-percent property tax abatement. For information on careers with Gotion, visit https://www.gotion.com/careers/.

The project was approved under the Critical Industry Program and Strategic Site Readiness Program signed into law by Gov. Whitmer in December, competitive programs that invest in business retention and attraction to complement Michigan's already undeniable strengths as a state. On Oct. 4, Gov. Whitmer signed into law supplemental spending bills that included nearly $850 million in funds to the Strategic Outreach and Attraction Reserve Fund.

To read the full announcement on Gotion's investment, visit here.

Infrastructure improvement project in West Michigan will boost Michigan's agriculture industry, create up to 145 jobs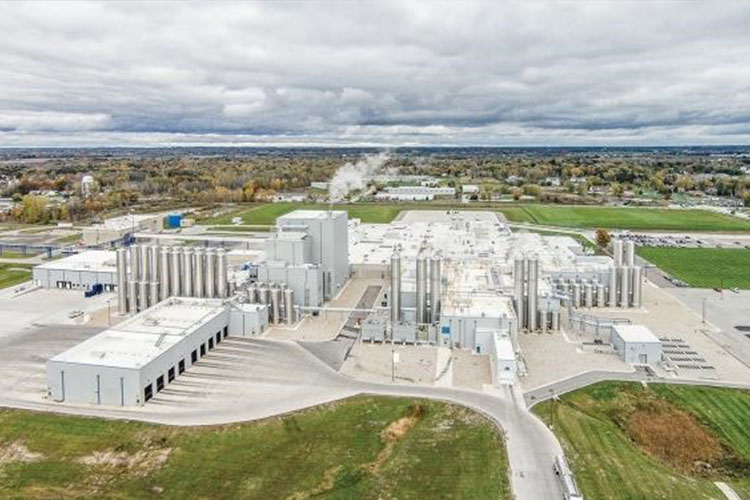 Muskegon County has been awarded a $60 million Strategic Site Readiness Program performance-based grant for the Southeast Regional Force Main project impacting communities in Ottawa and Muskegon Counties.

The project is intended to provide wastewater transport and disposal services for area agriculture companies including Fairlife, Continental Dairy, DeVries Meats, Applegate Dairy and Swanson Pickle, who plan to invest at least $187 million and create 145 jobs upon completion of the project.

The investment is meeting a need to increase wastewater capacity that has consistently been identified by local food processors in Ottawa and Muskegon Counties as a barrier to growth. Development of the Southeast Regional Force Main will drastically increase carrying capacity, removing a longstanding barrier to growth, and allowing key employers to grow and thrive in Michigan for years to come.

Completion of the project will strengthen the state's agriculture industry, which contributes $104.7 billion annually to Michigan's economy. In addition to enabling existing employers to grow and expand, the project will serve as a catalyst for future investment in the area. The project will also create opportunity for much-needed housing development and attraction of new businesses in rural, underserved communities in both Ottawa and Muskegon counties.

"Fairlife has been a proud part of the West Michigan community for more than a decade, and the teamwork and commitment to bettering the community demonstrated in this project is a testament to the continued opportunity here for all of us," said Tim Doelman, CEO, fairlife LLC. "This critical project will help fuel the next decade of growth for our employees who live and work here, our farm partners and our community as a whole."

To learn more about the Southeast Regional Force Main project, visit here.

Legislators voice support for today's transformational projects:

"When we took the votes to create the SOAR Fund last year, and voted to re-stock the fund just last week, this is the vision we had for Michigan: thousands of new jobs to support Michigan families, expanding our Michigan industry into new, innovative fields, and keeping Michigan at the heart of American vehicle manufacturing." said House Democratic Leader Donna Lasinski (D-Scio Township). "These investments are building a stronger state and economy, and these types of projects are only possible when our state is in fighting shape to compete for these jobs."

"We created the SOAR fund to put Michigan communities in contention for economic development opportunities. Less than one year in, the plan has helped us create and secure close to 12,000 jobs and more than $12.5 billion in investments that stretch across the entire state," said House Majority Floor Leader Ben Frederick (R-Owosso). "The job creation alone is significant, but when you consider the types of projects we're attracting, it really is going to be monumental for the future of Michigan's manufacturing industry."
About Michigan Economic Development Corporation (MEDC)