Passed by the Michigan Legislature on Sept. 28 and signed by Governor Whitmer today, the bipartisan supplemental package includes $496 million for future economic development projects and $350 million for site development statewide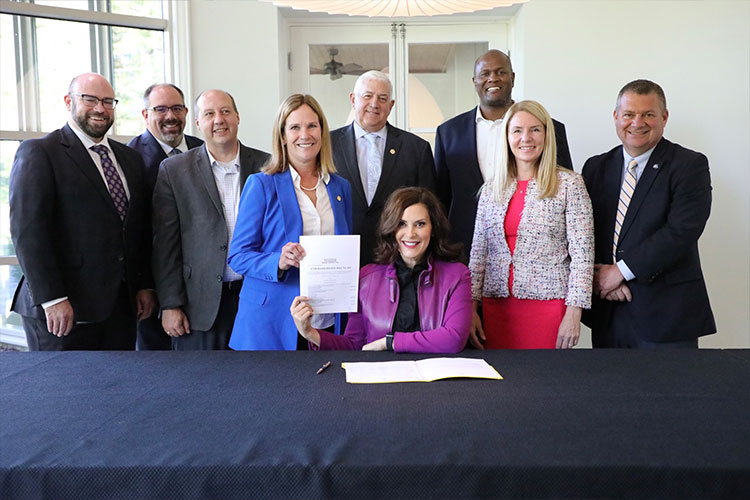 Less than a year after new economic development programs were created to position Michigan to win transformational projects, the state's Strategic Outreach and Attraction Reserve (SOAR) Fund is receiving additional funding thanks to a bipartisan supplemental package signed by Governor Whitmer today.
Passed by the Michigan Legislature with bipartisan support, the $1.11 billion supplemental spending bill includes $496 million for future economic investments – $206 million of which is reappropriated from the previous year – as well as $350 million for site development statewide, including:
Grants to regional and local economic development organizations
Strategic site improvements
Remediation and redevelopment for future projects
The supplemental also includes $27 million for infrastructure upgrades to secure an investment from Hemlock Semiconductor Operations (HSC). Approved on Sept. 7, the Thomas Township infrastructure project will enable a total capital investment of up to $375 million and the creation of 170 jobs by HSC.
"Today I am proud to sign another bipartisan bill that will build on Michigan's growing economic momentum, attract billions in investment, and create tens of thousands of good-paying jobs. The bipartisan legislation will help us grow, attract, and retain businesses in Michigan, ensuring we can lead the future of mobility and electrification and bring supply chains of chips and batteries home to Michigan. Our work on economic development is a testament to what we are capable of when we work together. Let's keep putting Michiganders first and moving our state forward."
Supported through SOAR's initial $1 billion in funding, the Strategic Site Readiness Program (SSRP) and Critical Industry Program (CIP) were part of a package of legislation signed into law by Governor Whitmer in December 2021.
Since the SOAR fund was introduced, Michigan has secured key transformational projects, including:
General Motors investing $7 billion, creating 4,000 and retaining 1,000 jobs, to convert Orion Township assembly plant to build full-size EV pickups and build Ultium's third U.S. battery cell plant in Lansing. The investment was supported in part by a CIP grant of $600 million and SSRP grant of $66.1 million.
Ford Motor Company investing $2 billion, creating more than 3,200 jobs in plants across Michigan to support EV manufacturing growth and secure internal combustion engine portfolio in the state. The investment was supported in part by a CIP grant of $100.8 million.
Hemlock Semiconductor Operations investing $375 million, creating 170 jobs in Thomas Township to strengthen Michigan's leadership in the semiconductor supply chain with MSF-approved support for local infrastructure upgrades. Thomas Township received a $27 million SSRP performance-based grant for the project.
"We are grateful for this additional support for the SOAR Fund, knowing that already this year it has helped us cross the finish line on a series of transformational and highly competitive economic opportunities. This market responsive investment in the SOAR Fund demonstrates Team Michigan's intentionality and consistency in competing aggressively for opportunities that will create jobs and more customers for small business owners, while also adding vital resources to advance our state's site preparedness efforts. We look forward to our continued partnership with legislative leaders, the Whitmer-Gilchrist administration, business and labor leaders, and our local partners to get the job done. Together, we will continue putting the world on notice that Michigan plays to win."
The additional SOAR funding will place Michigan in the best position to attract economic development projects across the state, creating thousands of jobs and shaping the future for those who live and work in Michigan.
To learn more about why businesses are choosing to invest and grow Michigan visit www.michiganbusiness.org/why-michigan
For more Michigan economic development news visit www.michiganbusiness.org/news
About Michigan Economic Development Corporation (MEDC)