Gov. Whitmer Announces 145 New Jobs and Critical Infrastructure Upgrades to Support Agricultural Industry, Economic Growth in Ottawa and Muskegon Counties
Wednesday, October 5, 2022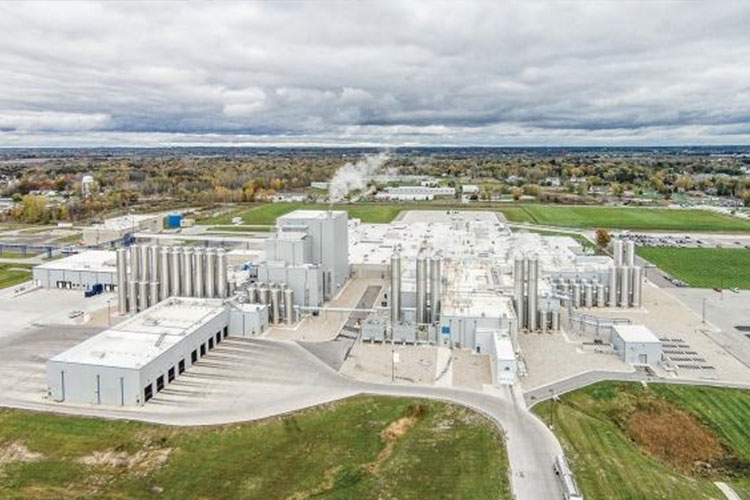 LANSING, Mich. – Today Governor Gretchen Whitmer and the Michigan Economic Development Corporation announced Michigan Strategic Fund (MSF) support for a critical infrastructure project spanning Ottawa and Muskegon counties that will help to secure additional investment and jobs in West Michigan's food and agricultural industry.

The Southeast Regional Force Main project will allow the city of Coopersville to redirect wastewater north to the Muskegon County Resource Recovery Center, providing additional wastewater capacity necessary for continued growth of agricultural employers in the area, including Fairlife, Continental Dairy, DeVries Meats, Applegate Dairy and Swanson Pickle. The project will result in the creation of up to 145 new jobs and a capital investment of up to $187 million in Ottawa and Muskegon counties.

"These critical infrastructure upgrades will generate $187 million in investment supporting 145 jobs in West Michigan's food and agriculture industry and lay the groundwork for strong future growth in," said Governor Gretchen Whitmer. "Building the new wastewater line will connect employers like Fairlife, Continental Dairy, DeVries Meats, Applegate Dairy, and Swanson Pickle to the resources and services they need to grow and expand their businesses. I am proud that Republicans and Democrats worked together on the economic development toolkit that has empowered us to build up our infrastructure, construct much-needed housing developments, and bring new businesses and economic opportunity to rural communities in Ottawa and Muskegon Counties. Let's keep working together and empower Michigan's agriculture industry to compete on a national and global scale."

"Working with our partners to ensure Michigan has the updated infrastructure and sites necessary to meet the needs of industries like food processing and related agribusinesses allows us to build a strong moat around our Michigan businesses, and attract new investments to the state," said Quentin L. Messer, Jr., CEO of MEDC and President and Chair of the MSF Board. "We appreciate the hard work of Team Michigan, including our partners in the legislature, the Whitmer-Gilchrist administration and Lakeshore Advantage to bring this long-needed project to fruition and put businesses and residents in Ottawa and Muskegon Counties on an even stronger path for future economic growth."

The investment in the Southeast Regional Force Main project is meeting a need to increase wastewater capacity that has consistently been identified by local food processors in Ottawa and Muskegon counties as a barrier to growth. Local food processers and manufacturers are significant drivers of Ottawa county's economy in particular accounting for 4,800 jobs with an average annual wage of $72,000 and industry investments of $1.5 billion over the past three years.

The proposed solution will build a wastewater line (Southeast Regional Force Main) connecting employers in the greater Coopersville area to Muskegon County's Resource Recovery Center (MCRCC). Development of the Southeast Regional Force Main will drastically increase carrying capacity, removing the long-standing barrier to growth.
"Fairlife has been a proud part of the West Michigan community for more than a decade, and the teamwork and commitment to bettering the community demonstrated in this project is a testament to the continued opportunity here for all of us," said Tim Doelman, CEO, fairlife LLC. "This critical project will help fuel the next decade of growth for our employees who live and work here, our farm partners and our community as a whole."

Additionally, the new pipeline will serve rural and communities that do not currently have wastewater service provided by the Muskegon Country Resource Recovery Center. In addition to equipping existing employers to grow and expand, the pipeline also opens opportunity for much-needed housing development and attraction of new businesses and residential developments in Ottawa and Muskegon counties.

"This expansive transformational rural infrastructure project cements our region's continuing leadership in the food processing and agriculture sectors, said Jennifer Owens, President of Lakeshore Advantage. "This project is a huge win for all five of the communities involved, securing great paying jobs for years to come and opening up opportunities for future growth."

To support this project, the MSF Board has approved a $60 million Strategic Site Readiness Program performance-based grant to be funded through the Strategic Outreach and Attraction Reserve ("SOAR") Fund. Additionally, Fairlife is contributing $5 million in support of the project and Applegate Dairy has contributed toward initial engineering fees and has constructed a lift station to access the Force Main.

Michigan's robust food and agriculture industry contributes to its proud heritage of making things and providing for its communities. Farms and food-processing companies throughout the state generate and grow essential products, creating tens of thousands of jobs with the food and agriculture industry contributing $104.7 billion annual to the state's economy. With more than 300 agricultural commodities being produced commercially in the state, it is also a key export sector with countries including Canada, Mexico, Japan and South Korea being top importers of Michigan products.

"Michigan's robust food and agriculture industry is an economic powerhouse and with the bipartisan budget which invests in farmers and business, we are at the forefront of advancing agriculture economic development in the state," said Gary McDowell, director, Michigan Department of Agriculture and Rural Development. "Thanks to ongoing partnership and collaboration, we're able to support the critical infrastructure updates needed to grow our agri-food businesses and create good-paying jobs."

Legislators Voice Support for Southeast Regional Force Main Project in Michigan:

State Sen. Jon Bumstead – R-North Muskegon
"This project is a prime example of how government should work to solve a problem and bolster our state's economy. Agriculture is one of the largest industries in our state and West Michigan is home to a multitude of farms and processors. The approval of this wastewater pipeline will ensure that the agricultural industry in Muskegon and Ottawa counties can continue to operate safely, and give them the opportunity to grow and expand here in West Michigan."

State Sen. Roger Victory – R-Hudsonville
"I am thrilled that the Michigan Strategic Fund Board has recommended the Coopersville-Muskegon Pipeline for SOAR Funding. This is a project that has been in development for many years and could not happen without the transparency and flexibility SOAR has provided for diverse economic investment.

"This pipeline will have a massive impact on Michigan's often overlooked Agricultural Industry. Beyond the immediate onsite investment and job creation, the pipeline will create opportunities for expansion throughout the state, while improving our overall food supply chain. The increased demand for milk will help our long-suffering dairy farms, while the added protein processing will support Michigan's pork producers.

"This is exactly the type of large-scale, cross municipality project that SOAR was created to address. I will continue to work with my colleagues in the legislature to secure the necessary legislative approval of the SOAR transfer for this transformative and much needed investment."

State Rep. Luke Meerman – R-Coopersville
"The Coopersville City-Muskegon wastewater infrastructure project is an investment that is going to allow our City to grow without concern for overwhelming our existing infrastructure. Our agricultural community relies on wastewater treatment to process our agricultural products into food and this collaborative effort with Muskegon County will ensure the City can continue to prosper and support our farmers."

State Rep. Terry Sabo – D-Muskegon
"It's been at least a decade in the making for this project to receive the comprehensive funding it deserves, and I want to send a huge thank you to the MEDC and the Southeast Regional Force Main team for their efforts in making these community-changing funds come to Muskegon county."

State Rep. Greg VanWoerkom – R-Norton Shores
"This transformational project has been discussed for over a decade. It is time to get it done for the future growth of West Michigan."
About Michigan Economic Development Corporation (MEDC)