Michigan breaks into the Top 15 in Area Development's 2022 Top States for Doing Business ahead of President Biden's NAIAS visit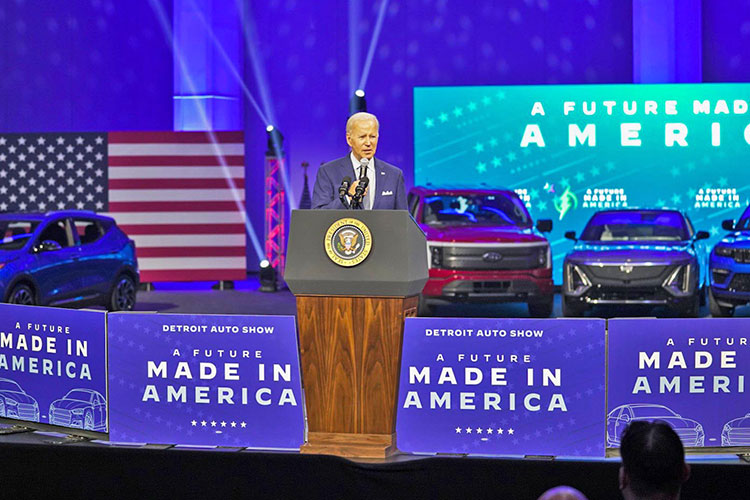 When it comes to doing business, Michigan is in the driver's seat. In Area Development's 2022 Top States for Doing Business rankings, Michigan rose to No. 14 overall. Area Development's surveyed panel of experts highlighted states ripe for doing and growing business as economies emerge and grow following the pandemic. As the No. 2 state for most recovered economy from COVID-19 by Credible, Michigan is on the move.
Michigan also made significant strides in the categories of Workforce Development Programs, tied at No. 8, making it the only Midwest state in the category's top 10; Available Real Estate at No. 9; and Cooperative & Responsive State Government, tied for No. 8 with five states, including Texas and Alabama. Michigan also brought in additional Top 10 rankings in Access to Capital & Funding at No. 8 and Competitive Labor Market at No. 6.
"Team Michigan continues to stand out as we demonstrate our commitment to building a championship economy. We have made progress over the last few years thanks to building Michigan's talent ecosystem, working with Governor Whitmer, state legislators and other elected officials. Team Michigan is rising to the challenge of continuing to rebuild Michigan's economy following the impacts of the pandemic. Work remains, but with these statewide efforts and the return of the Detroit Auto Show, the world is taking notice and we are making progress."

This latest ranking from Area Development was released as the Detroit Auto Show kicks off, marking the show's return to downtown for the first time in three years. With all eyes on the Electric Motor City, the Detroit Auto Show welcomed President Joe Biden and Transportation Secretary Pete Buttigieg, where they joined Governor Gretchen Whitmer and Lt. Governor Garlin Gilchrist II for a tour of the Detroit Auto Show floor.
As the state that leads the nation in mobility innovation and manufacturing, Michigan continues to show the world it is also home to the future of transportation technology and a leader in the transition to electric vehicles (EVs).
Throughout 2022, Michigan has celebrated a series of transformational investments that demonstrate continued industry growth across the automotive and EV mobility sector, including:
With all eyes on the Motor City as the Detroit Auto Show kicks into gear, Michigan is sure to keep the world looking and moving.
In addition to the recent Area Development rankings, Michigan is also strongly positioned in other national rankings, including:
Learn more about the state of Michigan's presence at the Detroit Auto Show at http://theelectricmotorcity.com.
For more information about Michigan's mobility ecosystem and EV strengths, go to michiganbusiness.org/mobility.
About Michigan Economic Development Corporation (MEDC)