Business and community leaders share international business knowledge and resources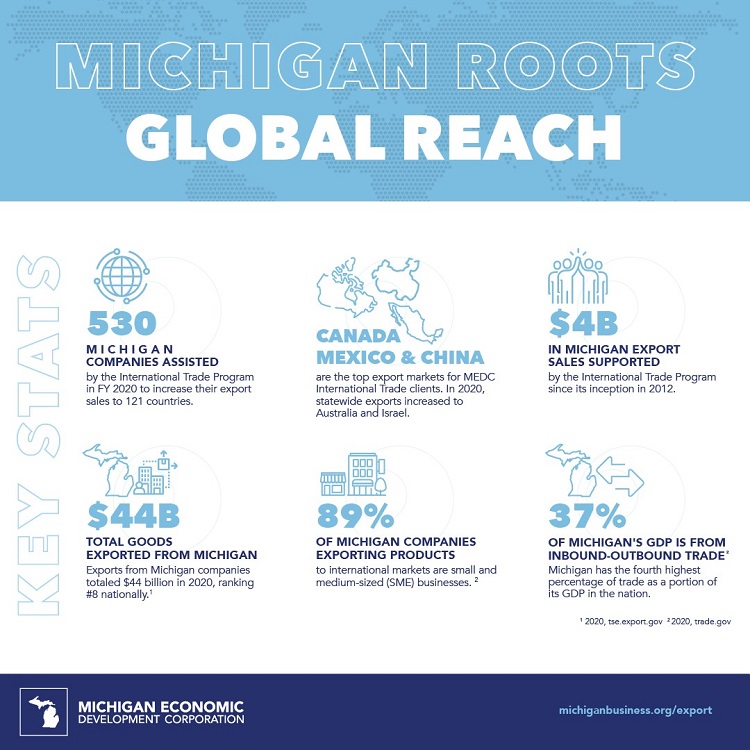 This week Michigan celebrated World Trade Week, promoting the importance and benefits of global trade on Michigan's economy. Throughout the week, business and community leaders shared international business knowledge and resources, highlighted the link between international trade and Michigan's economic well-being, and recognized the contributions of international trade to job creation in Michigan.
World Trade Week takes on special significance in Michigan, where MEDC's International Trade Program offers a wealth of expertise and resources available to help Michigan businesses grow within the state and internationally. For 10 years, the state has been in the forefront of helping Michigan small- and medium-sized businesses grow in the state through increased export opportunities.
In 2020 alone, the International Trade Program assisted 530 Michigan companies in increasing their export sales to 121 countries. Since the program's inception in 2012, the program has worked with thousands of Michigan companies to support more than $4 billion in export sales. Thanks in part to the dedicated International Trade team, Michigan has the fourth highest percent of trade as a portion of its GDP in the nation, with inbound-outbound trade accounting for 37 percent of the state's GDP.
With international trade offices covering more than 90 markets, MEDC's International Trade Program offers business support identifying and pursuing global market opportunities. Through this program, businesses have access to experienced professionals and resources—such as financial assistance, counseling and market analysis—that can help promote their products and services around the world.
"Export sales help diversify companies' customer bases, provide longer term stability, and can support higher paying jobs," said Natalie Chmiko, Vice President, Pure Michigan Business Connect and International Trade at MEDC. "As we work to drive economic recovery here in Michigan, it is more important than ever to work with our small and medium-sized businesses to discover and develop new markets and customers through export activities."
To further demonstrate the strength of Michigan's trade ecosystem, on Thursday Alyssa Tracey, Director of International Trade at the MEDC, held a live conversation during World Trade Week with John Worthington, CEO of IBT Online. They discussed opportunities available for businesses looking to attract customers around the world from here in Michigan, particularly in the aftermath of the COVID-19 pandemic.
"In 2019 alone, International Trade supported more than a million jobs here in Michigan and our task is to keep those jobs growing by increasing the number of Michigan companies that are active exporters. In a normal year we would have logged thousands of miles across the globe to help our trade clients reach new customers in different target export markets," Tracey said, noting that like everyone, the International Trade team has pivoted in the pandemic. "Our STEP-grant program was nimble enough, through the SBA, to add in a new category for e-commerce solutions. The program allows up to $10,000 a year for small businesses to tap into and support opportunities for e-commerce."
To watch Alyssa Tracey and John Worthington discuss ways Michigan businesses can increase their sales and add jobs by pursuing exporting opportunities, visit here.
To read more about MEDC's International Trade Program, visit here.
To learn about Michigan's State Trade Expansion Program (MI-STEP) that supports financial assistance for exporting activities of eligible Michigan businesses, visit here.
To learn more about how MEDC's International Trade Program can help you grow your business into new markets, please visit michiganbusiness.org/export.
For more Michigan economic development news, visit here.
About Michigan Economic Development Corporation (MEDC)