Expanding business into international markets can be challenging, but MEDC is here to help. The MEDC International Trade team can assist a company looking to expand into foreign markets or export its products around the world—all while continuing to grow and prosper in Michigan.

In 2020 alone, the International Trade Program assisted 530 Michigan companies in increasing their export sales to 121 countries. Since the program's inception in 2012, the program has worked with thousands of Michigan companies to support more than $4 billion in export sales. Thanks in part to the dedicated International Trade team, Michigan has the fourth highest percent of trade as a portion of its GDP in the nation, with inbound-outbound trade accounting for 37 percent of the state's GDP.
With international trade offices covering more than 90 markets, MEDC's International Trade Program offers business support identifying and pursuing global market opportunities. Through this program, businesses have access to experienced professionals and resources—such as financial assistance, counseling and market analysis—that can help promote their products and services around the world.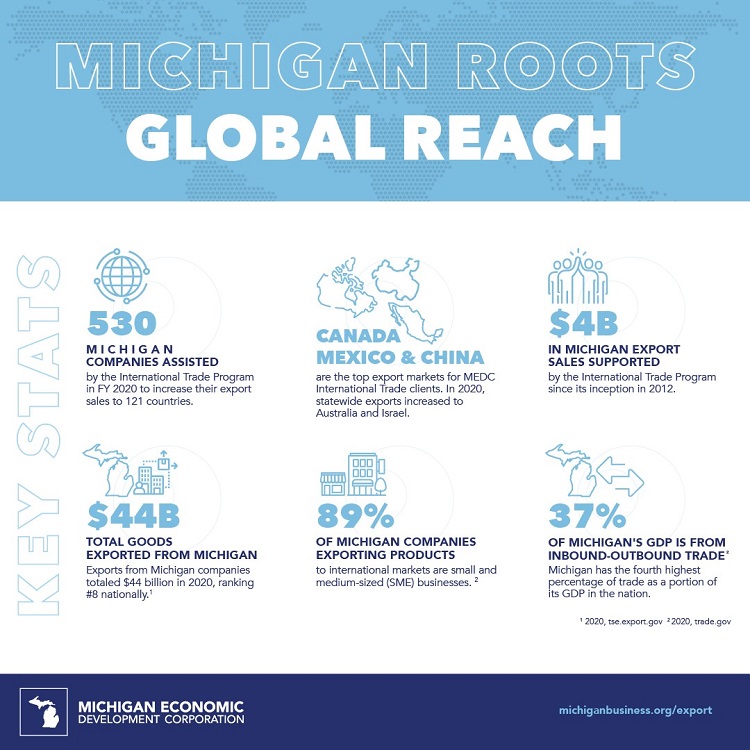 Read on to learn more about the opportunities available for businesses to grow and expand into new markets, all from here in Michigan.
MI-STEP
MEDC offers a federally and state-funded grant called the Michigan State Trade Expansion Program, also known as MI-STEP, to help eligible Michigan-based small businesses increase their reach in international markets. Qualifying companies can apply for a grant to help offset the cost of export-related activities, reducing the cost of doing business in global markets so they can increase and diversify their customer base. The program is a reimbursement model, covering 75% of eligible costs with an annual cap of $15,000 per company.
Program funds may be approved for a variety of export-related activities, including foreign trade missions and sales trips; reverse trade missions; international website development; international trade shows; export training; U.S. Department of Commerce services; international marketing media; e-commerce and more.
In Wixom, for example, OPS Solutions produces Light Guide Systems, an augmented reality tool that uses projected lights and proprietary software to transform manual assembly and manufacturing processes. In order to take this technology to international markets, the company turned to MEDC's International Trade Program. Over the past five years, OPS Solutions has received a wealth of support from MEDC to help with export activities such as trade missions, trade shows and translation. While traveling for MI-STEP funded activities, the company landed contracts upwards of $3.5 million, established channel partners in new markets, received quotes from potential customers and attended dozens of vetted matchmaking meetings.
"It is definitely worthwhile for any company here in Michigan to understand all the different ways MEDC can assist to help their operation grow faster or even smarter," said President and CEO Paul Ryznar. "Thanks in large part to MEDC and the MI-STEP program, we're engaged with more than 175 non-U.S. companies in 28 countries worldwide."
Due to increasing sales in Europe and China, OPS Solutions has opened sales offices in Czechia and China to assist with its international exports. The company was on track to increase sales by 70 to 100 percent and expects to continue using the MEDC International Trade Program to accelerate its international expansion in Europe, Asia and South America.
Trade Missions
The MEDC's International Trade team also hosts in-person and virtual trade missions and shows and creates networking opportunities for international companies to connect with Michigan businesses and increase the value of Michigan exports. When companies face barriers to achieving international growth, MEDC's International Trade managers identify resources and make introductions to overcome obstacles and jumpstart the company's momentum in a foreign market.
For Detroit-based PROLIM, expanding into India's automotive and industrial machinery market was essential to its continued growth in helping corporations succeed in product lifecycle management strategies. PROLIM was invited to join the MEDC's International Trade Program, which was partnering with Automation Alley of Troy, for a trade mission to India. MEDC arranged a customized itinerary for each participant that, in PROLIM's case, focused on meetings with potential customers and local market resources. PROLIM also received funding through the MI-STEP program to offset the costs of participation.
By traveling with MEDC and Automation Alley, PROLIM met with more than 10 companies in one week to evaluate new business opportunities. As a result of the trade mission, PROLIM received its first order at its new sales office within three months. The company's expected growth is $1 million in the first year and then to grow at least 30 percent annually. Sales in an international market like India help PROLIM expand their customer base, maintaining steady growth and profitability which support jobs in Michigan.
"MEDC and Automation Alley are stellar organizations that can competently help Michigan-based companies expand sales into new markets," said Prabhu Patil, Founder and CEO of PROLIM. "I sincerely thank the MEDC and highly recommend them—the tools and resources they've given me are invaluable."
Service Providers
In addition to the grants, MEDC's International Trade team also has a number of service providers that support Michigan exporter's expansion and entry into new foreign markets. These contractors provide tangible, actionable resources for technical items related to export success for new and experienced exporters. The service providers cover a range of support, from legal trainings on intellectual property and export compliance, to company website translations and international search engine optimizations. These offerings round out the additional support businesses can access by working with the International Trade team.
Great Lakes Sound & Vibration in Portage Township manufactures products with defense applications, and they needed help navigating the complex regulations required to export such products to foreign markets. Foster Swift, one of the International Trade team's service providers, helped the company complete ITAR registration and become compliant and eligible to do business with the Canadian government. Doing so enabled the company to win a lucrative contract in Canada, which increased the company's percentage of total sales from international sales to nearly 15 percent. Foster Swift's support also helped the country reach additional new markets, including Norway, Japan, Sweden and Iceland.
To learn more about the MEDC's International Trade Program and how it can help you grow your business into new markets, please visit michiganbusiness.org/export.
Contact Us