THIS JUST IN: Michigan captures eight top 10 spots in Business Facilities' annual Rankings Report
Grand Rapids, Kalamazoo, Genesee County also receive recognition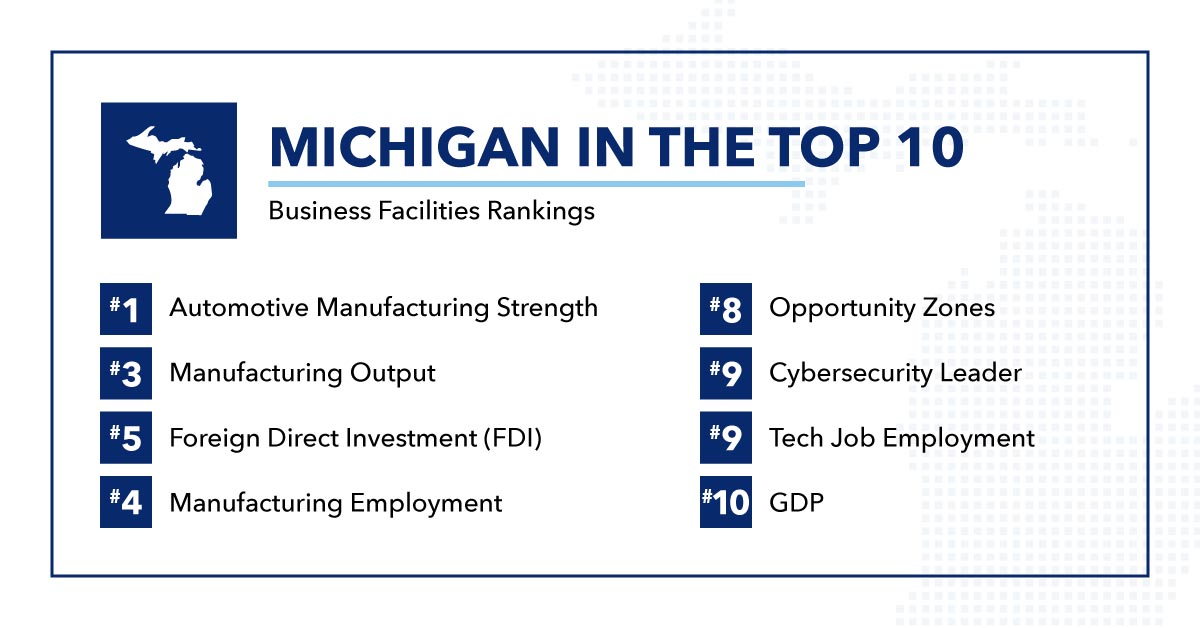 Michigan has captured eight top 10 spots on Business Facilities' 16th annual Rankings Report for 2020, including once again taking the #1 ranking for in the Automotive Manufacturing Strength category. The other top 10s include: Manufacturing Employment (#4), FDI-Investments (#5), Manufacturing Output percentage of GNP (#3), Gross Domestic Product (#10), Cybersecurity (#9), Opportunity Zones (#8) and Tech Jobs (#9).
"In spite of the unprecedented challenges of the past few months, Michigan continues to focus on building an economy driven by technology, innovation and our manufacturing heritage," said Mark A. Burton, CEO of Michigan Economic Development Corporation. "These rankings demonstrate Michigan's growing reputation nationally for economic resiliency and as a top state to grow and do business."
In a reinforcement of the state's manufacturing expertise, Michigan maintained its 2019 positions in automotive manufacturing strength, top manufacturing states–percent of workforce, and top manufacturing states–employment. Michigan also added to its top 10 rankings this year in manufacturing output. Michigan also maintained strength in tech jobs and cybersecurity while adding new honors in Foreign Direct Investments (FDI), and Gross Domestic Product (GDP).
The strength of Michigan's economic climate extended into regional areas of the state as well, with several Michigan metropolitan taking Top 10 honors, including Grand Rapids – Best Business Climate (#2), Kalamazoo – Lowest Cost of Living (#3), and Genesee County – Wage Growth Leaders (#10).
Business Facilities is a national publication that has been the leading location source for corporate site selectors and economic development professionals for more than 50 years.
Today's announcement from Business Facilities builds on additional recognition for Michigan's business climate in recent months, including:
Jumping 19 spots in Chief Executive magazine's "Best and Worse States to do Business" survey – the largest jump in the ranking's history. Chief Executive pointed to Michigan's access to industrial and technical talent as a key ingredient to the state's success.
Area Development's Silver Shovel Award for excellence in economic development and job creating projects in the 8-12 million population category on the strength of projects including FCA's historic $4.5 billion investment in Detroit and nearby in Macomb County, Ford Motor Company's expansion at two of its key facilities and establishment of a new vehicle modification center in southeast Michigan, Acrisure's relocation and expansion of its headquarters to downtown Grand Rapids and KLA's new research and development center in Ann Arbor.
As the MEDC has worked to respond to the immediate economic crisis as a result of COVID-19 – launching 19 programs to support more than 3,400 businesses and help retain 14,700 jobs across the state – long term economic recovery efforts have remained a focus to ensure business growth and diverse, vibrant communities long after this crisis has ended. Projects like Bridgewater Interiors, LLC which will bring more than 400 new jobs to the city of Detroit and Delta Township and Magna International which is expanding its Highland Park site by approximately 5,000 square feet and creating 480 new jobs in a range of positions including management, IT, and manufacturing are creating a runway for continued economic growth across the state.
To learn more about Business Facilities' announcement, visit here.
To see why companies are choosing Michigan, visit www.michiganbusiness.org/why-michigan/. To learn more about the services available from the MEDC to help businesses grow, go to michiganbusiness.org.
About Michigan Economic Development Corporation (MEDC)