Acrisure to establish world headquarters in Grand Rapids
Tuesday, September 24, 2019
Global insurance broker Acrisure to invest $33M and create 400 new, high-paying jobs in downtown Grand Rapids | Project is first in Grand Rapids area to win Good Jobs for Michigan support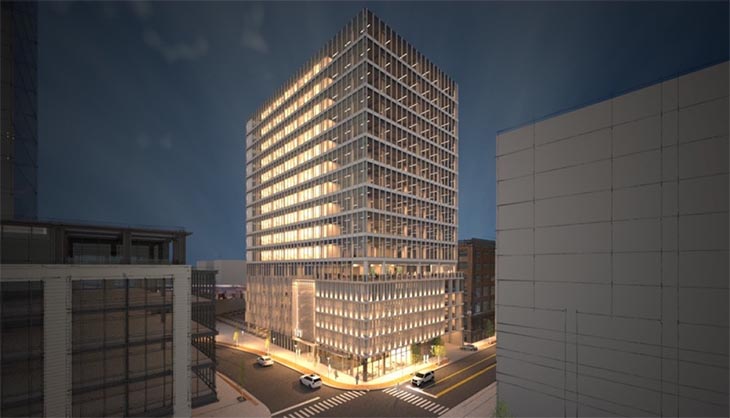 LANSING, Mich. – Acrisure, one of the top 10 insurance brokers worldwide, will be relocating and expanding its headquarters to downtown Grand Rapids with support approved today by the Michigan Strategic Fund including support through the Good Jobs for Michigan program. When completed, the expansion into the city of Grand Rapids is expected to generate an investment of $33 million.
Acrisure has also committed to creating and maintaining a minimum of 400 new high-paying jobs, above the current statewide employment level of 873, with an average wage of $74,464. Based on the size of the investment and number of jobs to be created, Acrisure qualifies for a Good Jobs for Michigan 10-year withholding tax capture valued at $6 million.
In addition to the Good Jobs for Michigan tax capture, the MSF also approved a $1 million Michigan Business Development Program performance-based grant in support of the $33 million capital investment expansion of the company's world headquarters. Acrisure's latest investment is a major boost to the West Michigan economy.
"The decision by Acrisure to establish its global headquarters in Grand Rapids highlights Michigan's growing professional and corporate services industry and underscores the strength of Michigan's business climate and talented workforce," said Gov. Gretchen Whitmer "This new headquarters facility means excellent, high-quality jobs for our residents. We appreciate Acrisure's long-term commitment and the economic benefits this will bring to the region and the people who live there."
Acrisure's operational scope covers everything from risk financing for corporations to individual home an auto insurance policy. Professionals in its network specialize in their dedicated areas, which include transportation, construction, hospitality, energy, real estate, life sciences and more.
The company will lease space at the Studio Park development in downtown Grand Rapids, which will offer 105,000 square feet for its new and relocated employees. Presently, Acrisure employs approximately 280 people in its Caledonia office. With current and projected growth, the space is no longer large enough to accommodate the company's needs. Acrisure's new state-of-the-art facility will house all 280 regional employees and accommodate the company's projected growth. Michigan was chosen for the project over competing sites in Illinois, Indiana and New York.
"From our inception through our explosive growth to more than $1.4 billion in revenue, we've been proud to call West Michigan Acrisure's home," said Greg Williams, CEO, Acrisure. "As we look to continue expanding, we're glad to have worked with the MEDC, The Right Place, the city of Grand Rapids, and Downtown Grand Rapids Inc. to create a true global headquarters for our people, in the heart of Grand Rapids. We believe as much as our new building is a physical manifestation of what we've achieved, it's an important symbol of our roots in the community and our ability to attract talent from and to our region."
The Right Place worked in collaboration with Acrisure, MEDC, the city of Grand Rapids, and Downtown Grand Rapids Inc. to ensure the company continued its growth in the region, rather than out-of-state locations.
"Acrisure has experienced significant growth over the past several years and their decision to locate a new headquarters in Grand Rapids further solidifies our region as a destination for business success," said Birgit Klohs, President and CEO, The Right Place. "These well-paying jobs will have ripple effects throughout the community and will positively impact the entire West Michigan region."
Individuals interested in careers with Acrisure should visit https://acrisure.com/careers/.
"The addition of Acrisure's headquarters to our downtown is vital to our city and our residents," said city of Grand Rapids Mayor Rosalynn Bliss. "We're excited for the opportunity to be a part of Acrisure's incredible growth story, and we look forward to working with the company as it expands in our community."
This is the fifth Good Jobs for Michigan project following support for Pfizer, KLA, Aptiv and FCA. In total, these projects along with today's approval of Acrisure represent more than $5.1 billion of private investment and nearly 8,300 well-paying jobs in communities including Detroit, Ann Arbor, Kalamazoo and Grand Rapids.
The intention of the jobs-initiative package is to attract projects that result in a significant number of high-paying jobs with employees making more than the target regional wage. In addition, Good Jobs for Michigan allows for the capture of Michigan Income Taxes withheld from the Certified New Jobs created as a result of a business expansion or new location project.
Projects under the Good Jobs for Michigan program must be completed within five years of the written agreement.
"This project is the result of hard work on the part of many local and private partners, and we're pleased to support that collaboration," said Jeff Mason, CEO of MEDC, the state's chief marketing and business attraction arm that administers programs and performs due diligence on behalf of the MSF.
"We look forward to working with the company as it continues to grow and add jobs in Michigan," Mason said.
About Acrisure
Founded in 2005, Acrisure is a growing national group of agencies offering insurance and risk management expertise to a broad base of clients of all sizes and across a myriad of industries. We provide increased capabilities through a full spectrum of insurance related products, consulting services, and enhanced carrier relationships. From commercial insurance to alternative risk financing for corporations to individual home & auto insurance, Acrisure has the expertise to provide their clients with the right solutions.
As part of the relocation and expansion, Acrisure will be embarking on an aggressive hiring strategy for multiple positions, primarily in the areas of finance, accounting, and regulatory affairs. Acrisure will be providing parking for employees downtown, as well as increased salary to cover the City of Grand Rapids income tax. For more information on careers with Acrisure, Inc., visit here.
About Michigan Economic Development Corporation (MEDC)