The annual Michigan Celebrates Small Business Awards Gala gives Michigan's small business owners the red carpet treatment and highlights their impact across the state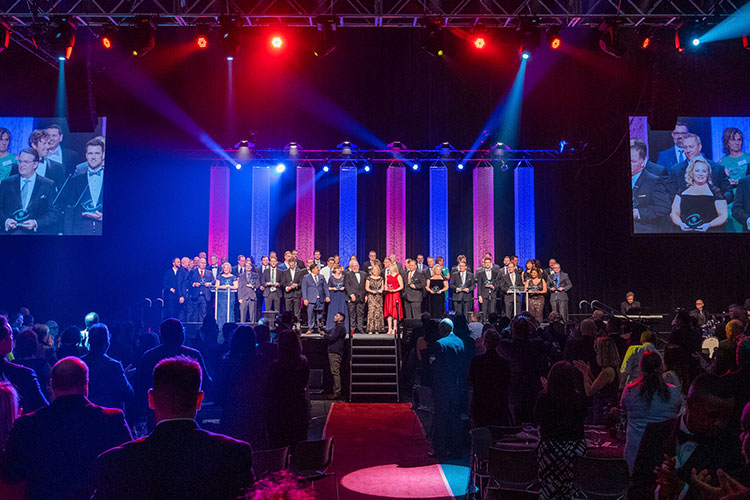 On May 2, Michigan Celebrates Small Business (MCSB) held its 19th Annual Awards Gala, celebrating small businesses from across the state. MCSB is the most prestigious small business awards program in the state of Michigan which honors and recognizes Michigan's small businesspeople as well as the champions and advocates that support them.
Gov. Gretchen Whitmer appeared at the Awards Gala to express her gratitude for the small business owners in attendance.
"I know that every small business is an act of hope," Gov. Whitmer said. "When you open a storefront in your hometown, send that first email to friends and family announcing your new consulting business, or share your dream with the world, you're betting on yourself and our state. I want you to know that the state has your back and will offer you the support and resources you need to succeed."
Amy Rencher, senior vice president of Small Business Services at the Michigan Economic Development Corporation (MEDC), also spoke during the event about the important role small businesses play in our state.
"What you do not only contributes to our state's bottom line, but more importantly, creates a sense of place that is vital to preserving culture, promoting innovation, and attracting and retaining talent to help sustain and grow our great state for generations to come," Rencher said. "To be here tonight means that you have taken the leap of faith and finance on a business here in Michigan – and for that, we are grateful."
MEDC's Small Business Support
If 2021 was a rebuilding year for the state of Michigan, 2022 was a year of transformational growth. With laser focus and drive, the MEDC spent 2022 collaborating with partners across the state to win transformational projects, celebrate place-based investments and promote the four-season beauty and opportunities across Pure Michigan.
Despite the challenges and changes we've collectively faced over the past three years, Team Michigan's foundation remains the same: aiming to create a more equitable economy for all Michiganders who call our state home.
Among those key efforts has been MEDC's continued focus on supporting and celebrating the risk-takers and small business owners who are the backbone of the state economy. Michigan is home to over 900,000 small businesses, with 1.9 million small business employees, and more than 99 percent of Michigan businesses are defined as small businesses with fewer than 500 employees.
We at the MEDC are inspired by Michigan's small businesses and are proud to help them thrive. In July 2022, the MEDC announced a new Small Business Services and Business Solutions team as part of a heightened focus on supporting small businesses in Michigan. This team was created to play a vital role in helping existing small and microbusinesses grow in the state, while improving economic prosperity for all Michiganders through greater opportunities for small business ownership and access to capital.
That includes demonstrating a commitment to diversity, equity and inclusivity by addressing the need for more intentional and inclusive policies to support minority-, veteran- and women-owned businesses in the state. We know that economies grow faster and more vigorously when opportunities for prosperity are more equitably distributed across all segments of the population. To that end, the state joined partners at Michigan Women Forward, the Ballmer Foundation and Huntington Bank to launch the Michigan Economic Opportunity Fund in March 2023, a new $10 million microbusiness loan program for women, veterans and entrepreneurs of color in Michigan. Entrepreneurs will be able to apply for up to $50,000 in loans through this program.
In Michigan, nearly every indicator of the state's success is influenced and reflected by its small businesses. They play a vital role in attracting talent to live and work in small towns and big cities alike and are economic drivers of the local communities. And while small businesses are essential to the growth and success of our state's economy, we also recognize that they are the connective threads in the fabric of our communities and play a part in our everyday lives. Whether shopping at a local boutique, stopping at the drycleaner up the street or sharing a meal at a favorite restaurant, each action supports Michigan's communities. With a common goal of uplifting and encouraging small businesses – and sharing their powerful stories – we can create significant impacts on our state's families, businesses and places we call home.
MEDC Celebrates MCSB Awardees
In the spirit of honoring small business owners and recognizing the important roles they play in the state, the MEDC is a proud sponsor of MCSB. As we celebrate the 19th Annual MCSB Awards Gala, this year's awardees reflect the diversity of industries, services and passionate business owners found across the state of Michigan.
Alina Morse, founder of Zolli Candy in Oakland County, is being honored at this year's gala with the Michigan 50 Distinguished Alumni Award at the age of 17. Morse was only seven years old when she was inspired to create a healthy alternative to the sucker she was offered at the bank; her persistence led to the creation of Zolli Candy, which is zero-sugar, vegan, allergy-friendly, gluten-free, made with natural flavors, no artificial colors and helps clean your teeth. Zollipops are the number one fastest-growing, zero-sugar candy sold on Amazon, as well as sold in 25,000 stores across America and internationally in nine countries.
The company received coaching from Edward Lowe Foundation and MEDC-sponsored programs. Thanks to the MEDC's help, Zolli Candy was able to advance their marketing, operations and recruiting strategies. By narrowing down their target market and analyzing data, the MEDC and Edward Lowe Foundation assisted in developing processes to identify current and prospective customers. Zolli Candy created business processes and production time management with the help of experts through MEDC connections. The team was also provided resources to access training grants to train and certify employees and improve knowledge and capabilities of the team.
As one of the 2023 Michigan 50 Companies to Watch, ABA Pathways, Inc. in Livingston County is a women-owned company focused on creating a culture of collaboration, advocacy and opportunity for its clients and employees. Owners Jenipher Swanson and JoAnne Dodick are a mother-daughter duo who felt passionate about serving the underserved autism population and wanted to do something about it. Together, they obtained their Board-Certified Behavior Analyst certification and licensure, and in 2012 they opened their business to provide services for children with autism in Michigan.
Since ABA Pathways services a large Medicaid population, the business received federal COVID relief funds, grants and essential worker support funds through local, state and federal mental health organizations, Michigan Department of Health & Human Services and the Centers for Medicare & Medicaid Services. They obtained a PPP loan through the federal government which allowed them to stay in business and retain all their staff; the business only closed for two weeks as they were deemed to be essential workers. With the help of the MEDC, ABA Pathways facilitated the support of its Direct Care Workers with emergency retention funds and special wage increases. The work and coordination of all these agencies statewide during the Public Health Emergency ensured the continued employment of staff.
Another Michigan 50 Companies to Watch awardee, Chippewa Government Solutions, is a tribally owned federal contractor excelling in technology, training development and media production out of Chippewa County. Committed to serving federal agencies and creating economic opportunities for the Sault Ste. Marie Tribe of Chippewa Indians, the company successfully integrates Native American values and modern business practices. As a subsidiary of Sault Tribe Incorporated, Chippewa Government Solutions serves the federal government while generating revenue and jobs for the tribe. Profits support over 50,000 tribal members through health, education, and cultural initiatives. Their success stems from their competitive advantage, leadership, collaborations and growth partners.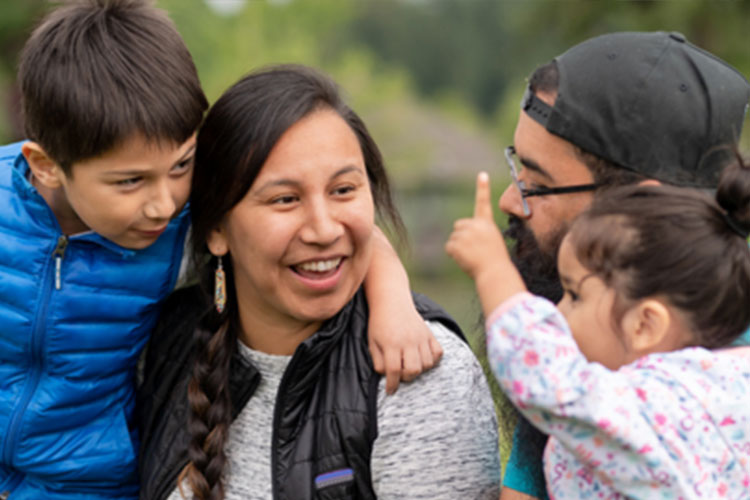 Chippewa Government Solutions maintains strong ties with the MEDC and Michigan Small Business Development Center. These organizations provide support in business startup, certification processes and infrastructure development, including the establishment of the Tamarack Business Center in downtown Sault Ste. Marie. Chippewa Government Solutions will continue to maintain routine contact with multiple MEDC resources and feels passionate about being part of the team that leads to regional economic success.
Before he became a business owner, Jon Tellier was a warfighter, with 11 years of active-duty service in the Army and another 12 years in the reserves. Tellier and his wife Sue started JetCo Solutions in Kent County to help small businesses win new business from government agencies. JetCo Solutions is a full-service government sales consulting firm that covers the entire government sales and marketing lifecycle – from research and bid writing through complete government capture services. JetCo Solutions' clients are highly qualified companies – mostly small businesses – with a product or service the government cares about.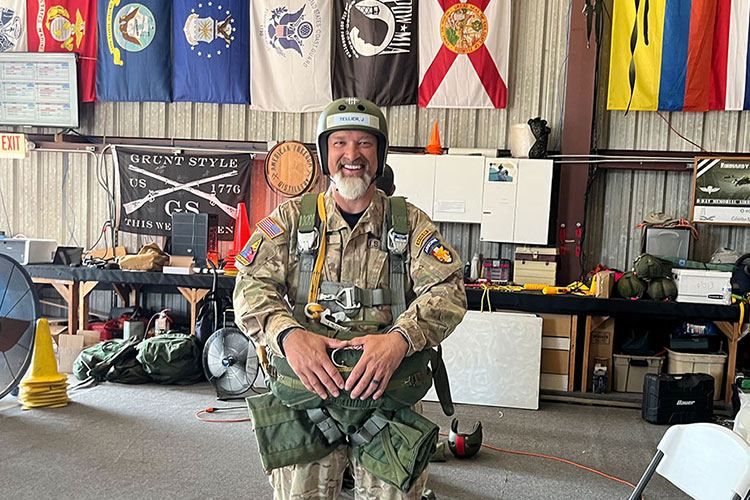 Since its inception, JetCo Solutions has served hundreds of clients all over the United States, winning them almost $4 billion in contract awards. Tellier and JetCo Solutions are being honored with the Veteran Owned Small Business Award at this year's gala.
From a seasoned entrepreneur at the age of 17 and a mother-daughter duo to a veteran warfighter and a tribally owned federal contractor, the 2023 MCSB Awards Gala honorees represent a range of passionate people in Michigan and the opportunities available to small business owners.
At the MEDC, we understand the role we play within the state of Michigan to create significant and powerful economic opportunities for the 10 million-plus Michiganders who call our state home and the business owners who play a critical role in our state's economy and communities. Every day, small businesses across Michigan are investing in their workforce to create opportunities for future prosperity. In working together as Team Michigan, we will build on the momentum of the past few years and continue to celebrate our accomplishments, from the success of our small businesses across the state, to making Michigan a top destination to build a life – and a business. Much like the sun rising over Lake Huron, our collective future is shining and bright.
Learn how MEDC helps support the success and growth of Michigan's small businesses at michiganbusiness.org/services/small-business/.
See the full list of 2023 Michigan Celebrates Small Business Awardees.
Contact Us