Beginning in 2003 as a Main Street America Coordinating Program, Michigan Main Street has assisted communities across Michigan interested in revitalizing and preserving their historic traditional downtowns or commercial districts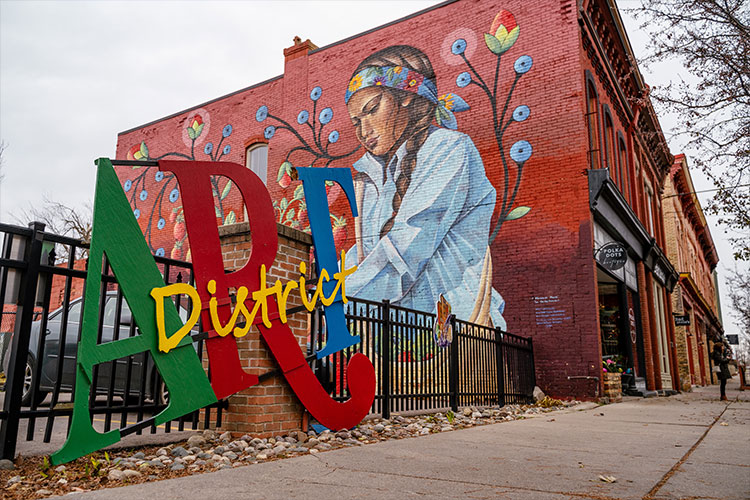 Since 2003, Michigan Main Street (MMS) has been a top coordinating program affiliated with the National Main Street Center, Main Street America, assisting communities interested in revitalizing and preserving their traditional commercial districts. MMS provides technical assistance for communities desiring to develop their own local Main Street program by utilizing the Main Street Approach™ – a common-sense approach to tackling the complex issues of revitalization by capitalizing on a traditional downtown or commercial district's history and identifying the unique assets of the community itself.
The work of the MMS program to revitalize Michigan's historic traditional downtowns and commercial districts has impacted communities across the state, while also receiving national recognition.
In 2011, Old Town Lansing was named the winner of the Great American Main Street Award (GAMSA) by the National Main Street Center Inc (NMSC). Selected by a national jury of community development professionals and leaders in the fields of economic development and historic preservation, the GAMSA winners serve as exceptional models for comprehensive, preservation-based commercial district revitalization. Old Town Lansing won the GAMSA for its overall strength, demonstrated impact, commitment to historic preservation, and model partnerships with the public and private sector.
In 2018, Howell was named the GAMSA winner. The NMSC recognized Howell Main Street's achievement in transforming the downtown district into a cultural destination through community-driven economic development and placemaking efforts.
"Howell is a prime example of a small rural community that is doing big things. They have all the charm you'd expect in a historic Main Street community, but they don't stop there," said Patrice Frey, former President and CEO of the National Main Street Center. "Downtown Howell is setting itself apart as a supportive place for entrepreneurs and business owners and that's how we're seeing small communities stay competitive in today's economy."
In 2020, Boyne City was presented the GAMSA award, becoming the second Michigan community to win national Main Street recognition in three years. Boyne City was one of the first MMS program participants, with its Main Street program acting as a catalyst for economic development. Both Boyne City and Howell also participate in MEDC's Match on Main program and are certified in the Redevelopment Ready Communities program.

In celebration of its 20th anniversary, the MMS program has unveiled a new logo, demonstrating a bright outlook at the future of Michigan's historic downtowns and districts.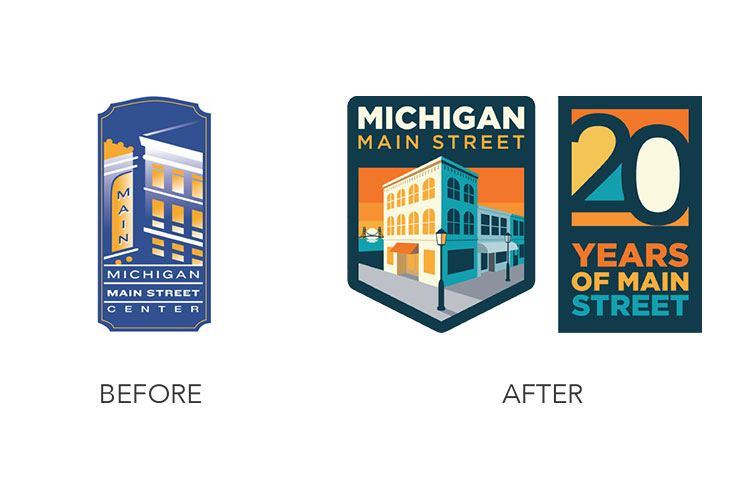 Even twenty years later, the MMS program continues to evolve, providing new services to support its customers and communities.
Providing Solutions
New in 2023, the MMS Solution Center is an online library that provides a comprehensive collection of best practices, case studies, guides and videos on the challenges and solutions for downtown and commercial district revitalization and management.
The Solution Center is organized into eight categories, with both aspiring and experienced downtown and district leaders in mind, to make finding the right solution to challenges easier.
Stories from MMS Communities
In support of telling the stories of Michigan's communities, the MMS Story Series highlights the narratives and perspectives of business owners, executive directors and board members, and community partners from across Michigan.
The MMS Story Series page also has a fresh look for 2023 – read stories and view photos from MMS community business owners, from Lillian Werbin of Elderly Instruments in Old Town Lansing to mother-daughter team Debbie Derenzy and Jessica Kinner of Boyne River Grill in Boyne City.
"Michigan Main Street has been extremely valuable for our community," said James Alt, Executive Director of the Lapeer Main Street DDA. "Utilizing the Main Street Approach has allowed us to boost community pride and investment in our downtown, engage our residents and business owners and energize our volunteer base. Michigan Main Street doesn't just provide the tools and resources for communities to thrive, they show you how to use them in a proven, effective way. Because of Main Street, Lapeer has a solid foundation and focus that will allow us to sustain and support our great downtown."
At the heart of Michigan's historical downtowns and districts are the people – the business owners, executive directors, board members, community partners, residents and visitors – who help these communities shine and thrive. Thanks to them, our Main Street communities will continue to be places Michiganders are proud to visit, build a business and call home.
Visit www.miplace.org to learn how the MEDC is helping to support the growth of vibrant, diverse and resilient communities across Michigan.
Contact Us