• 2020 Great American Main Street award presented today to Boyne City • Second Michigan community to win national Main Street recognition in three years, underscoring Michigan's strategies to strengthen, bring vibrancy to communities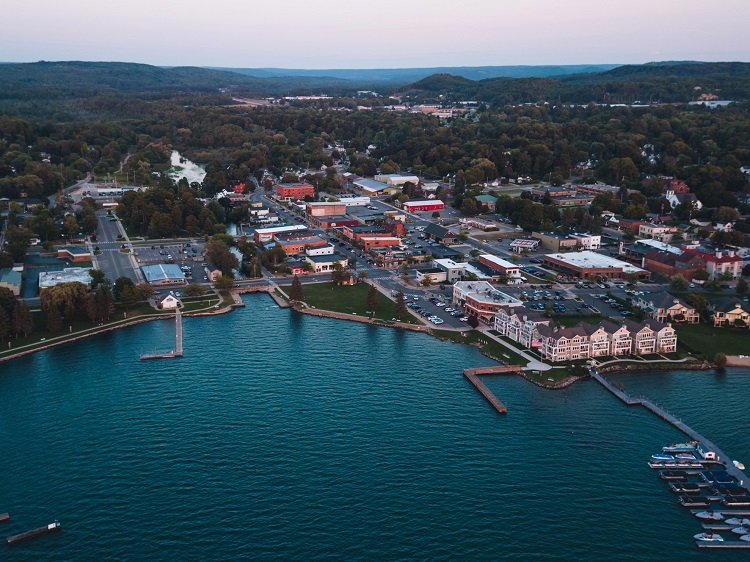 LANSING, Mich. – Boyne City Main Street is a winner of the 2020 Great American Main Street Award (GAMSA) presented by National Main Street Center Inc., the Michigan Economic Development Corporation announced today. The GAMSA award recognizes communities for their excellence in comprehensive preservation-based commercial district revitalization.

"As one of the first participants in the Michigan Main Street program, the Boyne City Main Street program has been a catalyst for economic development in Downtown Boyne City, resulting in a thriving, well-planned downtown that is a destination for visitors and a wonderful place for residents to call home," said Michele Wildman, Senior Vice President of Community Development at the Michigan Economic Development Corporation. "Boyne City has worked diligently to enhance the sense of place and improve the character of its downtown, engage its businesses and residents, and most importantly, stepped up during the pandemic to make sure business owners had the resources they needed to stay open. We congratulate the community on this well-deserved recognition."

Boyne City is an active participant in MEDC's Michigan Main Street program, helping to drive 91 net new businesses. Its downtown has a vacancy rate of just 1 percent, down from 5 percent in 2003. The program supports a diverse mix of year-round small businesses, regularly convenes business owners to find new ways to support them, and has championed data-based recruitment and retention efforts. Boyne City also participates in MEDC's Match on Main program and is certified in the Redevelopment Ready Communities program.

Selected by a national jury of community development professionals and leaders in the fields of economic development and historic preservation, the Great American Main Street Award winners serve as exceptional models for comprehensive, preservation-based commercial district revitalization. Boyne City is being recognized for turning its previously industrial downtown into a thriving destination to live, work, and play.

"Boyne City's inspiring transformation serves as a model for downtowns looking to appeal to tourists while investing in the quality of life of year-round residents," said National Main Street Center President and CEO Patrice Frey. "Boyne City Main Street has demonstrated the power of community engagement, strategic business development, and public and private partnerships to revitalize Main Street."

Located along Lake Charlevoix and the Boyne River in Northern Michigan, Boyne City has harnessed its picturesque waterfront location to become a hub for year-round outdoor recreation. The Main Street program has both enhanced access to natural resources and improved the sense of place downtown, thanks to a streetscape redevelopment project, developing a boardwalk and marina, adding public art, and implementing a façade grant program. A strong roster of events, from outdoor music to food festivals, along with a dedicated volunteer base, has also brought vitality back to downtown.

Throughout the pandemic, Boyne City Main Street has ramped up their small business support, completing multiple rounds of calls to every downtown business owner to check on their needs. The Main Street program has focused on connecting business owners to funding opportunities, helping them get online, and connecting merchants with resources to safely reopen. The program has also helped tackle an issue facing developing commercial districts across the country: workforce housing. In partnership with the Boyne Area Chamber of Commerce and the City of Boyne City, several workforce housing initiatives are underway downtown to provide income-adjusted housing units, commercial space for shops and restaurants, and market-rate units providing much-needed housing for the workforce, and add to the vibrancy of downtown.

Boyne City Main Street has developed strong partnerships to move their initiatives forward, raising $16,412,766 in public reinvestment and $29,132,799 in private reinvestment from property and business owners since 2003. When Boyne City needed to move their farmers market inside for the winter, they worked with a range of partners to rehab a pavilion downtown. After seven years of fundraising, Boyne City completed the pavilion, which now hosts the farmers market and other events.

"Although the Great American Main Street Award says, 'Boyne City Main Street' on the plaque, the award is really for every member of our community," said Kelsie King-Duff, Executive Director of Boyne City Main Street. "It is for anyone who has shopped at our unique stores, eaten at one of our restaurants, attended an event, and helped make Boyne City what it is today. This is a wonderful way to celebrate what we've accomplished so far, and a great reminder that we're just getting started."

There are currently 25 communities participating in MEDC's Michigan Main Street at associate, select and master levels. Each level provides services based on a community's commitment, from one to five years in the program. Since its inception in 2003, the Michigan Main Street has been a catalyst for job growth, private investment and community engagement. From 2003 through Sept. 2020, 1,495 new businesses were created, with private investment of $318.7 million and total public investment of $115.5 million. In addition, 1,468 façade improvements were made and more than 773,500 volunteer hours were recorded in the task of revitalizing downtowns across the state.

Boyne City is the second Michigan community to win the national GAMSA award in three years. The city of Howell was named a 2018 Great American Main Street winner for its achievement in transforming the downtown district into a cultural destination through community-driven economic development and placemaking efforts.

"At MEDC we recognize that vibrant, strong communities attract and retain young professionals, increase tourism, and support small businesses. By focusing on innovative placemaking and creating more downtown residential and commercial density in communities of all sizes all around Michigan, we are helping to establish attractive places to live, work and play," Wildman said. "This national recognition for two Michigan communities in a three-year time period is a testament to MEDC's strategic approach to creating vibrant communities across the state."

To view a video of Boyne City, visit here.

More information on the National Main Street Center is available online at http://www.mainstreet.org/. For further information on the Michigan Main Street Program through the Michigan Economic Development Corporation, visit https://www.miplace.org/communities/mms/.

About the Great American Main Street Awards
Each year, Main Street America, a program of the National Main Street Center, celebrates the country's best examples of comprehensive commercial district revitalization. Winners are selected from a nationwide pool of applicants by a national jury based on successful and innovative uses of the Main Street Approach.™ Criteria for winning include: overall community transformation; strength of community engagement; entrepreneurship development; approach to diversity, equity, and inclusion; commitment to historic preservation; implementation of model partnerships, and demonstrated success of the Main Street Approach.™

About the National Main Street Center
The National Main Street Center has been helping revitalize older and historic commercial districts for 40 years. Today, its network of more than 1,600 neighborhoods and communities, rural and urban, share both a commitment to place and to building stronger communities through preservation-based economic development. The organization is a nonprofit subsidiary of the National Trust for Historic Preservation. For more information, visit mainstreet.org.

About Boyne City Main Street
Boyne City Main Street is a grassroots, volunteer-driven program dedicated to the historic preservation and economic development of Boyne City's downtown. The program follows the national "Main Street Four-Point Approach" to revitalization developed by the National Main Street Center, a subsidiary of the National Trust for Historic Preservation. The four points focus on Organization, Promotion, Economic Vitality, and Design. Boyne City Main Street has been recognized by the state as Michigan's "Premier Main Street." In both 2011 & 2019, Boyne City Main Street was a semi-finalist for the Great American Main Street Award, placing in the top 10 for main street programs nationally. Learn more at boynecitymainstreet.com.
About Michigan Economic Development Corporation (MEDC)