Michigan's Economy: Moving Up and Looking Forward
Emerging from the challenges of global pandemic, Michiganders have demonstrated tremendous spirit and resilience – with Michigan's economy growing stronger every day.
On May 3, Michigan Celebrates Small Business (MCSB) held its 18th Annual Awards Gala, celebrating small businesses from across the state. MCSB is the most prestigious small business awards program in the state of Michigan which honors and recognizes Michigan's small business people as well as the champions and advocates that support them.
Following the challenges of 2020 and 2021, the Michigan Economic Development Corporation (MEDC) has shown that Michigan is equipped to create a more equitable, inclusive and resilient economy, becoming a place of Pure Opportunity for every Michigander.
With an energetic, championship mentality, MEDC spent the last year working in tandem with partners across the state aggressively competing for transformational projects and celebrating place-based investments, all while promoting the four-season beauty and opportunities in Pure Michigan.
Among those key efforts has been MEDC's continued focus on supporting and celebrating the risk-takers and small business owners who are the backbone of the state economy. In Michigan, nearly every indicator of the state's success is influenced and reflected by its small businesses. They play a vital role in attracting talent to live and work in small towns and big cities alike and are economic drivers of the local communities. During the pandemic, we've championed the mantra of "Support Local" even more strongly, knowing that our communities are the life and lifeblood of our beautiful state.
While most Michiganders may not ever set foot on the floor of an automotive assembly plant, nearly all will support their favorite local restaurants, visit their downtown shopping district to find the perfect gift, or stop at the drycleaner up the street once or twice a month. We know that the most meaningful way to create significant, lasting impacts on Michigan families, businesses and communities is to come together—as one Michigan—to listen, to collaborate, and to make sure we are providing a seat at the table for everyone when it comes to resources available to support our businesses and our economy.
As we once again find opportunities to gather with one another, it is safe to say that we've also found a greater appreciation for the little things. What better feeling than gratitude to embrace as we celebrate, in person, the resilience and innovation of Michigan's small businesses over the past year.
Our small businesses have played a critical role in the success of Michigan's economy – not just the light at the end of the tunnel, but a steady, determined train pushing us through a dark time. We at the MEDC are inspired by Michigan's small businesses, and proud to help them thrive. After all, it is small businesses that make economic development relevant to most people in the state.
The pandemic has tested all of us in ways we could not have imagined, for businesses, workers and communities alike. Much of our own impact and support during this time would not have been possible without the steadfast support and collaboration of regional and local economic development organizations, along with other key partners like the Small Business Development Center. Through our combined efforts, we were able to create a pathway for Michigan's small businesses to outlast this global pandemic.
For small businesses themselves, rather than being discouraged by the pandemic's overwhelming impact, they pressed on, demonstrating a commitment to growing and evolving their business, while supporting the hope and optimism of their communities through it all. Small businesses also help shape communities into vibrant places to live, work, and play, supporting a higher quality of life that defines our way of living here in Michigan.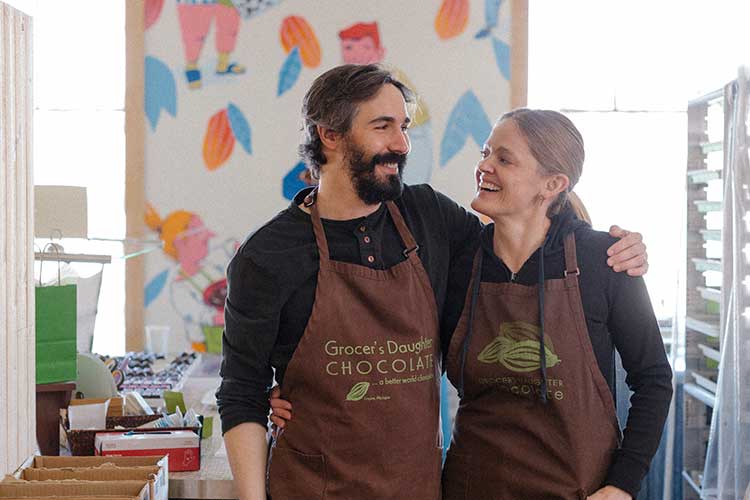 Grocer's Daughter Chocolate, established in 2004 in Empire, Mich., offers Northern Michigan its very own version of Willy Wonka's chocolate factory with its variety of treats. When DC and Jody Hayden took ownership of the business in 2013, they were ready to launch Grocer's Daughter Chocolate to new heights. But like many other small business owners, they had to pivot in the wake of the COVID-19 pandemic. Knowing customers wanted comfort in the earliest, most uncertain days of the pandemic, the Haydens shifted their business to ecommerce to accept and fulfill orders.
Connecting with the System for Integrated Growth through the MEDC, Jody Hayden worked with an industry expert to transition Grocer's Daughter Chocolate from an owner-operator model to a second-state business. Thanks to its rapid online growth during the pandemic, the chocolate shop hopes to continue expanding its reach. Whether an online destination or a quick detour from the world-famous Sleeping Bear Dunes National Lakeshore, Grocer's Daughter Chocolate is a proud ambassador for Northern Michigan and a delicious example of Pure Michigan perseverance.
Able Medical Devices, headquartered in Marquette, Mich., also utilized the System for Integrated Growth through the Edward Lowe Foundation when it was looking to create a stronger sales and marketing strategy. As a global company, Able offers an array of services and capabilities for the orthopedic and medical device industry. Representing Michigan's Upper Peninsula, Able is experiencing triple-digit growth in the fast-paced medical device market over the last three years.

Based in Holland, Mich., Mission Design & Automation has also experienced significant growth during the pandemic, doubling the size of their business over the last 12 months. Mission received grant money from the Jobs Ready Michigan program, which supports the talent needs of expanding companies. With an ever-increasing demand for automation in the manufacturing sector, the industrial automation and robotics integrator is leading the way. Mission CEO Scot Lindemann also credits the MEDC with helping to identify ways to maximize the company's strengths while keeping business in West Michigan during this period of growth.
Throughout the pandemic, Michiganders all over the state stepped up and came together to slow the spread of COVID-19 and save lives. Then with a renewed vigor, Michigan unleashed the potential of our people, driving innovation and investment in our small businesses and creating tens of thousands of jobs. It's upon this strong foundation that we build the future of our thriving economy.
At the MEDC, we work every day to achieve this kind of long-term economic prosperity for Michiganders by investing in communities, enabling the growth of good jobs and promoting Michigan's strong image worldwide. However, since we adopted this mission through our five-year strategic plan in September 2019, we have witnessed a clear need for not only our agency, but all of Michigan to find ways to create a more equitable and resilient economy for all Michiganders, which has become even more urgent in the wake of COVID-19.
For example, the need for more intentional and inclusive policies to support minority-, veteran- and women-owned businesses in the state has been underscored this year, as the pandemic has been particularly damaging for diverse-owned businesses that make our communities vibrant places to visit and call home. Economies grow faster and more vigorously—not to mention for longer periods—when prosperity is more equally distributed across segments of the population.
Singh Automation, an automation technology manufacturer based in Portage, Mich., was in a growth period prior to the pandemic before facing a loss of talent, supply chain issues, and decrease in demand. The MEDC connected Singh Automation with the Michigan STEM Forward program, which supports employers and college students by providing tuition reimbursement programs for student interns. The program reduces financial barriers for employers like Singh, while expanding employment opportunities for current undergraduate students. Through their collaboration with MEDC and additional efforts, Singh Automation has come out of the pandemic stronger than ever; with the increased desire for businesses globally to expand their use of automated machinery, business is booming.
In moving beyond the pandemic, it is critical that we continue to offer inclusive, targeted support for these small businesses—often staples in their local communities—if we want to achieve comprehensive, meaningful and generational success for the people, businesses and communities of Michigan. After all, across every corner of the state, small businesses are significant contributors to communities, providing accessible job opportunities for community members, building wealth among working families and creating upward economic mobility for women and minority-owned business owners.
In Detroit, Mich., manufacturing technology solutions business Andonix aims to provide technology solutions that serve the needs of frontline workers, improving operational performance for customers and promoting the advancement of sustainable development goals. Andonix received funds through the MI-STEP program to support their work as a disruptor in the Industry 4.0 space, which targets manufacturing businesses working toward integrating next-generation technology into the workplace. The company has utilized the grants to perform market research and improve their overall sales and marketing strategies.
At the MEDC, we understand our organization is uniquely situated to create significant and powerful economic opportunities for the 10 million residents and businesses that call our state home. And every single day, small businesses across the state also play a critical role in fostering inclusive economic growth throughout Michigan, by investing in their workforce to create opportunities for future prosperity. Now, by working together, we can look to build on our momentum and progress over the past year. From getting Michiganders back to work to celebrating the small businesses across our great state, we are optimistic about our collective future.
Learn how MEDC helps support the success and growth of Michigan businesses at https://www.michiganbusiness.org/pure-partnership/.
See the full list of 2022 Michigan Celebrates Small Business Awardees here.
Contact Us