Grocer's Daughter Chocolate
Premium chocolatier looks to expand local impact and regional reach with the System for Integrated Growth
When DC and Jody Hayden took ownership of Grocer's Daughter Chocolate in 2013, they were ready to launch the business to new heights. The chocolate shop, established in 2004 in Empire, Michigan had a loyal customer base and was well-positioned for growth.
The Haydens decided to connect with the Michigan Economic Development Corporation (MEDC) in order to get the boost they needed to move their business to the next level.

Grocer's Daughter Chocolate, like many small businesses, faced an uphill battle during the COVID-19 pandemic, and had to find innovative ways to find success.
"We did okay during 2020 and 2021, but it was because we kept pivoting," said Jody Hayden, owner of Grocer's Daughter Chocolate. "We knew that our customers wanted comfort in the early days of the pandemic, so we shifted our business to ecommerce to get orders out to our customers."
In an effort to move past the challenges of the pandemic and capitalize on increased revenue for the business, Hayden connected with the System for Integrated Growth (SIG) through the MEDC.
Through SIG, Hayden worked with an industry expert to craft a plan to transition Grocer's Daughter Chocolate from an owner-operator model to a second-stage business. Hayden says the company's talented staff are more than capable of running the day-to-day of the business, so the Haydens can focus on bigger picture goals.
"Once you get to a million in sales, there's new systems that need to be put in place, and as a small business owner, you haven't been there before," said Hayden. "MEDC is right there to help us out through it all."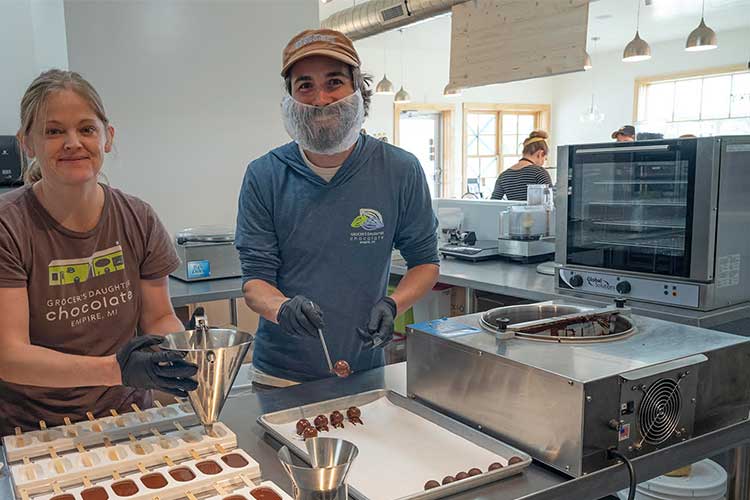 Grocer's Daughter Chocolate hopes to continue expanding their ecommerce reach, which saw rapid growth during the pandemic. They've also prioritized implementing strategies that will allow for greater salary increases for their employees.
Located just a short drive from the world-famous Sleeping Bear Dunes National Lakeshore, Grocer's Daughter Chocolate is proud to be an ambassador for northern Michigan hospitality. They plan to add a gelato shop to their businesses, which will feature Michigan dairy products and other home-grown ingredients to share with visitors.
Hayden has no plans to cease working with MEDC. In recent months, she's participated in the Edward Lowe Foundation Entrepreneurial retreat as well as a peer roundtable.
"We've had a really great personal relationship with the MEDC and I'm thankful to have connected with them," Hayden said.
The System for Integrated Growth is made available to second-stage companies through organizations and government agencies in their communities. Visit systemforintegratedgrowth.org to learn where the program is offered.
To learn more about how the MEDC helps Michigan small businesses, please visit www.michiganbusiness.org/pure-partnership/