MiBiz announced the West Michigan winners for the 2023 M&A Deals and Dealmakers Awards this week. For three of the best deals of the year, the Michigan Economic Development Corporation (MEDC) played an important role in each organization's journey. The MEDC helped each plan, accomplish and grow toward a better future – both for the businesses involved and Michigan as a whole. Businesses and projects recognized in this year's awards include:
The Southeast Regional Force Main: A wastewater pipeline project that secured funding to help grow agribusiness received the award for the economic development category.
Twisthink LLC: This digital consulting firm won the technology category for shifting to an employee-owned model.
Acrisure LLC: A top 10 global insurance broker, this company received the award for the finance category for its industry-leading performance.
"We're proud to celebrate our local partners today as Team Michigan creates more long-term economic growth for all Michiganders," said MEDC CEO Quentin Messer, Jr. "Work remains ahead, but these projects reflect our commitment to ensuring that Michigan becomes an even better place for friends and neighbors to create bolder economic futures right here in Michigan."

Infrastructure Upgrades Support Agricultural and Economic Growth in West Michigan Counties
The agribusiness industry is a major economic driver for the state of Michigan, and West Michigan communities especially. Over the years, it became increasingly clear that local food processors in Ottawa and Muskegon counties needed more wastewater capacity. For companies already essential to the area's economy, Fairlife, LLC, Continental Dairy Facilities LLC, DeVries Meats Inc., Applegate Dairy and Swanson Pickle Co., more capacity would mean more jobs and investments – and ultimately allow these companies to stay planted firmly here in Michigan rather than expanding elsewhere in the coming years.
The MEDC announced Michigan Strategic Fund support, leveraging the Strategic Outreach and Attraction Reserve Fund, for a new wastewater line connecting these employers to the underutilized Muskegon County Resource Recovery Center. The Southeast Regional Force Main, a critical infrastructure project spanning Ottawa and Muskegon counties, will help West Michigan's food and agricultural industry both keep and secure additional jobs and investments.
"Fairlife has been a proud part of the West Michigan community for more than a decade, and the teamwork and commitment to bettering the community demonstrated in this project is a testament to the continued opportunity here for all of us," said Fairlife CEO Tim Doelman. "This critical project will help fuel the next decade of growth for our employees who live and work here, our farm partners and our community as a whole."
Twisthink Becomes Employee-Owned as it Prepares for New Grand Rapids Headquarters
Twisthink LLC specializes in developing digital solutions that connect human needs with new technologies. Due to increased demand for digital connectivity and Internet of Things services, Twisthink has gained large project opportunities with companies including Stryker, Whirlpool and Microsoft.
As its success grew, the business decided to shift to an employee stock ownership plan, where the team owns 100% of the company. With a new ownership model and the time right for expansion, the company had its eyes set on a new location.
The MEDC worked closely with The Right Place, an economic development organization for Grand Rapids, to ensure Twisthink continued its growth in the region instead of out-of-state options. Twisthink decided to expand into the Doug Meijer Medical Innovation Building in Grand Rapids and become a part of the MSU Grand Rapids Innovation Park. The facility will also serve as the company's headquarters.
"As a team of knowledge workers trained to address and solve complex problems, we chose Grand Rapids for two reasons: it brings us closer to more innovative thinkers across a diverse slate of industries from healthcare to industrial manufacturing to mobility, and it allows us to tap into a deeper pool of specialized talent in the region," said Twisthink Managing Partner Robert Niemiec. "It is best suited for us as we bring greater tech capabilities to our new home city and create meaningful impact here, throughout the state, and globally."
Acrisure Stays in West Michigan to Continue M&A Excellence
Acrisure, a top 10 global insurance broker, reached an important crossroads in 2019. Its exponential growth meant that the company needed a new, bigger headquarters. For a company that was on its way to increasing revenue from $38 million in 2014 to $4 billion in 2022, it was clear in 2019 that Acrisure had its choice of a new location.
Ultimately, the company decided to relocate to downtown Grand Rapids. The MEDC worked with Acrisure, The Right Place, the City of Grand Rapids, and Downtown Grand Rapids Inc. to ensure the company continued its growth in the region rather than competing sites in Illinois, Indiana and New York.
The company moved into its new headquarters in 2021. Less than a year later, Acrisure received an acknowledgment from MiBiz for a banner year after raising $725 million in capital and completing 116 transactions to rank as the largest acquirer of insurance agencies.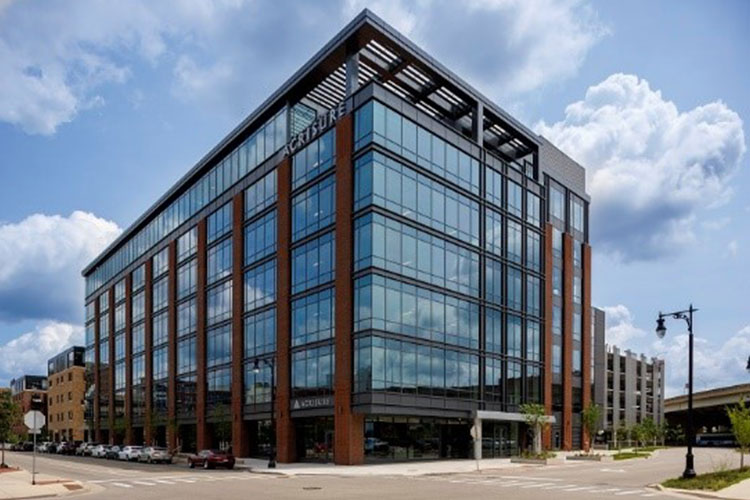 "Acrisure began as a Michigan company and became a West Michigan company in 2008. Through our robust growth to over $3 billion in revenue and tech transformation, West Michigan remains our home," said Acrisure Co-Founder, President and CEO Greg Williams. "We're glad to have worked with the MEDC and other partners to arrive at our choice of Studio Park, which absolutely strengthens the caliber of talent we attract."
10 Years of Naming the Best Deals and Dealmakers
Launched 10 years ago, the MiBiz Deals and Dealmakers awards set out to show business best practices around the region. But they're also a reminder of how important economic development is to Michigan communities.
"Certainly, we're celebrating corporate deals and individual dealmakers, but these awards also serve as a nod to what creates the business environment in the communities where we all live, work and play," wrote MiBiz.
About Michigan Economic Development Corporation (MEDC)