Michigan's economy, under the leadership of Gov. Gretchen Whitmer, is ranked No. 1 among 37 other states with a population greater than 2 million since the COVID-19 pandemic began two years ago, according to a newly-released opinion piece by Bloomberg.
"Whitmer today presides over an economy that improved the most in its history since the pandemic began two years ago," says Matthew A. Winkler, co-founder of Bloomberg News and author of the article, pointing to the fact that seven of the 10 largest companies in Michigan today are among the top 10 global leaders in their industries, underscoring the global attraction for companies of every size to locate and do business in the state.
In 2019, Michigan began its biggest manufacturing boom since its recovery from the 2008 recession. The article notes non-farm payrolls since April 2020 surged 25 percent, almost double the 14.3 percent U.S. average and leading every state in the nation. Meanwhile, Michigan unemployment is 5.6 percent, down from a pandemic high of 23.6 percent.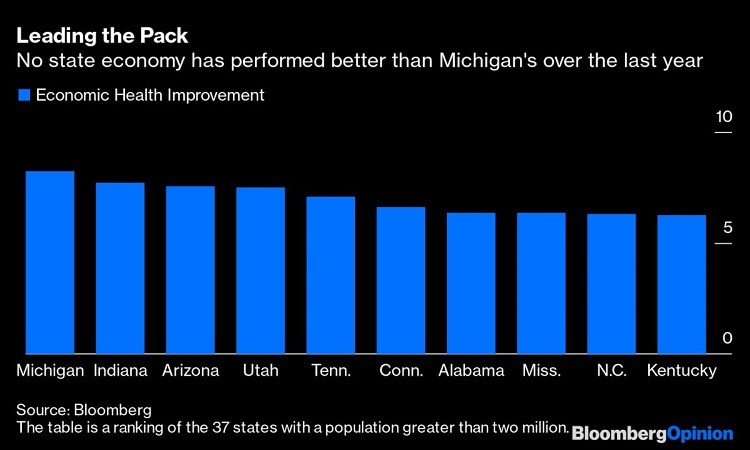 Winkler can also be heard talking about the story here on Bloomberg Radio, pointing out that as the home to global companies that are totally committed to electric vehicles, Michigan has every reason to be the center of EV manufacturing both today and into the future.
Michigan is already making headlines nationally and around the world with the recent news of General Motors' historic investment in the state that will secure the automotive manufacturer's commitment to creating an all-electric future, and 5,000 new and retained manufacturing jobs, in Michigan. The $7 billion investment includes a $4 billion investment to convert GM's Orion Township assembly plant for the production of full-size EV pickups and up to $2.5 billion to build Ultium's third U.S. battery cell plant in Lansing, growing the state's global leadership in electric vehicle and advanced battery production.
The projects are the first to be approved under new competitive programs that invest in business retention and attraction to complement Michigan's already undeniable strengths as a state.
In addition to manufacturing the next generation of electric vehicles in the state, Michigan is also leading the move toward a more sustainable and inclusive mobility future through its partnership with Ford, Google and the city of Detroit to launch the Michigan Central Innovation District. The district, anchored by the iconic Michigan Central Train Station, will serve as a globally recognized hub for talent, mobility innovation, entrepreneurship, sustainability, affordable housing, small business opportunities and community engagement.
In 2022 and beyond, Michigan remains focused on making investments in its people, businesses and Pure Michigan quality of place to continue this significant economic growth and momentum.
"MEDC remains committed to taking a holistic, people-first approach to economic development, focused on building a championship economy here in Michigan," Quentin L. Messer, Jr., CEO of MEDC and President and Chair of the MSF Board. "We are working daily to win projects and develop opportunities that support Michigan's risk-taking small businesspeople and global businesses alike. Work remains; however, increasingly, expanded economic opportunity is being felt throughout every single region and community of our great state."
To learn more about Michigan's competitive strengths against other states, go to michiganbusiness.org/rankings.
To see why companies are choosing Michigan, visit michiganbusiness.org/why-michigan.
To learn more about Michigan's workforce and talent strengths, go to michiganbusiness.org/workforce.
About Michigan Economic Development Corporation (MEDC)